Solar Energy Storage Market is Expected to Cross An Annual Installation of 3 GW by 2025
According to Global Market Insights, Inc. the Solar Energy Storage Market was valued at USD 170 million in 2018 and it is projected to grow at a CAGR of 35% CAGR from 2019 to 2025.
Rising environmental concerns will drive the solar energy storage market size, owing to continuous implementation of regulatory norms to reduce harmful emissions by installing effective conservation measures over the forthcoming years. Advancing technologies and constant upgrades to deliver a cost-competitive business will boost the industry dynamics.
Increasing demand for battery compositions to cater to energy-based applications and transportation has induced tremendous competition across solar energy storage industry. Rise in the adoption of electric vehicles have compelled the manufacturers and industry players to incorporate storage units that are cost-competitive and performance oriented.
Industrial inclination favoring the installation of energy storage solutions coupled with the lowering cost related to implementations will foster solar energy storage industry share over the projected time period.
Government authorities have imposed certain regulatory measures for the reduction of dependence on conventional fuels in relation with the financial allocations that will promote the integration of renewable energy and push the solar energy market share. Successful grid feed management coupled with the replacement of power plants with technologies that are sustainable will further drive solar energy storage market trends.
The U.S regulators in 2017 had proposed a reduction in tax reforms by controlling their corporate taxes with the possibility to strengthen the potential of the energy business. Significant favorable norms laid by governments including self-consumption as well as subsidies from distribution companies and grid operators, with a goal to secure grid feed-in, will foster the industry growth.
Growing implementation of Lithium ion batteries is attributed toward faster charging and increased power storage capacities, which will influence the market share throughout the forecast period. Also, the product has managed to support the proliferation of electric vehicles, which should similarly influence the expansion of solar energy generation, further enhancing the industry dynamics.
Off-grid conventional energy solutions, including mini-grids & stand-alone systems, to provide access to energy have appeared as a prominent, cost-competitive solution. Growing inclination toward research and development have decreased technology costs which favor the innovation in financing catering & delivery models including local entrepreneurs, private sector & the communities. Henceforth, positive consumer tendencies along with positive industry and regulatory outlook to incorporate a sustainable energy scenario will complement business outlook.
Rising public and private investments into renewable energy solutions coupled with strict government norms and regulation across the region will influence solar energy storage market forecast. Growing number of investors investing into new renewable projects following the post-COP21 agreement has led to escalated expansion of the conventional bond market.
Favorable fiscal incentives and regulatory policies in the region will propel the consumption of solar power across the region. Asia Pacific solar energy storage market share is expected to surpass 40% of global share by 2025.
Solar is comparatively an effective energy source and abundant in the region which helps enhance product penetration in several countries, including long-term policies for bolstering the conventional energy environment.
Prominent solar energy storage market players include Carnegie Clean Energy, BMW, Kokam, BYD, Primus Power, Samsung, Maxwell Technologies, EnerSys, LG Chem, Leclanche, FIAMM, Vionx BAE, Saft, Adara Power, Ecoult and Aquion.
Source: - https://www.gminsights.com/pressrelease/solar-energy-storage-market
Comments (0)
This post does not have any comments. Be the first to leave a comment below.
---
Post A Comment
You must be logged in before you can post a comment. Login now.
Featured Product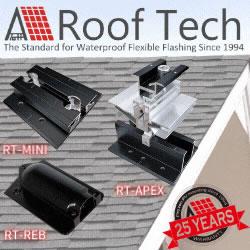 These ongoing webinars cover Roof Tech's background, product design (RT MINI and APEX), code and best practices. You will learn about a proven system that reduces installation time while keeping the integrity of the roofing system. This training will earn you one NABCEP Continuing Education Credit. The webinars are offered every Tuesday from 11 AM PDT to Noon during the months of April and May, 2020.