Helping Georgia Get REDI for the Future: Solar FlexRack Grabs Significant Solar Market Share in the Peach State
Simply put, the beginning of the new decade will be transformative for Georgia's solar industry. The next few years will see Georgia become one of the top-producing renewable energy states in the nation. In a national ranking of solar energy production by the Solar Energy Industries Association, the Peach State has jumped from 35th in 2018 to 10th in 2019. With a total of 2,400 MW of solar (and other renewables) on grid, a new directive to add 2,210 megawatts (MW), and a solar job growth of almost 30% year over year1, Georgia's solar energy market is becoming more and more sunny.
Going Solar at the Speed of Light
This dramatic turn toward solar energy hinged upon a 2016 Georgia Public Service Commission (PSC) initiative to create more than 1.6 gigawatts in renewable energy by 20212. The PSC directed Georgia's largest utility to derive an increasingly large percentage of its energy from renewable sources. In response, the utility enacted the Renewable Energy Development Initiative (REDI) to create large-scale distributed generation solar power plants that provide clean solar energy to residents across the state.
In 2019 the utility announced plans to add 2,210 MW of new renewable (principally solar) generation to the company's energy mix, which will grow its renewable generation by an astounding 92 percent by 2024.
Since the program's inception in 2016, the REDI program has continued to grow as the largest voluntary renewable portfolio in the United States. The change has been remarkable: in 2013, the state had less than 300 MW online. At the end of 2024, Georgia is expected to have a total of 4.6 GW of solar and other renewable energy in its power generation mix.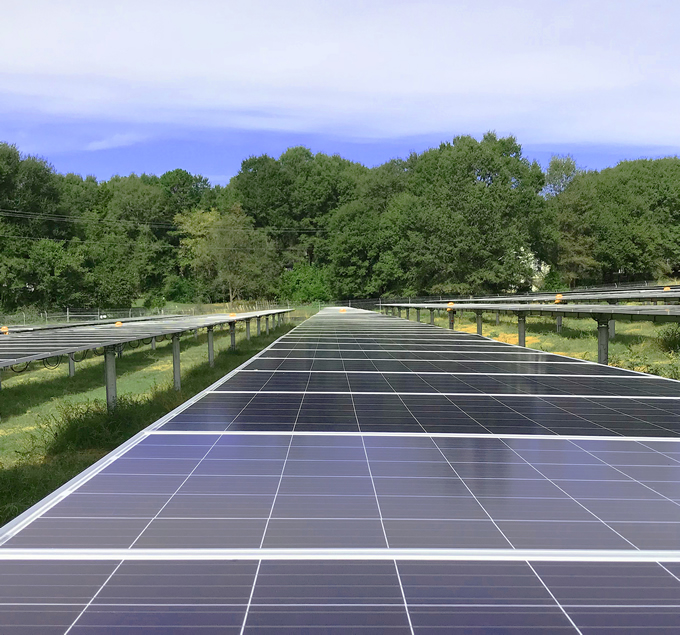 Mounting Support from US Contractors
While the rapid solar expansion has provided work for solar companies of all sizes, one firm has emerged as a major player in the REDI program; Solar FlexRack, an industry-leading solar tracker and mounting solutions company, has provided several major development and EPC firms with the racking solutions that got the program off the ground—literally.
The company's TDP 2.0 Solar Trackers is the mounting system of choice for developers in the region, and Solar FlexRack has captured a significant share of the market, with more than 110 MW installed in Georgia, in projects ranging from .54 MW to 4.2 MW. In 2019 alone, Solar FlexRack played a key part in 28 separate REDI projects across the state.
Solar FlexRack's work in the REDI program includes providing TDP 2.0 Solar Trackers for Atlanta-based solar development, engineering and construction firm SolAmerica Energy, including numerous SolAmerica projects that came online in 2019 as part of the REDI Customer-Sited Distributed Generation Program. In total, Solar FlexRack has supplied SolAmerica with racking capabilities for more than 72 MW of its Georgia installations.
Stan Allen, CEO and Co-founder of SolAmerica commented, "We're pleased with the advancements we've seen in the Georgia solar industry and hope this momentum continues to fuel local job opportunities and the utilization of lower-cost solar energy for the state. As a valued partner, Solar FlexRack's tracker technology played a role in completing these power plants and enabling them to deliver clean energy for decades to come."
As the utility's 2.4 million customers continue to rely on renewable energy, it is clear that Georgia and southeastern solar developers will continue to rely on Solar FlexRack's advanced solar trackers and racking products, technological capacities, and risk-reducing project services.
Comments (0)
This post does not have any comments. Be the first to leave a comment below.
---
Post A Comment
You must be logged in before you can post a comment. Login now.
Featured Product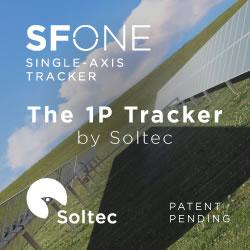 Soltec manufactures and supplies solar trackers designed and proven for extreme climate conditions, which is an ideal solution for any region's environment. Soltec's trackers are self-powered, requiring no additional PV module or grid-powered connection. Bifacial modules collect energy on both the front and rear sides, capturing reflected irradiance from the ground surface under and around the tracker and from other modules. Depending on site conditions, bifacial yield-gain can reach +30 percent.