New Survey Finds More Countries Turning to Macro Grids to Enable Energy Transition
WASHINGTON, D.C. — A global survey of Macro Grids conducted by Iowa State University shows countries around the world are scaling up their electric grids in order to tap low-cost domestic and foreign renewable resources, grow their economies, and strengthen security.

Sponsored by Americans for a Clean Energy Grid as part of the Macro Grid Initiative, Macro Grids in the Mainstream: An International Survey of Plans and Progress examines whether, and to what extent, other countries are planning and building Macro Grids, defined as a network of ultra-high voltage regional and interregional transmission lines, expansive in geographical scope.

"This report shows that interregional transmission Macro Grids are a worldwide phenomenon," said James McCalley, Distinguished Professor and London Chair Professor of Power Systems Engineering at Iowa State University. "The U.S. is lagging behind, yet, it has every reason to catch up since Macro Grids are highly effective in decreasing the cost of electric energy throughout the nation for any portfolio of resources, providing grid reliability, resilience, and adaptability, while facilitating the integration of renewables which are not only carbon-free but are today's least-cost generation technologies."

Interest in interregional transmission and Macro Grids (sometimes called "supergrids") has grown worldwide, according to the report. China, the European Union, South America and India are all investing in large-scale transmission infrastructure. The report shows the United States lagging far behind other countries in planning and building these networks, beneficial for reliability and resilience and necessary for the cost-effective integration of new wind and solar energy projects.

"It is both inspiring and disconcerting to see the progress others are making building large infrastructure," said Rob Gramlich, Executive Director of Americans for a Clean Energy Grid. "This year marks the 50th anniversary of the 846-mile, 3,100-megawatt Pacific DC Intertie, so America has done this before, and we can do it again."

"Despite multiple research studies demonstrating the significant economic benefits of a Macro Grid, the U.S. now lags behind its peers with an antiquated electric grid and transmission system," said Tracy Warren, Director of the Macro Grid Initiative. "An advanced Macro Grid will help us compete internationally with countries that have already built high-voltage long distance lines, and it will also enable the integration of higher levels of renewable power."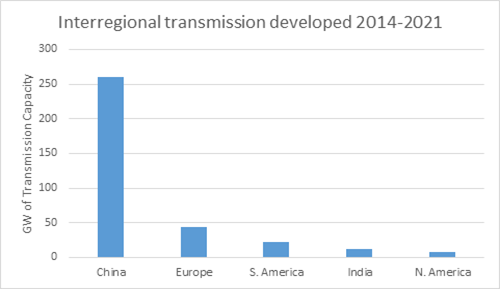 Source – Macro Grids in the Mainstream: An International Survey of Plans and Progress

Key Report Findings Include:
Macro Grids and high-voltage interregional transmission connections are either already in place, under development or being considered almost everywhere in the world.
China has recently completed five times more high-voltage interregional transmission than Europe, and over 80 times more than the U.S.
The European Union is planning and building high-voltage transmission to support the development of offshore wind in the northern seas.
The U.S. should review its policies to address current challenges to interregional transmission and Macro Grid development.

To read the new report, Macro Grids in the Mainstream: An International Survey of Plans and Progress, click here.
About Macro Grid Initiative:
The Macro Grid Initiative is a joint effort of the American Council on Renewable Energy and Americans for a Clean Energy Grid to promote investment in a 21st century transmission infrastructure that enhances reliability, improves efficiency and delivers more low-cost clean energy. The Initiative works closely with the American Wind Energy Association, the Solar Energy Industries Association, the Advanced Power Alliance and the Clean Grid Alliance to advance our shared goals. To learn more, visit https://acore.org/macro-grid-initiative/. Follow the Macro Grid Initiative on Twitter and LinkedIn.

About ACEG:
Americans for a Clean Energy Grid (ACEG) is the only non-profit broad-based public interest advocacy coalition focused on the need to expand, integrate, and modernize the North American high-voltage grid. ACEG brings together the diverse support for an expanded and modernized grid from business, labor, consumer and environmental groups, and other transmission supporters to support policy which recognizes the benefits of a robust transmission grid. For more information, please visit cleanenergygrid.org.
Comments (0)
This post does not have any comments. Be the first to leave a comment below.
---
Post A Comment
You must be logged in before you can post a comment. Login now.
Featured Product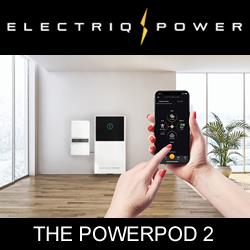 The Electriq PowerPod 2 is a fully-integrated home energy storage, management, and monitoring system powered by LFP batteries. The high-performance, cobalt-free product includes a hybrid solar/battery inverter controlled by intelligent software. The PowerPod 2 provides backup power and can self-consume or export excess power back to the grid.