Proposed infrastructure bill would stimulate capital energy projects
President Biden recently introduced a massive infrastructure bill designed to reshape the U.S. economy while addressing infrastructure reform. Biden's stated goal is to achieve 100 percent carbon-free power by 2035.
The proposal also includes $100 billion in funding to upgrade and strengthen the country's electric grid system, which has been weakened by worsening climate disasters. The proposed legislation would provide new tax credits to support the construction of high-voltage transmission lines, a major hurdle in the expansion of renewable energy. Additionally, it would include a 10-year extension of wind, solar, and battery tax credits, which are set to expire in several years.
To incentivize the build-out of a green grid, rebates would be given to utilities for expenditures incurred on adding solar, wind, and other carbon-free or energy-efficient resources. And, utilities that failed to meet benchmarks would be assessed fees.
About 40 percent of all power usage in the U.S. is tied to the generation of electricity. Power generation has become a critical component of each person's environmental footprint. With population growth, more power is required, and some states have not waited for incentives. Instead, a few state governments have aggressively moved into leadership roles in the struggle for clean energy.
If the infrastructure bill passes, an abundance of funding will be available for projects designed to reduce pollution and harmful emissions.
Here are a few examples:
Michigan
The University of Michigan (UM) has a goal of achieving a "net zero" carbon footprint status by 2050. That goal is accomplished by offsetting emissions of greenhouse gases with emission reductions elsewhere. UM's final report includes 50 recommendations to mitigate greenhouse gas emission. University officials have announced plans to invest $140 million in upcoming wind and solar projects to limit carbon emissions and to convert existing heating and cooling systems to cleaner hot water systems powered by carbon-free energy sources. Cost projections for the complete conversion are approximately $3.36 billion.
Washington State
The state legislature passed a bill creating a new agency called Energy Northwest and has encouraged a second, smaller $2.2 billion plant. The new agency has received an $80 million funding and will be located near the state's nuclear power plant.
Illinois
The University of Illinois in Urbana-Champaign is committed to reducing energy consumption by 50 percent campus wide by 2026. The hope is that key centralized programs such as retro commissioning, energy performance contracting, supply-side equipment upgrades, and net-zero space growth can provide a projected significant energy savings annually and as much as $13 million in cost avoidance. The university's plan is designed to increase and expand renewable energy sources, provide upgrades to heating, cooling, and power generation facilities, and focus on reducing electricity usage in campus residence halls and labs. A micro-nuclear reactor is under consideration as well.
Texas
City Council members in Houston have approved $9.5 million for infrastructure repairs to the city's water system, following the recent statewide freeze that left millions without power. The funds will be spent on waterline repairs and the installation of backup generators at 15 water system facilities. Efforts to prevent similar problems in the future are being discussed and conversations include the possibility of microgrids to power public infrastructure during extreme weather events. Microgrids could provide power to water treatment plants and other facilities rather than rely on a broader grid system that is subject to rolling or unplanned blackouts.
The city of Lubbock's 15-year contract with an energy provider will expire soon, and city officials are considering other options which could include construction of an additional power plant. When the contract ends, it is possible that 70 percent of Lubbock's electric load could be moved to another provider.
New York
In February, city leaders in New York announced plans to spend up to $15 million to pilot the use of community thermal systems as a way to reduce greenhouse gas emissions. Proposals will be accepted to study, design, and construct community thermal systems using heat pump technology. Community thermal systems join multiple buildings through shared heat pump piping and infrastructure. The process of heating and cooling of buildings is responsible for approximately 33 percent of all greenhouse gas emissions in New York State, and energy demand is increasing each year. The state's goal is to reduce greenhouse gas emissions 85 percent by 2050.
Montana
In February, state legislators discussed the possibility of installing small nuclear reactors to reduce emissions by replacing aging coal fired power plants with small modular reactors (SMRs). If that happens, boilers and the related equipment would be removed leaving behind an electrical switchyard and connection to the grid as well as other power infrastructure. The SMR would then be built on the site, and other alternate energy generation facilities could be constructed.
Colorado
The National Renewable Energy Laboratory (NREL), a research institute in Jefferson County, Colorado, was commissioned to perform a renewable energy study for Los Angeles. The study was recently completed, and the report stated that Los Angeles could achieve 98 percent clean energy status within the next decade. To accomplish that goal, Los Angeles will need to add approximately 730 megawatts of solar, wind, and batteries annually for the next 25 years. The final document also stated that the city's clean energy plan could be implemented without blackouts or any disruption to the region's economy.
More than new jobs will be created as the country addresses clean air. These capital projects will generate an abundance of contracting opportunities.
Mary Scott Nabers is president and CEO of Strategic Partnerships Inc., a business development company specializing in government contracting and procurement consulting throughout the U.S. Her recently released book, Inside the Infrastructure Revolution: A Roadmap for Building America, is a handbook for contractors, investors and the public at large seeking to explore how public-private partnerships or joint ventures can help finance their infrastructure projects.
Comments (0)
This post does not have any comments. Be the first to leave a comment below.
---
Post A Comment
You must be logged in before you can post a comment. Login now.
Featured Product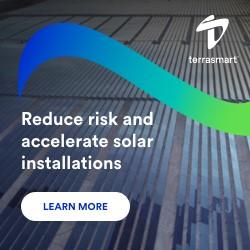 We push the limits in renewable energy, focusing on innovation to drive progress. Pioneering new solutions and ground-breaking technology, and smarter ways of working to make progress for our clients and the industry.