NREL Enables Affordable Housing by Expanding Beyond Energy Efficiency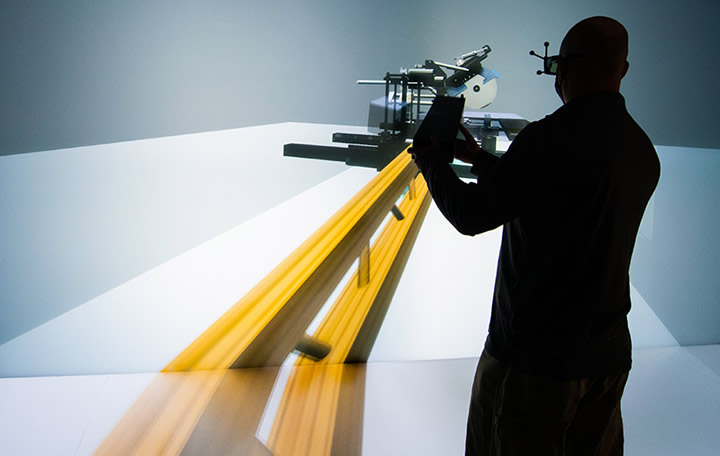 NREL researcher Shanti Pless interacts with a digital twin of a Pre Framing automated cut-saw machine in the large-scale immersive virtual reality (VR) environment at the NREL Insight Center. Photo by Dennis Schroeder, NREL
The National Renewable Energy Laboratory (NREL) has been improving the energy efficiency of buildings, including residences, for more than 43 years. In fact, NREL's Buildings Program was one of the laboratory's first centers of research. In 2021 that work is no less important, because housing consumes 21% of the nation's energy.
But a new concern has emerged: The nation has a critical shortage of affordable housing. Rather than treating those as two separate challenges, NREL has a strategy to tackle both.
"There is a real convergence of energy efficiency in buildings and affordable housing," said NREL senior engineer Shanti Pless. And Pless explained, that convergence is not so new to NREL. "We've long looked at what it costs to build housing and especially what it costs to build a net-zero-energy building. Now we are applying that research to make housing more affordable and more efficient."
The laboratory has historically worked on buildings' energy efficiency, which lowers operational energy costs—electricity and natural gas usage, for example. Now, it is expanding on some of its net-zero buildings experience to look more closely at construction processes, advanced materials, and novel business practices related to energy equity.
When looking at how energy efficiency can lower housing costs, "Utility bills are the easiest target," said NREL engineer Kristin Field-Macumber. "Now we are also looking at advanced manufacturing and making production more efficient." She explained that she is working with technologies that can streamline the energy used and the money needed for building production. "If it costs less to buy, it should cost less to make," she said.
And, with the help of partners designing technologies to make housing more affordable, NREL is applying its know-how to real-world problems.
Energy Efficiency as a Baseline
NREL is a leader in improving heating, ventilation, and air-conditioning (HVAC) systems, appliances, building envelopes, and smart home energy management systems. The laboratory develops software and data management tools to measure and analyze energy use in homes. These tools are critical in developing new products and systems, now including grid-integrated tools.
That work continues, and now, through partnerships like the Wells Fargo Innovation Incubator (IN2), a cleantech incubator for startup companies comanaged by NREL, the products are making their way to market for optimal impact. For example, this year, multinational corporation Emerson acquired startup company 7AC, including a unique heat exchanger and liquid desiccant technology developed with 7AC at NREL.
Additionally, as part of its work improving whole-house systems, NREL is working with IN2 and the Shell Gamechanger AcceleratorTM Powered by NREL to validate technology developed by Span. Span's smart electric panel allows consumers to control their homes' energy use and to integrate renewable sources and energy storage more easily into home power systems.
Construction Processes: Building Better
Expanding beyond cleantech innovations in energy efficiency, NREL is now looking at automation and productivity in construction processes. This includes the numerous opportunities provided by industrialized construction—building homes or multi-home units at a factory, to be raised at the construction site.
Industrialized construction provides economies of scale and allows for optimizing construction processes and reducing waste, along with the benefit of reducing emissions around a construction site and along the supply chain.
According to NREL senior engineer Stacey Rothgeb, working with the people actually building the houses is important to bringing more affordable and more efficient housing to market. Rothgeb supports the Blokable project at NREL, a vertically integrated building system in which energy efficiency, quality, and livability are integrated into every stage of the housing development, construction, and ownership. NREL helps the company by compiling energy data and validating the efficiencies Blokable is working to achieve with its prefabricated construction. The team recently installed a Blokable unit, called a Blok, on NREL's Golden, Colorado, campus. A bonus: That Blok is now being used to validate additional efficient technologies such as monitoring and control systems, among others.
Cutting costs during construction extends beyond prefabricated construction. At NREL, researchers have a new capability: developing immersive construction environments using the Visualization Laboratory and its virtual reality platform to duplicate and improve actual construction processes. For example, the startup company Pre Framing Corp. is modeling and improving its saw station with a program that allows the operator to interact with a virtual version of the machinery. This allows the construction team to troubleshoot before time and money are invested in using or even building the expensive equipment. The same virtual experience can be used to train operators without disrupting the construction site. The digital-twin virtual system is designed to increase efficiency, thereby saving money during construction. Those cost savings can be passed on to consumers.
And at NREL's far-north campus, the Cold Climate Housing Research Center in Alaska, researchers are devising ways to incorporate the most efficient building materials like vacuum insulation with standardized components to create a panelized building system called "Adaptable." The kit-style home could be customized, flat-packed, and assembled by consumers, similar to an Ikea closet. While it is being designed to the highest standards of efficiency, using factory-built, interchangeable components would keep costs down and allow customers to pay for only what they need. With an award through the DOE Advanced Building Construction Initiative, the team is now building a prototype wall section.
Multifunctional Advanced Materials
As demonstrated by NREL's Adaptable project in Alaska, a third piece of the affordability equation lies in the materials used to build housing—coatings, windows, and wall designs among them.
According to Louis Brasington, senior associate with Cleantech Group, an energy research and consulting company, new coatings can save on heating and cooling costs and are an important trend in residential construction.
"The innovation is coming in multifunctional coatings with tunable properties that can reflect or absorb heat, depending on the need," he said. According to Brasington, these adaptive materials can maximize cost savings while reducing energy use. Among the materials' innovators that NREL is working with, EnKoat has developed coatings that collect, store, and release heat at a constant specific temperature to directly reduce HVAC costs. Techstyle Materials, another IN2 company working with NREL, has developed a thermochemical material that pumps water vapor out of buildings, passively protecting the wall assembly and regulating humidity levels and heat flows.
Windows are another area of materials innovation that can increase efficiencies to reduce costs. The innovations vary but include superinsulating, transparent materials that regulate heat. On the future-is-now end of the spectrum, NREL and its partners are working on windows that can produce electricity and potentially lower utility bills. IN2 portfolio companies UbiQD and Next Energy Technologies use different technologies—quantum dots and transparent coatings, respectively—to create electricity with solar energy conversion.
Energy Equity and Housing Affordability
Building in efficiencies at every step along the design, development, and construction process can result in housing affordability and energy equity. New business and finance models, some that recognize the value of energy efficiency, can help make inroads and shift the housing paradigm. IN2 partner Pivot Energy Services is working with NREL to validate its platform that provides unique analytic methods that capture the energy performance of buildings and then provides outputs that are tailored for financial and insurance underwriting. The objective is that the outputs provide confidence in the savings potential of the energy upgrades and will result in investment and other access to capital.
This is new but welcome territory for NREL.
Traditionally, according to Pless, the energy efficiency technologies that have resulted from NREL's work and the work of its partners have not always benefitted everyone equally. "Historically, those who could afford energy efficiency have, but it saves money for everybody, so it needs to be within reach for everybody," Pless said.
Additionally, industrialized construction can open up opportunities for underserved communities, according to Rothgeb. "Factory-built housing is enabling diversity," she said. She explained that automation allows people with different abilities to work in construction. It provides predictable hours, and, fittingly, factories can be located where housing is more affordable; construction workers are not forced to move or drive long distances to work. And while Rothgeb acknowledges that automation in construction may eliminate some jobs, it will create better jobs in advanced analytics, data management, and prospects for skilled technicians to run and maintain the factories.
"It's time for a change in the construction industry," Rothgeb said. "Housing should be at a price point where everyone can afford it." And she reiterated that energy efficiency will be the baseline that enables that quest for affordable housing.
Learn more about NREL's work in industrialized construction innovation and NREL's buildings and cold-climate housing research.
—Kristi Theis
Comments (0)
This post does not have any comments. Be the first to leave a comment below.
---
Post A Comment
You must be logged in before you can post a comment. Login now.
Featured Product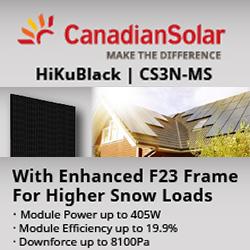 Aesthetic appearance for residential systems: With black backsheet & black frame, Power range 380 ~ 405 W, Low power loss in cell connection. Enhanced reliability: · Low temperature coefficient (Pmax): -0.34 % / °C, LID LeTID less than 2.0%, Lower hot spot temperature, Better shading tolerance.