How to Become a Renewable Energy Engineer?
The world has seen a renewables revolution in the last decade as more of the global population has grown concerned about the consequences of carbon emissions on climate change. In many countries, the impacts of extreme weather events have shaken entire communities and depleted essential resources.
The energy sector accounts for 35% of the world's greenhouse gas emissions, making the transition to renewable energy dire. Currently, the United States has made strides in moving toward a cleaner, more reliable energy source, as 20% of U.S. electricity now comes from renewables. Still, there's more work to be done.
Developing solutions and progressing green technologies are necessary to combat the climate crisis. However, it calls for experts in the renewable energy sector to support environmental recovery and enhance quality of life.
Why the World Needs Renewable Energy Engineers
The advantages of renewable energy are notable, from green employment opportunities to better health to greater accessibility.
For instance, when a winter storm barreled through Texas in February 2021, a crumbing electric grid plunged over 4.5 million homes across 25 counties into darkness, costing $195 billion in damages and leading to 57 deaths from frigid temperatures. The power failure sparked discourse about the need for more reliable energy to keep the lights on during these events.
Coastal communities are at just as much risk due to major hurricanes. Yet, there is untapped potential for generating power from the ocean. Ocean or mechanical energy generation could theoretically reach 2.64 trillion kilowatt hours to avoid significant outages along coastlines.
According to the International Renewable Energy Association (IRENA), one billion people lack electricity, with another billion having an unreliable supply. Renewable energy technologies improve electricity access for 80% of those living in rural areas or developing countries.
Of course, it's impossible to overlook the health benefits of cleaner energy sources. While biomass and geothermal emit some air pollutants, the amount isn't nearly as much as older power generation emissions.
Studies show that air pollutants cause or exacerbate several conditions, including cardiovascular disease, diabetes, dementia and respiratory issues like asthma, COPD and pulmonary fibrosis. Every 10 annual mean concentrations of particulate matter increase the risk for cancer mortality by 22%.
Renewable energy engineers are vital to improving existing energy infrastructure and implementing new renewable sources, such as solar panels and wind turbines. Without renewable energy engineers, clean energy generation isn't attainable.
A Day in the Life of a Renewable Energy Engineer
Renewable energy engineers utilize vital scientific, mathematical and engineering principles to forge new clean energy methods. Their skills and expertise allow them to make advancements in solar, wind, geothermal and other renewable energy technologies possible.
Take a solar energy system engineer, for example, who might be the mastermind behind the innovation of photovoltaic (PV) solar panels for residential and commercial structures. Renewable energy engineers who work in solar create electrical diagrams using computer-aided design (CAD) software and offer recommendations for enhancing solar design goals.
Regardless of which types of energy source, renewable energy engineers could also do the following:
Conduct site reviews for renewable energy power systems
Determine design specifications and recommend green changes for improved efficiency
Develop operational and safety standards for equipment installation
Work with teams to find solutions if plant equipment malfunctions
Inspect the final product for defects
Support technical teams in performance monitoring
It's safe to say that no two days are the same for a renewable energy engineer who might work at power plants or in an office or laboratory.
Education and Training to Become a Renewable Energy Engineer
To become a qualified renewable energy engineer, individuals should pursue the proper education and skills-based training to do the job.
Education Requirements
At a minimum, a renewable energy engineer must have a bachelor's degree in engineering or science, concentrating on one of the four engineering disciplines — environmental, electrical, chemical or mechanical.
Students in these programs will gain sufficient knowledge in physics, chemistry and calculus, with the opportunity to participate in internships that provide hands-on experiences to apply their learning.
The Accreditation Board Engineering and Technology (ABET) accredits many engineering programs, ensuring curriculums in natural sciences, engineering and technology meet today's academic and professional standards for excellence. To date, the ABET has accredited 4,361 programs in 41 countries and is a preferred qualification of many employers and state licensing boards.
Skills and Training
Renewable energy engineers must maintain the right skills and knowledge to be successful in the field. Having a background in the renewable energy market and the regulations and policies that dictate renewable energy is critical.
Graduates with an engineering degree should have gained the following proficiencies:
Strong math and science skills with the ability to collect and analyze numerical data and generate software and spreadsheets.
Computer skills to produce one- and three-line electrical control drawings, isometric mechanical renderings and utilize programs like AutoCAD and Solidworks.
Project management capabilities to manage teams, organize projects and complete tasks on schedule.
Renewable energy engineers are also independent workers who take the initiative in their work and solve problems proactively. They also possess excellent organizational and verbal and written communication skills to interact with team members and relay important information.
Certification
Licensure and certification are a requirement for renewable energy engineers. While every state licensing board has its own requirements for engineering careers, renewable energy engineers might want to obtain a Certified Renewable Energy Professional (CERP) certification.
Candidates for CERP certification demonstrate expertise and skill sets for the field. Applicants must have at least one year of work experience with 25 hours of training and pass a comprehensive exam in renewable energy topics.
The Association of Energy Engineers also offers certifications in energy efficiency and management, service and commissioning, sustainable development, distributed power generation and demand.
Renewable Energy Engineer Career Outlook
According to Salary.com, renewable energy engineers earn between $71,848 and $92,795 annually, depending on their industry experience, location, education and certifications.
Job growth for this field has increased exponentially, with projections indicating further growth in the coming years. In 2021, energy jobs increased by 4% from the previous year, from 7.5 million to 7.8 million jobs. Currently, 40% of energy jobs — over 3 million — support reducing emissions and transitioning to cleaner energy sources.
The solar industry, in particular, has seen the most growth over the years. In 2020, there were 231,474 U.S. solar energy professionals employed in the field. While the number was lower than before the pandemic, labor productivity ranged between 2% and 32% across the solar sector.
Renewable Energy Advancements Demand Skilled Engineers
The future of clean energy depends on whether renewable energy engineers are available to advance green solutions. Solving the energy crisis amid climate change is critical to safeguarding essential infrastructure and the public.
Comments (0)
This post does not have any comments. Be the first to leave a comment below.
---
Post A Comment
You must be logged in before you can post a comment. Login now.
Featured Product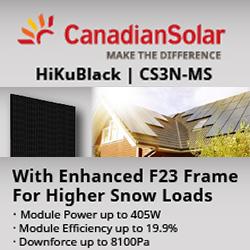 Aesthetic appearance for residential systems: With black backsheet & black frame, Power range 380 ~ 405 W, Low power loss in cell connection. Enhanced reliability: · Low temperature coefficient (Pmax): -0.34 % / °C, LID LeTID less than 2.0%, Lower hot spot temperature, Better shading tolerance.