Climate Bill Causing Utility Companies to Embrace Climate Goals
Many may agree the United States' transition to green energy is long overdue. At the same time, utility companies argue against it to prevent operational shutdowns. However, with the recent passing of President Biden's Inflation Reduction Act (IRA), major electric distributors across the nation are at risk of closure.
They have two choices — continue avoiding compliance with today's tighter environmental protections or embrace climate goals and move away from fossil fuels. Several utility companies have chosen the latter to stay in business. Here's how utility companies can benefit from the latest climate change package and make widespread renewable energy use possible in the U.S.
Utility Companies Become Part of the Change
During the first half of 2022, renewable sources accounted for 24% of utility-scale power generation in the U.S. Although renewables have become the fastest-growing distributed energy source, the IRA aims to fast-track the shift even more.
For individuals and businesses, extended tax credits and other incentives ensure greater affordability and accessibility to green energy. Some customers gain $1,000 or more in rebates to install or retrofit structures with clean, efficient technologies.
Utility companies also expect to reap the rewards from the IRA. For instance, nearly $3 billion is set aside for upgrading transmission infrastructure — critical for the 70% of electric grid facilities crumbling after 25 years in operation. Additionally, another $760 million in grants is available to evaluate impacts and siting alternatives and participate in oversight regulatory actions.
Energy producers are also eligible for 10-year tax credits under Section 13101 of the IRA to generate emissions-free electricity. The credit is currently at 0.3 cents per kilowatt-hour and utility facilities that compensate well during construction and the first 10 years of operations can receive five times more. There are also $9.7 billion in loans for U.S. agricultural facilities to purchase renewable energy systems, carbon capture tools and zero-emissions technologies under Section 22004 of the IRA.
Of course, the IRA outlines several other provisions that issue credits and monetary incentives to utility companies for voluntary compliance. Those who lean into federal financial assistance and tax credits spearhead an effective transition to renewable sources, ensuring cleaner air quality and lower consumer utility costs.
The projected financial gains will make embracing climate goals particularly enticing for utility companies. Thanks to the IRA, electric utilities will garner hundreds of millions in additional revenue annually for years to come.
Green Advancements Make Renewable Energy Possible
Emerging green technologies have made it easier for the U.S. to take the giant leap toward renewable energy generation, but there is still a bit to go. Despite more Americans opting for residential solar panels, solar accounts for only 3% of U.S. utility-scale electricity generation.
Supporting the electric grid with solar power requires ample space for solar panels — unfortunately, the land requirements substantially hinder solar plant facilities. In many instances, installers must clear the land, which degrades the surrounding environment and reduces native biodiversity. Panels also tend to lose efficiency in extreme heat.
Wind power is another up-and-coming renewable energy source that'll further reduce fossil-fuel grid reliance. However, turbine production comprises mostly single-use materials, creating a significant waste problem. The U.S. will likely accumulate over 720,000 tons of turbine material waste in the next 20 years.
The IRA will help fund numerous renewable energy projects and technologies to resolve these issues. For example, solar engineers have released floatovoltic panels that float on water, reducing land-use change and heat inefficiencies. Scientists project installing floatovoltic panels on over 24,000 of the nation's artificial water bodies would produce 10% of electricity in the U.S. annually.
Other emerging technologies have optimized wind power production. Unmanned aerial vehicles are pilotless mechanisms that produce wind energy independently by flying around in circles. Meanwhile, researchers are improving a more circular economy for wind power materials.
The Univerity of Tennessee is currently trying to reclaim fiberglass from older turbines for second-life manufacturing in the automotive, marine and aerospace markets. Other entities — like the National Renewable Energy Laboratory — are analyzing end-of-life methods for turbine materials to develop a more streamlined recycling process and extended life span.
Embracing Climate Goals Results in Cleaner Air
The energy sector held too much power for too long as the U.S. government struggled to implement sounder regulations for renewable-generated electricity. Fortunately, the Inflation Reduction Act is a declaration of change as U.S. utility companies take another step further away from fossil fuels. Embracing climate goals will ultimately improve air quality and reduce costs for Americans — a winning feat in the fight against climate change.
Comments (0)
This post does not have any comments. Be the first to leave a comment below.
---
Post A Comment
You must be logged in before you can post a comment. Login now.
Featured Product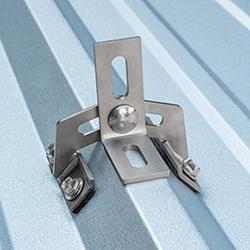 Explore new lines of income for your solar installation business with QuickBOLT's Stone Coated Steel roof mounts designed in partnership with metal roof manufacturers themselves. These SCS roof mounts work on all metal tile profiles and will help you bring in money you're missing out on. By not driving into the roofing material, QuickBOLT's Stone Coated Steel roof hooks maintain the integrity of the roof. Install with ease and confidence knowing your roof is protected against the harsh elements that these hooks are designed for.