Harnessing the Flow of Battery Energy Storage Systems
Use of renewable energy is surging as the world strives to attain net-zero emissions. According to a report by the International Energy Agency (IEA), renewable energy will be responsible for about 95% of the increase in global power capacity through 2026, with solar power contributing more than half of this increase.
The volatility of renewable prices and sourcing requires reliable storage solutions. One proven method is megawatt-level Battery Energy Storage Systems (BESS). BESS reshapes energy use by balancing supply and demand, stabilizing grids, preventing renewable energy waste, and encouraging innovation. BESS does all this by harnessing the advanced technologies of lithium-ion batteries to store energy and distribute it when needed.
The elements of BESS are:
Battery Management System: Battery monitoring and control. It also raises alerts when the battery status is abnormal.
Auxiliary System: This system raises alerts when anomalies are detected, monitors environmental conditions, detects unauthorized access, and provides uninterruptible power supply (UPS) and HVAC.
Power Conversion System: Manages battery charging and discharging through EMS commands, and converts AC/DC.
Energy Management System: Responsible for control of power flow and monitoring the state of charge, KPI management, and local and cloud-based data logging and management.
BESS is now being used by investors to profit from erratic intraday electricity prices. Meanwhile, regulators are concentrating on BESS to ensure a more dependable and secure electricity supply. With its tremendous growth opportunities, there are three trends that are shaping BESS today to keep an eye on.
1. Lower Lithium Battery Costs
The energy storage market has grown because of the lower costs of lithium-ion batteries. The cost was reduced by 90% from 2010 to 2020, making entry easier for BESS and growing the market.
2. Legislative Measures Spurring BESS Expansion
The major power-producing nations, including the United States, United Kingdom, EU, Japan, and China, have recently adopted legislation to promote energy storage systems. Policy encouragements and tax relief have bolstered this effort, aiming to further domestic application. For instance, in 2022, the U.S. passed the Inflation Reduction Act (IRA), investing USD $370 billion in renewable energy and climate change initiatives. This action will result in an investment offset of over 30% for energy storage systems. China established a target of 30 GW of storage capacity by 2025 in order to develop its energy storage sector.
3. Melting Pot of Players
There is no single leader in BESS today, although a few early entrants have made a name for themselves. BESS's anticipated rapid growth will open up prospects for new suppliers, therefore these major competitors' share may not endure. Notably, the top seven battery storage suppliers have lost market share, from 61% to 33%, as indicated by a 2022 report, "Battery Energy Storage—Value Chain Integration is Key." This shows that BESS is heading toward commercialization with more market players.
Elevating BESS Data Transmission and Storage
Data is vital to assessing the performance of large-scale BESS investments, but there is no single approach to transmission and preservation. However, drawing from Moxa's extensive experience supporting large-scale BESS owners and suppliers, we can recommend two key strategies for data storage and transmission:
Build resiliency into facilities: Large-scale BESS facilities are often situated in remote or coastal regions, with potential exposure to environmental corrosion factors, like salt. In addition to choosing network equipment with wide operating temperature ranges and high mean time between failures (MTBF), it's crucial to choose devices that can withstand the field conditions of the deployment area. This may include anti-electromagnetic interference fiber optics or anti-corrosion coatings. These measures will safeguard the stability and integrity of transmitted data.
Build redundancy into systems: In unpredictable remote sites, it's crucial to prepare for issues like an unstable power supply or unforeseen power outages. Opt for network equipment with multiple power inputs or dual power backup designs. For larger BESS sites, consider network redundancy capabilities, such as dual network backup (LAN-A/LAN-B network) or ring network topology with swift disconnection backup. This ensures prompt activation of backup networks during network anomalies, minimizing data loss. Tailor network architectures to each site's specific data transmission stability need to balance cost-effectiveness and avoid losses.
As the world embraces renewable energy, BESS systems for grid stability and energy optimization grow more crucial. The mastery of data aggregation, transmission, and management is set to emerge as a pivotal force, empowering governments, investors, and suppliers to drive substantial, long-term investments and expedite the shift toward sustainable energy. For more information, visit the Moxa BESS Portal.
Comments (0)
This post does not have any comments. Be the first to leave a comment below.
---
Post A Comment
You must be logged in before you can post a comment. Login now.
Featured Product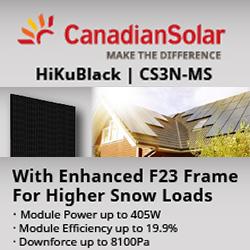 Aesthetic appearance for residential systems: With black backsheet & black frame, Power range 380 ~ 405 W, Low power loss in cell connection. Enhanced reliability: · Low temperature coefficient (Pmax): -0.34 % / °C, LID LeTID less than 2.0%, Lower hot spot temperature, Better shading tolerance.