TRANSFORMING PARKING LOTS INTO SOLAR POWER PLANTS – THE HUGE POTENTIAL OF PARKING LOT PV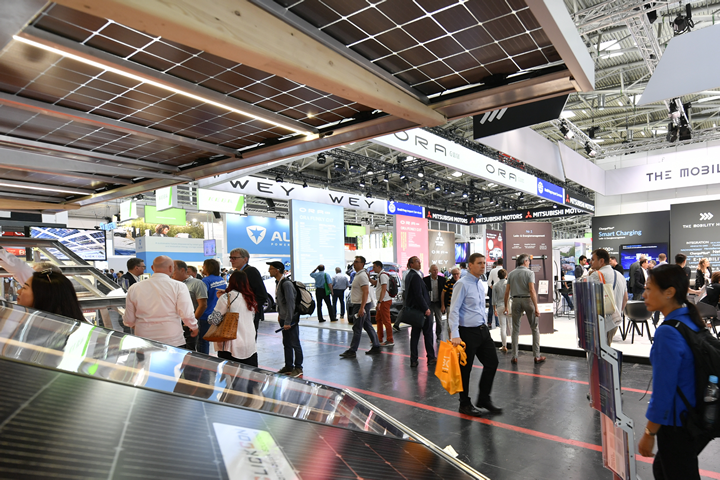 Image source: © Solar Promotion GmbH
Parking lot photovoltaics (parking lot PV) can transform parking lots belonging to companies, private households and local authorities into solar power plants. There is huge potential here to generate green electricity and make dual use of sealed surfaces. Not to mention that global demand for e-cars is on the rise. According to the International Energy Agency (IEA), their share of the global automotive market will be just under 20 percent by the end of this year. It is on that basis that many manufacturers are already selling solar carports and charging stations for e-cars as packages. Power2Drive Europe, the international exhibition for charging infrastructure and e-mobility, will be offering an in-depth look at the latest developments and products relating to parking lot PV and demonstrating how to make the most of its huge potential. Power2Drive Europe is part of The smarter E Europe and will take place from June 19–21, 2024, at Messe München. Two-thirds of the exhibition space has already been filled since the last event ended three months ago.
The growing demand for renewable energies and efficient, sustainable solutions has already sparked innovative ideas aplenty. Parking lot PV is one example that combines functionality with the power of solar energy. Parking lots are an important part of the infrastructure in any place where people use cars and other vehicles to get around. And they cover huge sealed surfaces all around us – near places of work, homes and shops. But parking lot PV transforms them into solar power plants. Large parking lot facilities can also contribute to the development of a comprehensive charging infrastructure for e-mobility and, in turn, the mobility transition as a whole.
Parking lot PV promises plenty of pros
Green electricity can be generated and sealed surfaces can be assigned a secondary use. But the benefits do not stop there for parking lot operators. They will be able to supply their buildings with electricity and feed any excess into the public grid or pass it on to third parties. This will allow them to cut their costs, reduce their carbon footprint and actively support the expansion of renewable energies. As the number of electric vehicles on the road increases, more and more parking lots are being equipped with charging points and EV-chargers. Solar power generated by PV parking lot facilities can be used directly to charge electric vehicles. The combination of PV canopies and e-mobility opens up the potential for parking lots to become solar mobility hubs that can offer services, such as high-power charging (HPC) and vending machines selling food and drink. There is plenty of scope for operators to shift to new business models.

First EU countries make PV mandatory
A new French law that came into force on July 1, 2023, requires at least half of the area of parking lots with more than 80 parking spaces to be covered with PV modules. According to the French government, PV parking lots could generate between around 9 and 11 gigawatts of power. That is roughly equivalent to ten nuclear power plants. There is a similar PV requirement in place in Germany. New parking lots have to be equipped with solar panels in the states of Baden-Württemberg, Lower Saxony, North Rhine-Westphalia and Rhineland-Palatinate. This requirement will also be enforced in Hesse from November 2023. The minimum number of parking spaces ranges from 35 to 100.

While this requirement only applies to new parking lots in Germany, the French law is also extended to existing sites. If existing parking lots were covered by this regulation in Germany too, almost a quarter of the 215 GW of PV capacity the German government is aiming to have installed by 2030 could stem from parking lot PV, according to a study conducted by the Fraunhofer Institute for Solar Energy Systems ISE.
Pioneering projects present the potential
A 20-hectare PV system is currently being installed at a parking lot on the site of the vehicle logistics specialist Mosolf in Kippenheim near Lahr (Baden-Württemberg). This is set to be the largest installation of its kind in any German-speaking country. It is ultimately expected to generate around 25 gigawatt hours, or 25,000,000 kilowatt hours, of electricity each year. After it has been put into operation in 2024, it will supply enough solar power to run the Europa-Park theme park in Rust for the entire summer season – and that is not all. Around 30 million euros have been invested into the system in total.

Looking beyond the German-speaking countries, the largest parking lot PV installation in the world is located in Biddinghuizen in the Netherlands. This 35-MW solar carport has around 90,000 solar panels and covers 15,000 parking spaces connected to an events venue, where several large music festivals are held every year. Just one percent of the electricity generated is used to run the festivals and the rest is fed into the grid. During the periods when no festivals are taking place, sheep graze on the 35-hectare site.


Power2Drive Europe 2024: parking lot PV in the spotlight
Power2Drive Europe – the international exhibition for charging infrastructure and e-mobility – will be showcasing the latest trends and products relating to parking lot PV. For example, solar carports from ClickCon, Bluetop Solar, ALUKOV and other well-known suppliers will be on display inside the exhibition halls and in the vast outdoor area.

Power2Drive Europe and the parallel events Intersolar Europe, ees Europe and EM-Power Europe will all take place from June 19–21, 2024, as part of Europe's largest platform for the energy industry, The smarter E Europe, at Messe München.
Comments (0)
This post does not have any comments. Be the first to leave a comment below.
---
Post A Comment
You must be logged in before you can post a comment. Login now.
Featured Product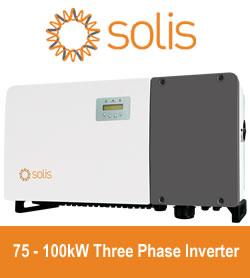 Solis75kW - 100kW series high-power string inverters are widely used in industrial and commercial rooftops. Solis's new three-phase string inverter is the first choice for industrial and commercial photovoltaics. 75-100kW three phase series string inverter have Maximum 28 strings input, support "Y" type connection in DC side. Maximum string input current 13A, support bifacial modules access.Supports anti-PID function to improve system efficiency.