American Battery Technology Company Announces Start of Operations at its Commercial-Scale, Lithium-Ion Battery Recycling Facility in Nevada
American Battery Technology Company (ABTC) (NASDAQ: ABAT), an integrated critical battery materials company that is commercializing its technologies for both primary battery minerals manufacturing and secondary minerals lithium-ion battery recycling, announced the operational start-up of its commercial-scale, lithium-ion battery recycling facility located in the Tahoe-Reno Industrial Center (TRIC) in McCarran, Nevada, initiating implementation of its first-of-kind lithium-ion battery recycling technologies at an industrial scale.
"We are excited to have achieved this major milestone and to now be generating commercial-scale quantities of domestic recycled battery metal products," stated ABTC CEO Ryan Melsert. "By securing our move-in-ready industrial facility in early 2023, we were able to greatly accelerate our timeline to operations, and the last step of receiving approvals for the updated operational permits for our specific internally-developed processes were received over the past week."
ABTC's first-of-kind integrated battery recycling system utilizes a strategic de-manufacturing and targeted chemical extraction train in order to recover battery materials with high yields, low cost, and with a low environmental footprint. These processes are fundamentally different than conventional methods of battery recycling, which utilize high temperature furnaces, such as in smelting operations, or non-strategic shredding or grinding systems. The ABTC system results in efficient separation, recovery, and purification of high-value battery-grade products with less environmental impact and greater cost efficiencies than conventional methods.
This commercial facility has the capacity to process over 20,000 metric tonnes of battery feedstock materials per year when fully ramped, and this first phase of operations will process these battery feedstock materials into recycled products including copper, aluminum, steel, a lithium intermediate, and a black mass intermediate material that will be sold through an already executed marketing agreement with the global metals trader TechMet-Mercuria. Once the second phase of this integrated recycling facility is operational, this lithium intermediate will be further refined into a battery grade lithium hydroxide product, and the black mass intermediate material will be further refined into battery grade nickel, cobalt, manganese, and lithium hydroxide products.
"Our research & development, engineering, project management, and operations teams have been working with the commissioning of this facility as our highest priority, and we are proud to have accelerated our timelines to have installed our first piece of equipment within a month of gaining access to this new site, and to now have begun commercial operations less than six months later," stated Andrés Meza, chief operating officer for American Battery Technology Company. "We appreciate Storey County and Nevada Department of Environmental Protection (NDEP) in their work to permit and establish these processes, and we look forward to our continued engagements as we move through operations."
ABTC has been validating and optimizing its first-of-kind recycling technologies for several years, and has showcased its innovation through winning the battery recycling portion of the competitively awarded BASF-sponsored Circularity Challenge; through a $2M battery recycling grant through the U.S. Advanced Battery Consortium (USABC), which is comprised of the US Department of Energy, General Motors, Ford, and Stellantis for a commercial-scale project currently underway to demonstrate that recycled battery metal products from domestic U.S. resources can be produced at lower cost than, and at significantly improved social and environmental impact, than conventionally mined virgin minerals; and through a competitive U.S. DOE grant for a $20M project to develop and commercialize a set of Next Generation battery recycling technologies to even further enhance the recovery of recycled products and reduce the cost of operations.
About American Battery Technology Company
American Battery Technology Company (ABTC), headquartered in Reno, Nevada, has pioneered first-of-kind technologies to unlock domestically manufactured and recycled battery metals critically needed to help meet the significant demand from the electric vehicle, stationary storage, and consumer electronics industries. Committed to a circular supply chain for battery metals, ABTC works to continually innovate and master new battery metals technologies that power a global transition to electrification and the future of sustainable energy.
Comments (0)
This post does not have any comments. Be the first to leave a comment below.
---
Post A Comment
You must be logged in before you can post a comment. Login now.
Featured Product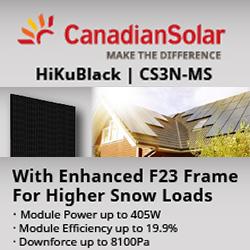 Aesthetic appearance for residential systems: With black backsheet & black frame, Power range 380 ~ 405 W, Low power loss in cell connection. Enhanced reliability: · Low temperature coefficient (Pmax): -0.34 % / °C, LID LeTID less than 2.0%, Lower hot spot temperature, Better shading tolerance.