The design is simple yet truly effective in offering to the building owner an aesthetically pleasing, lightweight photovoltaic roofing system that rests on flat or low slope roofs, requires no roof penetrations, protects roofs from weather and UV radiation and produces cost effective solar electric energy.
Records 106 to 106 of 106
Featured Product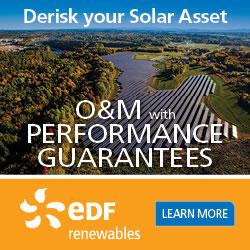 EDF Renewable Services is the trusted leader to maximizing solar project performance. Our passion is optimizing renewable energy assets, and we have 10 GW of projects under O&M contract to prove it.