You don't have to own an electric vehicle of any kind to be a part of the network. All you have to do is be willing to let others use the electric outlet of your home. Even if you are an apartment renter, as I am, you still might be able to let EV owners plug into an outlet of your apartment.
Making a hybrid power system work in the long run is not just about buying and installing the equipment. Like with any other technical system, there must be adequate documentation of the installation. Operators and maintenance personnel must have proper training. Funds must be allocated for maintenance and repair, e.g. to replace a worn-out battery bank or hire a specialist for troubleshooting.
Records 31 to 32 of 32
Featured Product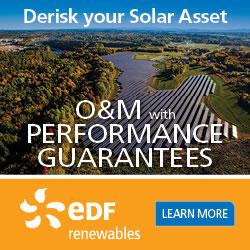 EDF Renewables offers the same innovative solutions that maximize the performance of our own 5.2 GW of installed projects. Because we're not an equipment manufacturer, our recommendations are transparent and data-driven. We cover the entire project lifecycle: from pre-commissioning support, through warranty and post warranty operation, to late stage and decommissioning.