Large Power lines as part of the FERC's new national grid. Mary Hamilton, Member Solar Plexus LLC Statistics about teen and tween attitudes about global warming and the environment. Karen Famighetti, Weekly Reader Research
I have a very deep belief in America's capabilities. Within the next 10 years we can accomplish our energy independence, if we as a nation truly set our goals to accomplish this. I happen to believe that we can do it.
Records 1 to 2 of 2
Featured Product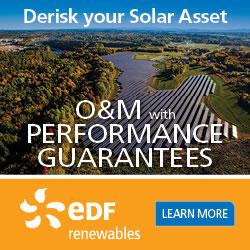 EDF Renewables offers the same innovative solutions that maximize the performance of our own 5.2 GW of installed projects. Because we're not an equipment manufacturer, our recommendations are transparent and data-driven. We cover the entire project lifecycle: from pre-commissioning support, through warranty and post warranty operation, to late stage and decommissioning.