David Grossman for Popular Mechanics: To build a photovoltaic highway, Chinese engineers are using three layers. The uppermost of these is transparent concrete with a feel similar to asphalt. Then come the solar panels, absorbing the sun's rays while protected from nature.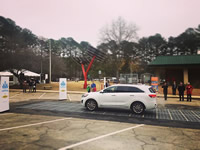 Lacy Cooke for Inhabitat: The first Wattway solar road pilot in America has popped up in rural west Georgia. The Ray C. Anderson Foundation, named for sustainable manufacturing pioneer Ray Anderson, is testing renewable technologies along an 18-mile stretch of road, and recently installed 538 square feet of Colas' Wattway solar road system near the border between Georgia and Alabama. Part of Georgia's Interstate 85 was named for Anderson, but as over five million tons of carbon dioxideare emitted yearly on that road portion alone, Anderson's family felt placing his name there didn't honor his legacy, and began to look into renewable technologies to clear the air – so to speak. Thus began The Ray, an 18-mile living laboratory for clean technologies, including not only the solar roads, but also a solar-powered electric vehicle charging station, and WheelRight, a system people can drive over to test their tire pressure, which could lead to improved fuel inefficiency. Cont'd...
Records 1 to 2 of 2
Featured Product
What if you could maximize the Ground Coverage Ratio (GCR) on your next project and not have to worry about the complicated variables that come with a tracker system? With a low tilt and clearance design, Dahlia® has the highest GCR of any fixed-tilt system in the marketplace. The system is available in three tilt options (7.5, 10 and 12.5 degrees) and designed to accommodate any sized PV module. The lightweight system is engineered with fewer components, several of which are shipped to job sites pre-assembled. This design feature reduces freight costs and rapidly trims the amount of on-site installation time required to complete construction. Maximizing PV coverage on a site can lead to an increase of production, which creates greater financial return for project owners. Over 100 MW of Dahlia® projects have been deployed across the United States, in regions of variable snow and wind loads. How much can Dahlia® cover and save you on your next project?