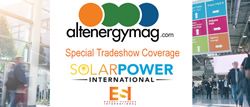 Solar Power International, ESI & North America Smart Energy Week will take place in Salt Lake City, UT September 23rd - 26th. This AltEnergyMag.com Special Tradeshow report aims to bring you news, articles and products from this years event.
With over 20,000 solar professionals, 700 exhibitors, and more than 300,000 square feet of expo hall space, navigating North America Smart Energy Week can be a real challenge.
Records 1 to 2 of 2
Featured Product

The Iron Edison Lithium Iron solar battery is fully compatible with popular battery-based inverters and is housed inside a rugged steel enclosure with integrated Battery Management System. Standard capacities range from 2 kWh to 42 kWh, with custom high-capacity and high-voltage models available for commercial applications like peak load shaving and UPS. The battery is designed and assembled at the company's headquarters just outside of Denver, Colorado. The Iron Edison Lithium Iron battery is an ideal replacement for lead-acid battery, with longer cycle life, smaller footprint, and maintenance-free operation. Residential applications include solar battery backup, grid-zero and off-grid energy storage. Commercial applications include high voltage battery backup, off-grid telecommunications power and peak load shaving. If you have any questions, please call us at 720-432-6433. We are happy to help!