Here are two case studies about SolarWall. NREL - Research Support Facility is pictured below and Northern Arizona University - Distance Learning Center

Contributed by | SolarWall
NREL - Research Support Facility



When NREL (National Renewable Energy Laboratory; a national laboratory of the U.S. Department of Energy, Office of Energy Efficiency and Renewable Energy) was tasked with building their next sustainable green building, a new Research Support Facility (RSF), it was decided the 222,000 ft2 office building would be a showcase for energy efficiency and renewable energy technologies.
NREL's RSF is the largest Net Zero building in the US with 800+ staff and aiming for LEED Platinum Plus rating from the USGBC. The RSF was designed to use 50% less energy than a standard office building, and incorporates a number of green innovations such as day lighting, natural ventilation, building integrated PV and a SolarWall solar air heating system.

The SolarWall® system, with zero maintenance and proven performance metrics was easily integrated into the buildings south facing façade. The panels were mounted horizontally and (with very little effort) incorporated around numerous windows. The two charcoal colored SolarWall® systems span over 8,640ft2 and pre-heat the fresh ventilation air using the sun, reducing heating costs and GHG emissions.
The SolarWall systems at the RSF is projected to deliver over 238 Mwh (856 GJ) of end use annual energy. The annual GHG emission reductions is over 53 tones of CO2 per year.

Northern Arizona University - Distance Learning Center
Background
When project architect Burns Wald-Hopkins Shambach Architects started work on the new Distance Learning Facility at Northern Arizona University in Flagstaff, AZ, they were targeting a LEED® silver rating. In order to achieve this LEED® status they implemented a variety of green technologies. The most prominent green technology being a south-facing SolarWall® solar air heating system. The SolarWall® system was chosen because it provides fresh solar heated ventilation air in the winter, and acts as a shading screen during the summer. The SolarWall® system provides exceptional air quality for the classrooms, faculty offices, and a new television studio that make up the new building. The SolarWall® system also qualifies for up to 6 LEED® points.
Solution
Conserval Systems designed the SolarWall® system for the solar-rich, south facing wall of the new facility, integrating the solar component into the building's mechanical system. The total solar collector area is 2,828ft2 (263m2) and the architect designed it in such a way that the horizontally-mounted SolarWall® system became one of the key visual features of the front façade.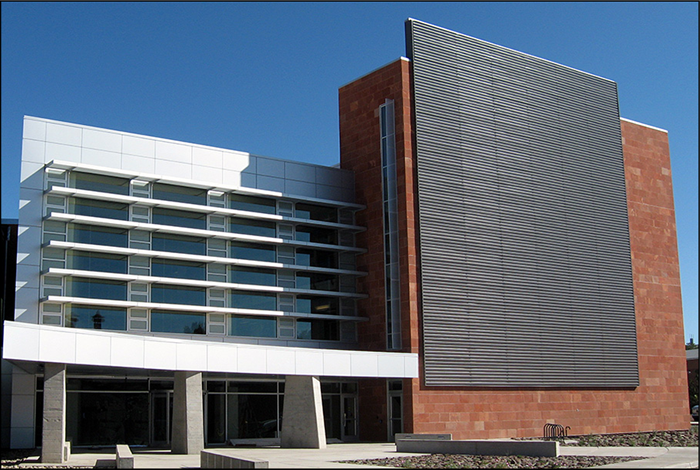 Results
The SolarWall® system on the new Distance Learning Facility at Northern Arizona University is projected to produce over 412 million BTUs of renewable energy annually. The system will also reduce greenhouse gas emissions by 29 tons of CO2 each year, with an estimated payback of under 8 years.
The content & opinions in this article are the author's and do not necessarily represent the views of AltEnergyMag
---
Comments (0)
This post does not have any comments. Be the first to leave a comment below.
---
Post A Comment
You must be logged in before you can post a comment. Login now.
Featured Product
With Baja Carports 35 plus years in the industry installing our Solar Support Systems nationwide and whose founder Bob Hayworth was one of the first to use solar panels as the rooftops on commercial carports ~ is assurance that you will receive Baja expertise in all phases of installation. Our team's diligence makes the design-build process easy for customers. You don't need a set of architecture plans to begin talking to us about your project. Baja's in-house design engineers will work closely with you to meet your project specifications and city's criteria. You'll have our design team's years of experience applied to your plans. Our engineers will deliver a set of stamped plans, which maximize canopy coverage and details the most-effective layout for your business' parking lot.