While fuel cell passenger vehicles are still several years down the road, forklifts provide an excellent framework to showcase the potential of fuel cell technology while providing a cost-effective and environmentally-friendly alternative for distribution centers.
Fuel Cells Do Some Heavy Lifting
Jennifer Gangi | Fuel Cells 2000
While fuel cell passenger vehicles are still several years down the road, forklifts provide an excellent framework to showcase the potential of fuel cell technology while providing a cost-effective and environmentally-friendly alternative for distribution centers.
Fuel Cells Do Some Heavy Lifting
By Jennifer Gangi, Fuel Cells 2000
www.fuelcells.org
---
In North America alone, there are around 5,000 large distribution centers. To assist with daily operations, forklifts at these distribution centers run continuous 24-hour shifts, seven days a week. Current battery power systems require as many as three batteries per vehicle to cover such a long shift and its rotations, not to mention all the hassle that comes with battery recycling. Emissions from the forklifts in a closed facility are also a major concern, which is why fuel cell-powered forklifts are proving to be a viable and cost-effective alternative.
A fuel cell is an electrochemical device that combines hydrogen and oxygen to produce electricity, with water and heat as its by-product. As long as fuel is supplied, the fuel cell will continue to generate power. Fuel cells have been installed all over the world in all kinds of locations - hospitals, banks, landfills, breweries - for stationary power. They are also being demonstrated in various transportation applications - buses, passenger cars, planes, trains, auxiliary power units for tractor-trailer trucks and boats. Niche transport applications such as utility vehicles and forklifts have been getting a lot of attention because the power requirement is smaller, so the fuel cell can be manufactured cheaper, plus they use a central fueling facility, which eliminates the need for a hydrogen infrastructure right away.
Fuel cell forklifts have potential to effectively lower total logistics cost since they require minimal refilling and significantly less maintenance than electric forklifts, whose batteries must be periodically charged, refilled with water, and replaced. In addition, the fuel cell hybrid system ensures constant power delivery and performance, eliminating the reduction in voltage output that occurs as batteries discharge. Due to the frequent starting and stopping during use, electric forklifts also experience numerous interruptions in current input and output.
When using pure hydrogen as the fuel source, a fuel cell becomes a zero-emission energy source. Individual warehouses and distribution centers can install their own hydrogen fueling station in house and fuel cell forklifts only take between one to two minutes to refuel. Another option is to use mobile fuel trucks at a location, which assures the mobility of gasoline and diesel vehicles and eliminates the need for central charging stations.
The government of Canada sees the potential market for fuel cell-powered forklifts and has provided large amounts of funding for continued research, development and demonstration.
The U.S. Department of Defense, through the Defense Logistics Agency (DLA), is also very interested in this application. The DLA is investigating fuel cell forklifts to operate at its new Cumberland and Mechanicsburg facilities that provide military and commercial repair parts, clothing and medical supplies and industrial and electronic components customers throughout the United States and the world. If successful, the DLA will deploy additional forklifts and become an early adopter of the technology.
Successful Trials
There already have been several successful demonstrations of hydrogen fuel cell-powered forklifts, including at such large company warehouses of Wal-Mart, GM and Fed Ex. Cellex Power Products, Inc. has completed field trials of its Alpha fuel cell-powered forklift at the logistics subsidiary of Wal-Mart Stores, Inc. in Missouri. Cellex had four fuel cell power units in operation for two weeks and Wal-Mart was so impressed, the company has decided to support Cellex's Beta field trials and commercialization process of fuel cell power systems for electric lift trucks. Cellex Power Products supplied Wal-Mart with 14 fuel cell vehicles for the trial. The vehicles are successfully running two shifts a day and being fueled indoors by lift truck operators. Normally warehouses have a full-time person that handles the battery changes - using a fuel cell eliminates the need for that. The fuel cell project is set to receive a $1 million grant from the state of Ohio's Third Frontier Fuel Cell Initiative. In recent news, Plug Power Inc. and Cellex have signed a definitive stock purchase agreement whereby Plug will acquire Cellex. Plug Power intends to continue Cellex Power's current operations near Vancouver, British Columbia.
Another fuel cell company, Hydrogenics Corporation, has completed forklift field trials at both GM of Canada's car assembly plant and FedEx Canada's mission critical logistics hub at Toronto International Airport. Hydrogenics designed, built and integrated 12-kW fuel cell hybrid power packs into two Hyster Class forklifts which were placed into service at the two facilities. In addition, Hydrogenics designed and built an indoor, PEM electrolyzer hydrogen refueler that was used to refuel the forklifts during the deployments. The project at General Motors has been expanded with funding from Sustainable Development Technology Canada (SDTC). Hydrogenics and NACCO Materials Handling Group will incorporate the beta version of Hydrogenics HyPM® fuel cell power packs (FCPP) in up to 19 forklifts for a two-year period at GM's Oshawa car plant.
Hydrogenics has been busy as of late. The company also received orders for four HyPM® FCPPs from STILL International, a wholly-owned company of Linde AG, to be integrated into STILL Class 1 forklifts, used extensively throughout the automotive industry in North America. In Japan, an OEM has ordered a HyPM® FCPP to be integrated into a Class 1 forklift.
South Carolina, through the Greater Columbia Fuel Cell Challenge, recently awarded Hydrogenics Corporation and LiftOne, a division of Carolina Tractor, a grant to deploy two hydrogen fuel cell forklifts at several manufacturing facilities in the state in late spring 2007. Hydrogenics will incorporate HyPX™ power packs into LiftOne Class 1 forklifts
General Hydrogen has been conducting field trials of its fuel cell system, the Hydricity® Pack, at more than 20 customer sites across America for the past 18 months in a wide range of applications; retail distribution, tire and automotive manufacturing, grocery distribution, and third party logistics. In field tests, their forklifts run three times longer between fuelings and take less time to do so, which has led to significant increases in productivity as well as a return on investment of less than 4 years for many operators. To meet demand, General Hydrogen has placed a 200,000 unit, three-year, purchase order for BOOSTCAP® ultracapacitors from Maxwell Technologies to enhance performance and energy management in its Hydricity® Pack. Most recently, General Hydrogen has sold a Hydricity® Pack to Nissan Motor Corporation to showcase in a Nissan Electric Class 1 battery electric forklift. Plug Power has also recently acquired General Hydrogen and plans to combine it with Cellex to form one operation focusing on fuel cells for materials handling.
Other companies such as H2Logic and Proton Motor Fuel Cell have all also developed fuel cell-powered forklifts. Proton's is currently being operationally tested at the cargo area of Munich Airport in Germany. Toyota Industries Corporation has recently demonstrated a forklift with a 30-kW fuel cell stack developed by Toyota Motor Corporation. The Toyota FCHV-F can lift a maximum of 2,500 kilograms (5,000 pounds).
While fuel cell passenger vehicles are still several years down the road, forklifts provide an excellent framework to showcase the potential of fuel cell technology while providing a cost-effective and environmentally-friendly alternative for distribution centers. With big name corporations leading the way with trials and demonstrations, hopefully fuel cell forklifts will get enough recognition to help share some of the load.
The content & opinions in this article are the author's and do not necessarily represent the views of AltEnergyMag
---
Comments (0)
This post does not have any comments. Be the first to leave a comment below.
---
Post A Comment
You must be logged in before you can post a comment. Login now.
Featured Product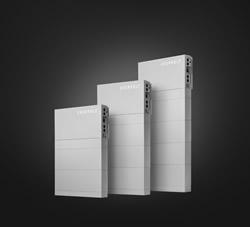 Offer homeowners best-in-class solar and energy storage in one money-saving bundle. Panasonic's new EverVolt™ Series modules come in 350W, 360W, 370W & 380W models and work seamlessly with their EverVolt battery storage - all warrantied by one of America's most trusted brands.