Today, over 40 of the 50 United States have enacted laws that allow for NEVs to be driven on city streets. As the awareness of NEVs becomes more widespread, and the benefits of owning them and driving them realized, we see significant market potential in the future.
INTERVIEW WITH RICHARD J. KASPER OF GEM
Richard J. Kasper | Global Electric Motorcars, LLC (GEM)
Today, over 40 of the 50 United States have enacted laws that allow for NEVs to be driven on city streets. As the awareness of NEVs becomes more widespread, and the benefits of owning them and driving them realized, we see significant market potential in the future.
Richard J. Kasper,
President and Chief Operating Officer
Global Electric Motorcars, LLC (GEM)
---
1. What differentiates GEM (Global Electric Motorcars, LLC) from other NEVs (Neighborhood Electric Vehicles)?
Technology - Vehicle range is a key component in meeting or exceeding customer expectations for battery electric vehicles. Consequently, GEM has invested heavily in optimizing the performance of our battery charging system to make certain that what we promise our customers, in this case vehicle range, we deliver. In fact, based on the results of our investment in battery performance, we have patented our battery charging algorithms, unlike most other NEVs. The combination of these algorithms with our high quality batteries leads to optimal range and ultimately a longer life for the batteries. Additionally, being a Chrysler subsidiary, GEM vehicles are designed and engineered by automotive engineers, and tested at the Chrysler Vehicle Proving grounds, which results in us using only those components that meet the highest standards of performance and testing.
Safety - GEM vehicles, to the best of our knowledge, are one of, if not the only NEV, that undergoes a rigorous performance test conducted alongside other Chrysler vehicles at Chrysler's Automotive Proving Grounds in Arizona. All GEM vehicles meet or exceed the federal safety standards for NEVs, including 3-point seatbelts, automotive safety glass, braking, etc.
Design - The futuristic, oval-shape of our GEM vehicles is more than just eye-catching. The spacious, interior cab is designed for passenger comfort and roominess similar to the automobiles that customers are used to driving, and avoiding that 'claustrophobic' feel of the smaller NEVs. In fact, GEM vehicles are roughly the same height as a minivan, which in addition to making it easy to enter and exit the vehicles, greater visibility in traffic, it also allows for other vehicles on the road to see the GEM vehicles.
Service - GEMs subsidiary, NEV Service, LLC, along with select Dodge, Chrysler and Jeep dealerships, allow our customers the convenience of on-site service. Further, our GEM Care program provides owners of new GEM vehicles access to mobile service anywhere in the nation, including free roadside assistance. It is an unparalleled level of customer service in our industry.
Experience - In its tenth year, GEM is recognized and respected as the market leader in the NEV business. The more than 34,000 GEM vehicles on the road today have logged over a combined 150 million miles of emission-free driving. With more than 150 dealerships across the United States, we have spent the past 10 years listening to our customers needs, including options and accessories, by bringing new products and features of the highest quality to the marketplace to meet our customers on-road and off-road driving requirements. The latest examples would include the introduction of the GEM e6 - six passenger and GEM eL XD - utility vehicles that were introduced in 2006. Both have already exceeded initial sales expectations.
2. Why would families or fleet managers add a NEV to their garage?
For most Americans, the bulk of their driving consists of short trips under 15 miles round trip, i.e. to work, school, the grocery store, the gym, etc., driven on roads where the speed limit is 35 mph or less. The same is true for many fleet managers that purchase vehicles to meet utility or shuttle needs around a campus, a warehouse, or between facilities. The fact that GEM vehicles are emission-free, and therefore can be driven both indoors and outdoors, is also a plus!
NEVs are a very cost-effective, convenient alternative to the internal combustion engine vehicles typically used for these small trips. Owning a GEM costs just pennies a mile to operate. In fact, GEM vehicles have a fuel equivalency eight times that of a gasoline- powered vehicle, which equates to about 150 miles per gallon! That is especially important considering that gasoline prices are at an all-time high.
The MSRP for GEM vehicles is thousands of dollars less than the average internal combustion engine vehicle. And over the course of its life cycle, a GEM costs just one-third as much to own as a gasoline powered vehicle. The savings is even greater when you compared to hybrid vehicles.
3. Tell me about your customers? Who buys a GEM vehicle?
The list of GEM customers and how they utilize the vehicles is very broad. Because we offer six models designed for both passenger and utility applications, we're able to provide vehicles that satisfy many different transportation needs.
Our GEM e2 and e4 and e6 models are very popular with individuals who use them around their local community. We have customers that use their GEMs to get to and from work, shopping, and even for a leisurely drive around their community. We also have a great number of retirees who love the smiles and waves they get while out-and-about in their GEMs.
On the other side of the spectrum, our GEM eS, eL, e6S and eL XD models are very widely used in fleets. We have thousands of vehicles in use at college campuses, manufacturing plants and warehouses, city governments, all branches of the military, and state parks. The GEM eS, outfitted with an LED light bar, PA system, and other accessories, is very popular with security fleets and police departments.
4. What are the hot NEV (Neighborhood Electric Vehicles) markets GEM is pursuing?
NEVs are becoming an increasingly attractive vehicle choice for so many different transportation applications across the country and overseas. Today, over 40 of the 50 United States have enacted laws that allow for NEVs to be driven on city streets. As the awareness of NEVs becomes more widespread, and the benefits of owning them and driving them realized, we see significant market potential in the future.
We are continuing to experience growth in all of our market segments throughout the U.S., as well as our relatively new international market in Europe. We are pleased to be able to provide a transportation solution that allows our customers to do their part in improving the environment.
5. Moving into the future 10 years how do you see the evolution of NEVs? How about 20 years and beyond?
Looking to the distant future, NEVs very likely will be a vehicle of choice for a variety of customers as more and more people become familiar with the benefits of battery electric transportation. As fuel prices continue to rise over the coming years, and because of their relatively low price, NEVs will likely be a second or third car in most American households simply because it does so well, for so little, for shorter trips.
Our choice to remain with lead-acid batteries now is because they meet the need for the vast majority of our customers, and by doing so we're able to keep vehicle costs low, while vehicle reliability and safety are very high. Battery technology will continue to improve and when it becomes affordable, GEM and other NEVs will adopt it to further improve performance and range.
---
Richard J. Kasper is the President and Chief Operating Officer, Global Electric Motorcars, LLC (GEM), a wholly-owned subsidiary of DaimlerChrysler Motors Company, LLC. He was GEMs Executive Vice President and Chief Financial Officer until being named President and COO on December 1, 2002.
Prior to joining GEM in 1999, Richard spent 11 years with the Jack Kent Cooke organization which included responsibilities as the Chief Financial Officer for the Los Angeles Daily News.
Mr. Kasper received his Bachelor of Science degree in accounting at Minnesota State University - Moorhead in Moorhead, Minnesota. He was named the MSUM Business and Industry Alumni of the Year in 2002. He is also a member of the MSUM School of Business Advisory Board.
Richard has been involved in a number of community and charitable organizations including President of the West Valley Boys and Girls Club, Chairman of the Warner Center Association, Vice-President of the San Fernando Economic Alliance, and a volunteer for a number of philanthropic events.
The content & opinions in this article are the author's and do not necessarily represent the views of AltEnergyMag
---
Comments (0)
This post does not have any comments. Be the first to leave a comment below.
---
Post A Comment
You must be logged in before you can post a comment. Login now.
Featured Product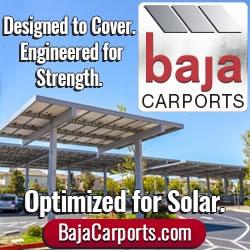 Baja Carports offers an extensive solar support system product line customized to customers' site specifications by in-house engineers, meeting their parking lot coverage, plus optimal PV production needs. Baja's Full Cantilever Tee is often paired with its Semi and Full Cantilever carports to meet live/loads up to 60psf and wind speeds to 160mph. All Baja products are pre-fabricated, bolted connections, pre-galvanized structural steel for fast on-site installation and project aesthetic requirements."