The largest electric drive conference in the world
EVS-23 WRAP UP
The largest electric drive conference in the world
EVS-23 in Anaheim
---
The Electric Drive Transportation Association (EDTA) hosted the 23rd Electric Vehicle Symposium in Anaheim from December 2-5. EVS-23: Sustainability—the Future of Transportation, brought over 1500 people from 37 countries, and international press, to Southern California, the largest market for electric drive transportation.
EVS-23 Highlights:
>> A two-day Ride & Drive of battery, hybrid, plug-in hybrid and fuel cell electric drive vehicles, bikes and scooters
>> An Exhibit hall with 125 companies, including automotive and other vehicle manufacturers, utilities, component and technology developers, government agencies and more
>> A Three-day symposium with 250 presentations covering all facets of electric drive, including vehicles, energy storage, infrastructure, research and development, and policy.
>> Two General Plenary Sessions featuring top industry and government leaders:
Dan Bonawitz, Vice President, Corporate Planning & Logistics, American Honda Motor Company
Jamie Borwick, Chairman, Modec Ltd.
John E. Bryson, Chairman, President and Chief Executive Officer, Edison International
Susan M. Cischke, Senior Vice President, Sustainability, Environment and Safety Engineering, Ford Motor Company
James Goldstene, Executive Officer, California Air Resources Board
Jonathan J. Lauckner, Vice President, Global Program Management, General Motors
Cristin Lindsay, Senior Director, Automotive X PRIZE
The Honorable Miguel Pulido, Mayor, Santa Ana, California
Koei Saga, Senior General Manager, Hybrid Vehicle System Engineering Division, Toyota Motor Corporation
See the EVS-23 video here: http://www.youtube.com/watch?v=hnu-Baz-yTI
EVS-23 also featured:
Plug-in Hybrid Electric Vehicle Workshop
Organized by the Electric Power Research Institute, Southern California Edison, South Coast Air Quality Management District, and the Electric Drive Transportation Association, this standing-room only workshop gave attendees first hand information from industry leaders about the future of plug-in electric vehicles and where this technology is headed. This hands-on workshop provided an overview of the current and future plug-in hybrid electric vehicle industry, from infrastructure and commercialization to federal and private initiatives to increase the use of PHEV's in private and commercial fleets.
Authors' Pavilion
The EVS-23 Authors' Pavilion featured the latest and most thought provoking books regarding our dependence on foreign oil, global warming, and the challenges in bringing advanced transportation technologies to the showroom. Transforming transportation was a common theme, and there was no better venue than the largest electric drive symposium in the world for these authors to highlight their compelling stories.
Participants: S. David Freeman, "Winning Our Energy Independence"; Representative Jay Inslee (Washington) "Apollo's Fire: Igniting America's Clean Energy Economy"; David Magee, "How Toyota Became #1: Leadership Lessons from the World's Greatest Car Company"; David Sandalow, "Freedom from Oil: How the Next President Can End the United States' Oil Addiction"
Southern California Mayors' Forum
EVS-23 brought the mayors of several southern California cities to share their successes and challenges implementing electric drive in their government fleets and residents' lives. Mayors shared how electric drive plays a role in their transportation planning, and how they see sustainability as the future of transportation in southern California. The timing of EVS-23 is such that this provided a platform for the Mayors to announce their 2008 sustainable transportation plans for their cities, and endorse electric drive as a solution to meet their transportation and environmental challenges.
Participants: Mayor Jim Dear (City of Carson), Mayor Beth Krom (City of Irvine), Mayor Ron Loveridge (City of Riverside), Mayor Marsha Ramos (City of Burbank)
Public Day: Over 600 people, in addition to delegates and media, explored the exhibit hall and test drove the 40+ vehicles in the Ride & Drive on EVS-23 Public Day.
About the EVS-23 Host Organization--EDTA
The Electric Drive Transportation Association (EDTA) is the trade association representing battery, hybrid and fuel cell electric drive technologies and infrastructure. EDTA conducts public policy advocacy, education, industry networking, and international conferences. EDTA's membership includes automotive and other equipment manufacturers, utilities, technology developers, component suppliers, and government agencies. For more information about EDTA and its members, visit www.electricdrive.org.
The content & opinions in this article are the author's and do not necessarily represent the views of AltEnergyMag
---
Comments (0)
This post does not have any comments. Be the first to leave a comment below.
---
Post A Comment
You must be logged in before you can post a comment. Login now.
Featured Product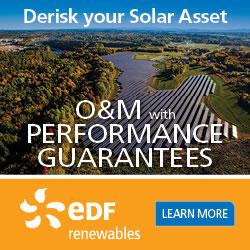 EDF Renewables offers the same innovative solutions that maximize the performance of our own 5.2 GW of installed projects. Because we're not an equipment manufacturer, our recommendations are transparent and data-driven. We cover the entire project lifecycle: from pre-commissioning support, through warranty and post warranty operation, to late stage and decommissioning.