Lunera designs and manufactures low-profile LED lighting solutions for commercial spaces.
Interview - Commercial LED Lighting Systems
Michael Lesyna | Lunera Lighting
1. How is Lunera leading the digital lighting revolution?
Lunera has developed advanced LED commercial general lighting fixtures that are Made in the USA. We deliver on the promise of solid-state lighting (SSL) in terms of quality, beauty and energy savings.

Building owners and tenants will appreciate the lower operating cost and improved light quality. We accomplish this by blending advanced LED technology with state of the art optics and innovative light fixture design.


2. Are these commercial LED lights truly dimmable?
The lights dim smoothly and continuously using the standard 0-10 volt protocol. The affordability of our solutions extends dimming beyond the executive conference room to provide a comfortable and productive environment for all who occupy the space. Dimming also enhances the energy savings being provided by the technology and accelerates the payback of the investment.
3. What are the short term and long term cost savings gained from Lunera Lighting versus fluorescents?
Short-term benefits include helping buildings qualify for LEED (Leadership in Energy and Environmental Design) certification.
LED lighting also offers an immediate energy cost savings of 25-50% over fluorescent lighting upon installation. With virtually no heat radiated into the space, LED lighting also lowers HVAC costs. Lunera LED lights are recyclable, contain no Lead or Mercury and do not require expensive disposal fees.
Benefits of long-term usage include a significant maintenance savings due to a 5X longer lifespan than fluorescent lighting. Occupants enjoy consistently good daylight quality lighting that leads to greater worker comfort and productivity.
Lunera products typically deliver annual savings of $0.50-$1.00 per square foot.
4. What is the current supply and install cost comparison with fluorescent lighting?
Capital cost varies for every building installation and its' particular lighting challenges. A typical installation has a 1-3 year payback vs. fluorescent lighting.
5. When will these costs begin to come down due to volume and technology advancements?
Haitz law (similar to Moore's law) shows LEDs continue to get more efficient and less expensive. LED components currently represent a majority of the cost of the SSL fixture so the reduction in the number of LEDs required to build a fixture and the reduction in cost of the LEDs will both help bring down the cost of the fixture.
6. What sets Lunera apart from other LED lighting companies?
Lunera offers a dynamic team of experts to support the needs of architects, lighting designers, contractors, distributors and energy consultants.

We have in-house lighting, materials, testing and installation expertise.
We will not exaggerate what our fixtures can do. Our goal is to educate people on how to buy the best LED lighting fixtures for their particular needs. Our light fixtures are UL certified and undergo independent testing, Full LM79 System Testing and our IES Data is on file.
We believe our transparency, authenticity, honesty, and integrity is imparted in our products and services. We are a socially responsible company that has a philanthropic focus and works closely with the One Million Lights charity.
7. What Lunera products are available now on the market?
Lunera currently offers two products. Our 2'x2' Grid Lay in product is designed to replace the standard 3 lamp (T8) 2'x4' Fluorescent fixture commonly used in general volumetric lighting applications in commercial buildings. At 62 watts per fixture, Lunera reduces energy consumption by approximately 35% over the fluorescent alternative. Additionally, the 6' x 4" Lunera suspended pendant provides design elegance to a space while cutting energy consumed by 50% vs. the 2 lamp (T8) fluorescent alternative.
8. Does Lunera plan to enter the residential LED lighting market?
We are focused on serving the commercial lighting market for now.
9. What can we expect to see from Lunera in the short and long term future?
Lunera will be formally launched in November at Greenbuild Expo. Their lighting products are now available for sale. Lunera will continue to expand its LED product line to serve as a catalyst for transitioning the lighting industry from analog technology to digital technology. In the process, we see significant opportunity to add value to next generation lighting and building control systems.
Michael Lesyna
President & CEO

A seasoned high-tech executive, Michael Lesyna has over 15 years experience working at the highest levels of corporations. He served as a Vice President, General Manager and Officer of Trimble Navigation for over eight years, reporting to the CEO.

Additionally, he was a Principal at Booz, Allen & Hamilton in their Operations Strategy practice for over six years, where he regularly presented strategies to C-level executives and Boards of Directors. In addition, he serves as Chairman of the Board for a privately-held corporation, Seale Harris.

As a Trimble VP/GM he had complete P&L responsibility for the Mobile Solutions Division – managing all functions. He transformed a stagnant GPS hardware-only division into an internet-based hardware and service recurring revenue model – Trimble's first – which was the fastest growing Division within the company – now over $100M/year.

Numerous companies have worked with Mr. Lesyna to develop strategies that drive sustainable business results. While at Booz, Allen, he drove Boeing's first efforts into Lean Manufacturing, which then spread company-wide. He also developed operations and manufacturing strategies for several Aerospace/Defense firms.

Mr. Lesyna has operated his entire career as a change agent. He has worked with and led business transformation efforts across multiple companies and disciplines, including R&D, sales, marketing, operations and finance. He led a team of senior executives at Trimble to develop the Connected Site strategy – core to Trimble's largest Division's growth strategy. In addition, he led an $80M Division's management team to a new operational, distribution and product strategy, which resulted in profit margins doubling. He created and led a highly successful program at Trimble to bring Lean and Six Sigma
The content & opinions in this article are the author's and do not necessarily represent the views of AltEnergyMag
---
Comments (0)
This post does not have any comments. Be the first to leave a comment below.
---
Post A Comment
You must be logged in before you can post a comment. Login now.
Featured Product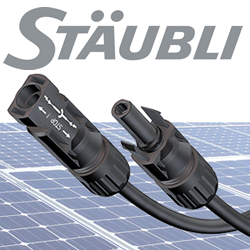 ​Stäubli Electrical Connectors are used on more than 300 GW, over 50% of the PV capacity worldwide. The MC4 family of UL and TUV listed products include connectors, in-line fuses, branch connectors, cable assembly and more.