Intersolar North America, taking place from July 13-15 in San Francisco's Moscone Center West Hall, promotes the development of business opportunities throughout the U.S. solar industry. More than 570 U.S.-based and international exhibitors and 20,000 trade visitors are expected.
Intersolar North America
Eicke Weber | Fraunhofer Institute for Solar Energy Systems

Can you please tell us about the Intersolar North America 2010 conference and how it has changed from last year's conference?
We continue to see growth despite the economic climate. We already have more exhibitors registered than last

year for Intersolar North America. The conference program has significantly expanded and allows us to cover the new market developments, technologies and policies in much more depth, as well as explore opportunities for improvement in all aspects of the global solar industry. The biggest change from last year is that Intersolar now has four events around the world so we can provide a much clearer picture of the global interconnections from region to region.
How did you get involved with Intersolar and specifically Intersolar North America?
I spent 23 years at the University of California at Berkeley during which time I served as a professor of materials science and, most recently, chair of the Nanoscale Science and Engineering Graduate Group. While I was at UC Berkeley I became involved in the SEMI PV Group and then moved to Freiburg in 2006 to take the position of director of the Fraunhofer Institute for Solar Energy Systems (ISE), in Freiburg. I was then first introduced with Intersolar while it was still only in Europe and we began working together shortly thereafter.
My existing relationship with SEMI offered the perfect opportunity to put the two groups together. What was apparent right from the start is the amount of synergies they had with one another and how the two complemented each other within in different areas of solar energy; Intersolar more manufacturer and integrator centric, with project developers, distributors and installers as the visitor base, while SEMI PV Group is focused on the materials and equipment aspects. Suggesting Intersolar to move the show to the United States and to co-locate it with SEMICON West was a winning proposition. Based on my experience and industry knowledge, I was asked to chair the conference, which I graciously accepted and continue to enjoy working on today. In 2008, I was also asked to join the SEMI International Board of Directors.
What industry trends have you seen significantly grow over the past year?
PV is already reaching grid parity in more and more regions worldwide. As an example, in California the cost of PV generated electricity is today already below the cost of electricity when using a time-of-use rate. What's more, we have seen a roughly 30% cost reduction in all technologies across the board, which is a great help to bringing down the cost for actually producing the electricity when factoring in system costs. It will take another 10-15 years until PV-generated electricity is cost competitive with fossil and nuclear electricity. Just imagine, in 2010 alone we will install worldwide about 10 GW of additional PV power, to be compared with the 20 GW installed in the last 20 years.
On the technology side, concentrating PV is getting to a point where it's cost competitive with solar thermal electricity. Chevron, in fact, is now about to have a megawatt installation in place, which will be the first big CPV installation worldwide. On the equipment side, inverter efficiency is increasing. These new inverters help minimize the cost the individual pays.
Actually, there are significant balance-of-system cost advantages in Germany that we might be able to bring to California if we are able to get efficient market introduction programs like in Germany.
Do you think this trend will continue getting bigger this year? If not, what other emerging solar trends do you see looming in the horizon?
It may sound cliché, but bringing down the cost has been and will continue to be a major trend. This is where manufacturing efficiency is most important. We are seeing new technologies making the wafers thinner and the cells more efficient, thereby making them cheaper to produce. Another innovative segment is in coatings where we are seeing new technologies help the panels absorb more sunlight for longer in the day to produce more electricity.
Another way to bring down the costs, aside from the technology, is with policy. Solar is still an industry that needs support from the government, especially in the United States. This support is mainly needed to help put the electric produced into the grid. I am a staunch supporter of offering all producers of renewable electric energy an attractive price for feeding electricity to the grid, a feed-in tariff. As many people know, the German solar market is based on the FiT and has seen tremendous results. Other markets such as Spain and Italy have followed suit and have seen promising results. California is considering a FiT and I think this would be the most beneficial thing to help continue to stimulate the market there and provide an example for how other regions or states could implement one.
Can you elaborate on the different conference tracks you have this year? Which ones do you think is a 'must-attend'?
The Intersolar North America conference offers attractive tracks for attendees experienced in solar technologies and those who are new to the field. Especially for the newcomers to the field, I would highly recommend the tracks on global technology and market trends, where the issues of market introduction policies will be discussed as well. In each of the technology tracks there are excellent overviews presented that will allow even newcomers to quickly get familiar with the most current technologies. The specialists will find a wide range of interesting talks presenting technology updates by leaders in their respective fields.
As you prepared the conference tracks with the conference committee, what was one of the biggest challenges?
This field is moving very quickly, and the biggest challenge for the committee was to make sure that we cover all most relevant developments.
Any closing thoughts as to the future of the solar industry and how Intersolar is playing a vital role?
We are just at the beginning of the growth of the global solar industry. I like to compare the current market with the automotive market in 1905: the key technologies have been developed, but rapid cost reduction will open up

markets that are 10 times and more larger than what we have today. Intersolar Europe, the world's largest exhibition for the solar industry, and Intersolar North America will play a vital role in this development. I am especially pleased that we succeeded together with SEMICON West to anchor Intersolar North America in San Francisco, right in the sunny state of California.
Bio
Prof. Dr. Weber has an international reputation as a materials scientist and one of the world's leading researchers in the field of renewable energy and energy efficiency. In 2006, he became director of the Fraunhofer Institute for Solar Energy Systems ISE in Freiburg. Prior to joining Fraunhofer ISE, Prof. Weber spent 23 years at the University of California at Berkeley during which time he served as a professor of materials science and, most recently, chair of the Nanoscale Science and Engineering Graduate Group.
The content & opinions in this article are the author's and do not necessarily represent the views of AltEnergyMag
---
Comments (0)
This post does not have any comments. Be the first to leave a comment below.
---
Post A Comment
You must be logged in before you can post a comment. Login now.
Featured Product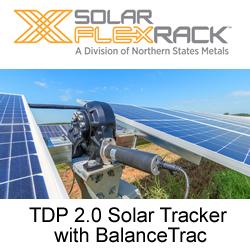 Solar FlexRack's latest solar tracker technology bundles an advanced tracker design with a full team of seasoned engineering and installation experts at your service. The next-generation solar tracker delivers a package of features that both enable increased energy yields for commercial and utility-scale solar installations, and significantly reduce project risks. That translates to smart installation cost-savings across your project budget.