Sustainability is the Grand Unifying Theory for finding the Ultimate Answers to Life, Universe and Everything --- and the answer for Earthlings is Sunshine --- All else is Moonshine.
Octopus Diagrams and Buckminster Fuller's Design Challenge
L Michael Hohmann | LMH Design
Writing as an architect, it will be no surprise to anyone to hear that I get bombarded daily not only from professional institutes, magazines, manufacturers' literature by e- and snail mail, but also like all of us, in the daily press, TV and radio, with exhortations to help save the planet, support all things 'green' and act at all times in accordance with the tenets of 'sustainability'.
That's often confusing, to say the least, because while 'green' and 'sustainability' are commonly acknowledged to be 'good things', each of these words mean many different things to different people. So like every other designer I tried to keep abreast of things and do my CPD ('Continued Professional Development') duty by reading, courses, seminars, discussion groups, but in my case mainly by reading books – the subjects and their ramifications soon losing any connotation of a duty obligation but becoming an exciting mental journey of discovery. To an extent that I began to call and describe myself as the CleanEnergyPundit – a great conversation opener at any networking event following any course /seminar /discussion group.
And it came to pass that at one of these social events following such a discussion group, with wine and canapés being freely proffered to anyone with at least one free hand, that I sounded off with my punditry in discussion especially with one interested other guest who then turned out to be a professor at one of the UK universities concerned with sustainable built environments, soon asking "would you like to come and talk to our students?" "Yes" was, of course, the only possible answer, and we parted having exchanged business cards in best networking style.
with the aim
That means we earthlings would have to build the equivalent generation capacity of
And that is the magnitude of the energy problem to achieve sustainability on that account alone.
From just these two considerations – Fuller's Challenge and the H&M Octopus Diagram, we can derive some conclusions as to what needs doing on the energy side of sustainability, as well as where to focus on action and resources:
From FULLER's CHALLENGE we get
a measure of the gargantuan size of growing 13TW world capacity to ~60TW
and the need for methods of implementation that remain valid for our grandchildren's grandchildren – and beyond
which in turn needs energy sources not suffering from any 'peaks' which in turn would again require methodical and technological upheavals- and arrive at the same conclusions too late.
From OCTOPUS DIAGRAMS we can see
that energy conservation efforts at the consumption end are totally ineffective in dealing with energy supply problems
that it is not inefficiencies or sloppy engineering that waste or lose up to 90% or more of input energy through conversion and refinement to arrive at forms that can do work for us.
That means
we must find a source of energy that, for all practical purposes is endless in amount and duration, and
that is ubiquitous in order to cut out the huge amount of entropy losses that otherwise arise from the long chains of conversions and refinements between source and use – proximity.
How? Simple – we must learn from those forms of life that have sustained ALL life on Earth: that means Plants, i.e. the whole of FLORA without which there would be no FAUNA – which includes you and me.
Ubiquity
Sunshine and its immediate derivative – Wind – are ubiquitous from the poles to the equator.
Proximity – to provide minimal entropy between source and use
In summary then:
Sustainability
is the Grand Unifying Theory for finding the Ultimate Answers to Life, Universe and Everything
All else is Moonshine.
_________________________________________________________________________________
The content & opinions in this article are the author's and do not necessarily represent the views of AltEnergyMag
---
Featured Product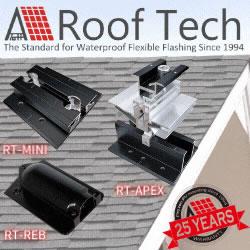 Now Roof Tech brings you the most innovative, watertight mounting systems ever developed for solar photovoltaic systems. Designed and manufactured exclusively for us by Japan's longtime leader in roofing technologies, Roof Tech products are 100% code-compliant and offer fast, simple installation and huge savings on shipping costs due to their compact, rail-less design. Learn more about our full line of versatile PV mounting solutions now available for residential installations. The next generation in rooftop solar mounting solutions."