The advantages of generating electricity from small hydropower coupled with a rising interest in the sector has led to increased government support policies which will derive installations in many countries in the years to come. Cumulative installed capacity of small hydropower is expected to reach 140 GW in 2015 and 201 GW in 2020.
Global Small Hydro Projects in Development
Pallav Jhala | Global Data
Small Hydropower Market:

Hydropower is the largest renewable source of power generation and currently accounts for about 20% of the world's total electricity supply. Hydropower became a source of electricity generation in the late 19th century. Hydropower plants can be classified into large, small, micro and mini depending on its generation capacity. The hydropower systems between 1 MW to 30 MW are generally considered small, though the definition varies from country to country. Small hydropower plants produce electricity on a small scale to serve small communities or industrial establishments. These plants can also be grid connected in addition to the areas where it is used off grid as an economic source of electricity generation or where there is no grid connectivity. Small and mini hydro generally uses existing dams or the dams constructed for other purposes such as water level control and irrigation. At times, old abandoned hydropower sites are also redeveloped for small hydropower generation.

Small hydropower plants provide certain benefits over the large hydropower plants in terms of financial viability. Small hydropower generation plants have a shorter gestation period; large hydropower plants usually have a gestation period of about seven years, whereas it is about two to five years for small plants. Additionally, small hydro plants give a higher return on investment due to the low capital investment and operational and maintenance costs. Small hydropower plants are easier to construct and commission due to simpler designs, thereby keeping the costs down.

As small hydropower installations have minimal infrastructure requirements, they possess a large potential for cost effectiveness. Small hydropower technology is not receiving similar benefits or incentives and subsidies as other sources of renewable energy even though it is a proven and low risk technology. The cost of machinery (equipment) in small hydropower plants depends on several factors such as head height, complexity of the civil work involved, electric works and other external costs. The other external cost largely involves the cost of obtaining a license and other engineering services.

Global small hydropower cumulative installed capacity increased from 54 GW in 2001 to 87 GW in 2009, registering a CAGR of 6% during this period. Annual installed capacity surged during 2004 mainly due to a rise in new installations in China. The advantages of generating electricity from small hydropower coupled with a rising interest in the sector has led to increased government support policies which will derive installations in many countries in the years to come. Cumulative installed capacity of small hydropower is expected to reach 140 GW in 2015 and 201 GW in 2020.

The Asia Pacific region is the leader in terms of installed capacity followed by Europe. The growth in the Asia Pacific region is largely attributable to the strong growth in China's small hydro market while in Europe Italy leads the installed capacity. The top five countries the small hydropower market, in terms of installed capacity, are China, Japan, the US, Brazil and Italy (2009). The top five countries represent around 84% of the global cumulative installed capacity.

Global Small Hydro Market, Cumulative Capacity Breakup, %, 2009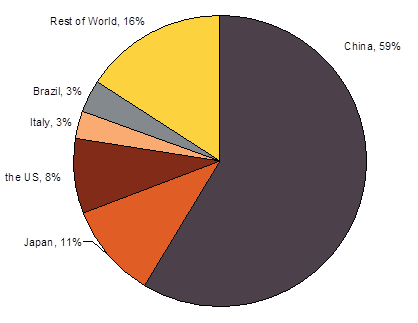 Source: GlobalData




China small hydro power market


China has good small hydropower potential, with estimated capacity of 128GW of which nearly 40% is exploited. Under the National Medium and Long-Term Development Plan for Renewable Energy (introduced in 2007 and amended in 2009), the country is planning to have 75 GW of small hydro cumulative installed capacity by 2020. The small hydropower market in the country is driven by the Chinese government's rural electrification programs.. At present, more than 30% of China's counties depend on small hydro to meet their electricity requirements.

The major under construction small hydro plants in China include Beiping, Cizhong, Ma'er, Chayuan and Liujiagou. The Bejping plant has rated capacity of 25 MW, situated on the Panhe River and owned by Chongqing Water Resources Investment Group Co., Ltd. The Cizhong plant and Ma'er plants have a rated capacity of 24 MW, owned by Deqin County Cizhong river Hydropower Co., Ltd and Nujiang Zhedian Hydropower Development.

Chayuan and Liujiagou have a rating capacity of 20 MW each, and are owned by NEFCO Nordic Environment Finance Corporation and Wuxi Yuanda Hydro Power Co. Ltd.

The US small hydro power market


In the US, small hydropower gained traction especially after the enactment of the Energy Policy Act in 2005. The American Recovery and Reinvestment Act (ARRA) of 2009 strengthened the regulatory support to the sector. The ARRA provided a 30% investment tax credit and grants for adding capacity to the existing plants and non powered dams. This resulted in a rise in the number of requests to build small hydro plants, especially facilities with capacity of up to 5 MW. The country has tremendous potential to add capacity to existing non-powered dams as 97% of about 79,000 dams in the US are not generating any power. Furthermore, since most of the environmental damage associated with the construction and operation of dams has already taken place, energizing these dams will not have a high impact on the environment. Of the 2,500 operating dams, about 85% of them are categorized as small scale as they have the rated capacity of less than 30 MW. Another 76,500 dams are currently not operating. These dams, if energized, have the potential to supply an additional 7.3 GW of capacity by 2025.

In the US, major small hydro plants under construction include Lake Livingston, Turnbull Hydro, St. Anthony Falls, Youngs Creek and Youngs Creek Hydro. The Lake Livingston plant has a rated capacity of 24 MW and is situated on Trinity River. The Turnbull hydropower plant that has a rated capacity of 13 MW is situated on Spring Valley Canal and is owned by Turnbull Hydro, LLC. St. Anthony Falls has a rated capacity of 10 MW which is to be built over Mississippi river, owned by Brookfield Renewable Power Inc and Nelson Energy Inc. Youngs Creek and Youngs Creek Hydro are situated over Elwell Creek, Skykomish with a capacity of 7.5 MW each, owned by Snohomish County PUD. A 29 MW small hydro plant is planned over Tygart River which is owned by US Army Corps of Engineers.

Brazil small hydro power market


Rising energy demand and concerns for energy security have been driving the small hydropower market in Brazil since 2000 and are expected to drive it further in years to come. Hydropower is expected to play a major role in the Brazilian energy mix, though its share might go down slightly due to the development of other sources of renewable energy. Hydropower is forecast to account for 73% of the total energy capacity in Brazil by 2015. The country possesses huge potential for hydropower development, especially in the Amazon region. Hydropower potential in Brazil stands at 260 GW, of which only one third is currently exploited. The northern region of the country alone accounts for more than 40% of the country's economically viable hydropower potential. By 2020, small hydro is expected to generate around 62,214 GWh from 15,293 GWh in 2009.

In Brazil, major small hydro plants are included in the category of planned and under construction: Serra dos Cavalinhos II, Goiandira, Volkswagen 25.2 MW / Sapucai River SHP, PCH Paracambi, and Pirapora. The Serra dos Cavalinhos II plant has a rated capacity of 29 MW to be built on Taquari river, owned by Brookfield Renewable Power. The Goiandira plant is to be built on Verissimo river with a rating capacity of 27 MW. Volkswagen do Brasil Ltd is planning to build a small hydropower plant with a capacity of 25.2 MW over Sapucai River. Empresa Metropolitana de Aguas e Energia SA is planning to come up with a small hydropower plant with a capacity of 25 MW over Tiete River.

Among the other major countries, Japan, has registered a declining trend in annual installations largely due to decommissioning of old plants. Government support in terms of financial incentives and grants will drive growth in small hydropower installations in Japan, which will rise to 9,533 MW by 2015 and 9,668 by 2020. In Europe, Italy is one of the largest markets for small hydro power accounting for nearly 21% of the overall Europe market. Hydropower is one of the most important sources of electricity generation in Italy, supplying about 25% if the total electricity produced in the country. The major hydropower producer in the country is a state owned utility Enel SpA. The country still has non-utilized potential for hydropower, amounting to about 15 TWh of electricity per year. In Italy, the small hydro power generation is expected to reach 11,106 GWh by 2020.

About GlobalData
GlobalData is an industry analysis specialist company providing business information products and services.
Our highly qualified team of Analysts, Researchers, and Solution Consultants use proprietary data sources and various tools and techniques to gather, analyze and represent the latest and the most reliable information essential for businesses to sustain a competitive edge.

If you have any queries about this report or would like further information, please contact
North America: +1 646 395 5460
Europe: +44 207 936 6510
+44 1204 543 523
Asia Pacific: +91 40 6616 6700
Disclaimer
All Rights Reserved.

No part of this publication may be reproduced, stored in a retrieval system or transmitted in any form by any means, electronic, mechanical, photocopying, recording or otherwise, without the prior permission of the publisher, GlobalData.

The facts of this report are believed to be correct at the time of publication but cannot be guaranteed. Please note that the findings, conclusions and recommendations that GlobalData delivers will be based on information gathered in good faith from both primary and secondary sources, whose accuracy we are not always in a position to guarantee. As such GlobalData can accept no liability whatever for actions taken based on any information that may subsequently prove to be incorrect.
The content & opinions in this article are the author's and do not necessarily represent the views of AltEnergyMag
---
Comments (0)
This post does not have any comments. Be the first to leave a comment below.
---
Post A Comment
You must be logged in before you can post a comment. Login now.
Featured Product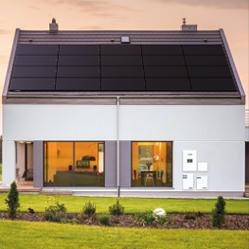 The Q.Home+ ESS HYB-G1 energy storage solution offers scalable storage capacity from 4.5 kWh up to 18.9 kWh and comes in a modular design for easy and fast installation. The system is offered in both DC-coupled and AC-coupled configurations and can connect up to 3 batteries in series using only one inverter and battery management system (BMS). The system includes an integrated backup power function for 100% of the rated inverter output to support critical loads in the event of power failure and offers remote monitoring using the QHOME+ web portal or QHOME+ ESS mobile app.