We reached out to companies from across the industry for a peak at some of the new products that will be showcased this year. Below is a compilation of some great new products that should be an interest to you.
2011 Renewable Energy World Conference & Expo Report
AltEnergyMag | AltEnergyMag
Now in its 8th year the Renewable Energy World Conference & Expo is expecting a crowd of over 4000 delegates and 200 exhibitors at the Tampa Convention Center from March 8th – 10th. Exhibitors come from a broad range of industries including Solar, Wind, Geothermal, Biomass and more.
We reached out to companies from across the industry for a peak at some of the new products that will be showcased this year. Below is a compilation of some great new products that should be an interest to you.
As usual AltEnergyMag.com will be a great place to post your company news and keep up to date. Visit our
Newspage
to view and post news.
Schletter Inc. - AluLight, Ballasted Solar Mounting System
The new low ballast AluLight System is designed for large commercial roofs with low excess capacity requiring a high concentration of modules. Easy and fast to install, the AluLight is an optimized ballasted solar mounting system offering a fixed tilt of 12 degrees. Modules are quickly connected using top-down clamps while rows are interconnected by the system's unique design. With the use of concrete pavers, the system ensures a well-distributed transfer of compressive forces to the roof.

Solmetric Corporation - PVA-600 PV Analyzer
The Solmetric PV Analyzer is a complete electrical test solution for verifying photovoltaic array performance. For each string, the analyzer measures I-V curves, that is, current and power as a function of voltage. Measured results are compared to the performance predicted by advanced built-in models. This enables greater confidence in DC performance at startup and commisioning, faster installation and repairs, and detailed history of array performance over time. The PV Analyzer measures the DC parameters up to 600V and 20A.



Wiley Electronics LLC - ACC-R2 and ACC-R4
Wiley announces the introduction of the ACC-R2 and ACCR4, new additions to the Acme Cable Clip line of wire management products. The ACC-R2 and ACC-R4, unlike the previous Acme Cable Clips, attach directly to the mounting rail instead of the module frame. Acme Cable Clips simplify wire management and create a cleaner aesthetic for solar PV systems. The ACC-R2 is primarily designed to hold AC leads connecting to microinverters, from such companies as Enphase Energy. It can also be used for the installation of two smaller wires measuring 9.3-11.0mm in outside diameter or one wire measuring 9.3-14.0mm. The ACC-R4 is designed to hold one to four PV wires, measuring 6.8-7.2mm in diameter. The ACC-R2 and ACC-R4 are made from stainless steel, which exhibits superior corrosion and UV resistance to other materials. The advantages to using the ACC product line are that the clips install quickly and easily, can be used with a variety of modules and rails, prevent damage to cable insulation, are reusable to help eliminate waste, and last for the lifetime of a system with no maintenance. The ACC-R2 and ACC-R4 are durable, efficient, quality products; the intelligent choice for managing PV wires on a solar array.
Wiley's balance of system products progress simultaneously with module and racking technologies to ensure that solar PV arrays are installed safely and easily. The ACC-R2 will begin shipping February 1st 2011 and ACC-R4 will be available mid-year, 2011.
Schneider Electric - Conext™ Grid Tie Inverters 2.8, 3.3, 3.8, 5.0 kW
The new Schneider Electric Conext Grid Tie Inverter has been designed to offer improved reliability and a low installed cost through ease of installation and integrated features. The Conext inverter is a proven, high-frequency design in a compact enclosure and may be installed as a single inverter, for a single photovoltaic (PV) array, or in a multiple-inverter configuration for large PV systems.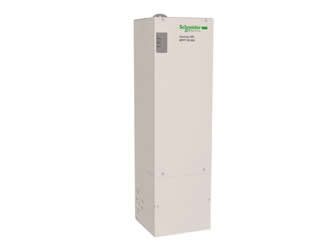 Schneider Electric - Xantrex XW MPPT 80 600 Solar Charge Controller

http://
www.schneider-electric.com
The XW MPPT 80 is an innovative solar charge controller that accepts array voltages up to 600V; significantly reducing system wiring gauges and conduit costs. The Xantrex XW MPPT 80 600 is a PV charge controller that tracks the maximum power point of a PV array to deliver the maximum available current for charging batteries. When charging, the XW MPPT 80 600 regulates the battery voltage and output current based on the amount of energy available from the PV array and present state-of-charge of the battery.


Satcon - Solstice The industry's first complete power harvesting and management solution for utility-class solar power plants.
Solstice®, Satcon®'s distributed energy management system, is an optimized end-to-end, panel-to-grid, solar PV electrical power generation system that focuses on improving total system performance, reducing overall balance of system costs and increasing system controllability, safety and uptime. Solstice is engineered from the ground up to provide granular control over every component in the array—from a single string, to the inverter, to power delivered to the grid.
Boosts total system power production by 5-12%
Lowers overall balance of system costs by 20-25%
Reduces installation time & expense
Enables string-level power optimization & centralized total system management
Delivers advanced grid interconnection & utility control capabilities
Increases system uptime, safety & reliability


Solectria Renewables, LLC - 1.8kW to 2MW for projects 1kW to multi-MW systems
Solectria Renewables, LLC is a world class manufacturer of premium efficiency grid-tied PV inverters with factories in Lawrence, MA (USA) and Peterborough, Ontario (Canada). Our wide range of products and accessories, including web-based monitoring and string combiners, range from 1.8kW to 500kW and are backed by over 20 years of power electronics experience and world class warranties. All of our products are ARRA compliant, Ontario FIT Content compliant and listed to UL 1740/IEEE 1547.
The content & opinions in this article are the author's and do not necessarily represent the views of AltEnergyMag
---
Comments (0)
This post does not have any comments. Be the first to leave a comment below.
---
Post A Comment
You must be logged in before you can post a comment. Login now.
Featured Product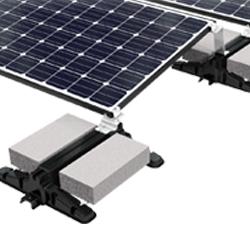 Preformed Line Products introduces the POWER MAX Ballasted Roof Mounting System. The POWER MAX solar mounting system is engineered to maximize energy output on commercial flat roofs. Developed with the professional installer in mind, this system offers adjustable inter-row spacing in the field of up to 11 inches. It features 50% fewer components and a simplified design resulting in faster assembly rates and labor savings on every project. Available in a flush mount, 5˚ or 10˚ tilt or higher density dual tilt design, the POWER MAX base arrives stacked on pallets providing easier transport to the roof. Engineered as a fully ballasted, non-penetrating system, it accepts standard concrete blocks and is qualified by wind tunnel testing.