Many fuel cells are being used at locations that people would never expect. To follow up on our series of fuel cell road trip articles (https://www.altenergymag.com/emagazine/2010/02/fuel-cell-road-trip/1450), we've found some up and coming fuel cell destinations that are worthy of a stop on your next summer vacation.
South
Tuscaloosa, Alabama is home to the Mercedes-Benz Facility where the M, R and GL-Class vehicles are manufactured. It is the biggest Mercedes tourist facility outside of Germany. The site uses a 250-kW FuelCell Energy fuel cell system to feed into their power distribution system. The fuel cell converts pipeline natural gas to AC electricity and provides around 50 percent efficiency. Tours are offered Tuesday through Thursday and the museum is open Monday through Friday.
For the baseball enthusiast, the Carolina Stadium at the University of South Carolina in Columbia, South Carolina is home to the world's first fuel cell-powered scoreboard. The 5-kW fuel cell lights up 25 percent of the scoreboard's surface. To help educate ballpark visitors about fuel cells, a mockup of the fuel cell and educational materials is on public display at the stadium. The fuel cell powering the scoreboard is environmental in more ways than just reducing emissions – it was recycled from a previous stint providing backup power to a cellular phone tower. USC is one of the leading university's with regards to fuel cell and hydrogen research and its Green Quad residence hall also uses a fuel cell in its water-heating operation.
Northeast
Hop on the fuel cell hybrid shuttle bus at Logan International Airport in Boston, Massachusetts. The Massport bus uses a 82-kW Nuvera Fuel Cells' system. There is also a hydrogen fueling station there to fuel it up. The project was funded with a $4.9 million Federal Transit Authority grant. This location would be a great place to kick off a northeast tour of the nation's fuel cell industry.
Connecticut has a plethora of interesting fuel cell locations throughout the state. Stop by 360 State Street, a new residential complex in New Haven with 500 apartments and retail sites. The building was designed by Becker + Becker and uses a 400-kW UTC Power fuel cell to provide not only electricity but all of the building's heating needs. 360 State Street has been awarded Connecticut's first Leadership in Energy and Environmental Design for Neighborhood Design (LEED-ND) Platinum certification, and incorporates many other energy-saving features including high-efficiency lighting, EnergyStar appliances, and recycled construction materials. High-performance windows and low-VOC paints and finishes were used to further curb the building's impact on the environment. Residents are able to track their energy consumption online. The fuel cell at 360 State Street is expected to pay itself back in 5.5 years of use.
Also in New Haven, Connecticut's City Hall and Hall of Records is planning to install a 400-kW UTC Power fuel cell in 2012, pending approval by the city's alderman. The fuel cell would provide all of the buildings' electricity as well as 60 percent of the heating needs and 30 percent of its chilling needs. The fuel cell is expected to save the city between $1 and $2 million in utility costs over the next decade.
The Connecticut Science Center in Hartford offers not only a 3D theater and more than 150 exhibits, but also a 200-kW UTC Power fuel cell wrapped in educational graphics which help to explain the technologies used as part of the exhibit gallery Energy City dedicated to emerging energies.
The fuel cell powers the majority of the museum's energy needs and prevents the release of 270 metric tons of carbon dioxide annually. The Science Center was the first museum in the country to generate the majority of its electrical power needs on-site with a fuel cell as well as one of the first fuel cell installations in the state to employ net metering: surplus power from the fuel cell will be fed to the utility grid at night when the facility's power demand is less.
New York has long been a fuel cell enthusiast's dream – the famous NASDAQ sign, New York Aquarium, and Central Park Police Station are just some of the long-running, high-profile fuel cell installations in the state. New York City specifically offers an array of fuel cell locations around the concrete jungle. The Octagon on Roosevelt Island is a luxury, 500-unit apartment building that is the first in the state to be powered by a fuel cell.
This former lunatic asylum has been rebuilt into a LEED Silver certified building that is using 35 percent less energy using its 400-kW UTC Power fuel cell. The Octagon was developed by Becker + Becker, the same firm that opened 360 State Street in Connecticut, and the buildings share the same sustainable background. Over 40 percent of the materials used to construct the Octagon came from recycled sources and the much of the furniture in the common areas are made from innovative sources such as sunflower seeds and wheat hulls. There is also a 50 kW solar panel array that lights the hallways of the building, the largest on a residential building in the city.
For a fun, fuel cell way to view the city's sights, such as Ellis Island and the Statue of Liberty, the Statue Cruises, LLC's Hornblower Hybrid Ferry will take passengers around Manhattan using various sources of clean energy. The 600-passenger ferry combines two of Hydrogenics Corporation's HyPM HD 16 fuel cell power modules (33 kW) in a compound hybrid arrangement along with wind turbines, solar panels and a tier 2 diesel engine for additional energy needs.
Scheduled to be complete in 2013, the planned Freedom Tower at the World Trade Center construction site will house 4.8 MW of UTC Power fuel cells, making it one of the largest fuel cell installations in the world. In October 2010,
six fuel cells were delivered for eventual use in Towers 3 and 4. The fuel cells will deliver 30 percent of the power to these buildings. Additional fuel cells will be delivered that will provide power in Towers 1 and 2. The project is a collaboration of the Port Authority, Silverstein Properties, and the New York Power Authority (NYPA), which provided $10.6 million to purchase the fuel cells.
West Coast
On the other side of the country, California is consistently a heavy hitter when it comes to fuel cells and offers a variety of attractions for a fuel cell road trip. An educational yet fun stop along this fuel cell road trip could be made to the Los Angeles Zoo and Botanical Gardens where a 200-kW UTC Power fuel cell is among the zoo's residents. The Los Angeles Department of Water and Power (LADWP) assisted the zoo not only with funding and the installation, but also to restore the surrounding native plant garden with walking paths to provide access to the facility and for public benefit.
Shark's Ice, the official practice facility of the San Jose Sharks, a NHL hockey team, uses a 500-kW Bloom Box fuel cell system to help provide power to the skating complex, which is the biggest in the state of California. The system replaces 85 percent of the utility power purchased from the electric grid, which will help save costs on running the 24/7 refrigeration system..
Universal Studios Hollywood recently installed four ClearEdge Power ClearEdge5 fuel cells to provide power and hot water to the Universal production kitchen serving the theme park. The system enables the park to cut CO2 emissions from its food production operations by 40% compared to traditional forms of power generation.
If you are taking in the busy sites along either the Port of Los Angeles or Port of Long Beach, keep an eye out for Vision Industries Corporation's Tyrano fuel cell-battery hybrid truck that uses fuel cells to recharge the batteries. The Port of Los Angeles recently approved a $1.4 million contract to retrofit an additional 15 electric trucks with Vision's fuel cell system.
Off the Mainland
Not quite accessible by car from the mainland, but both Hawaii and Alaska feature some places of interest worthy of a stop on a fuel cell tour of the country.
For the inner pioneer, the Wrangell Floating Camp in the harbor of Wrangell, Alaska, has a fuel cell installed on a small 4-person float house to provide backup power to an existing battery bank that is part of a solar array/inverter/battery bank electrical system. As part of a U.S. Forest Service project, the fuel cell is part of a pilot study on the use of fuel cells at the remote field camp sites on the Tongass National Forest.
For the all-around adventure and nature seekers, you can bike, hike and camp or at Hawaii's Volcano National Park and then take a tour on one of the two hydrogen shuttle buses that will transport visitors from site to site within the park, relieving crowded parking spots at various attractions. A 5-kW fuel cell also powers the park's theater.
In addition to all these tourist attractions and local highlights, fuel cells are also powering many grocery stores and retail sites around the country, so while stocking up on road trip snacks and supplies, you might run into one as well.
For more details on these locations and many more, log onto Fuel Cells 2000's State Fuel Cell and Hydrogen Database.
The content & opinions in this article are the author's and do not necessarily represent the views of AltEnergyMag
---
Comments (0)
This post does not have any comments. Be the first to leave a comment below.
---
Post A Comment
You must be logged in before you can post a comment. Login now.
Featured Product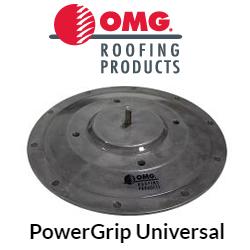 Eliminate Solar Rack Ballast and Reduce Rooftop Material Handling. PowerGrip™ Universal (PGU) is a commercial roof mount system designed to secure solar racks and other equipment to any type of commercial roofing system. PGU provides a secure connection directly to the roof deck or structural members and is designed to reduce or eliminate ballast in solar racking systems, so there's less weight on the roof and less material handling. Made of heavy-duty cast aluminum, PGU units include a base ring which is secured through the roofing cover and into the structural roof deck, and a waterproof top plate.