More entries in this years Solar Decathlon for your interest and enjoyment.

Bob Hetherington | AltEnergyMag
Be sure to read the outline of the Solar Decathlon along with the first 5 entries in Part 1 of this series. as well as Part 2 with 5 more entries.
The Next Five Teams in the 2011 Lineup
Team China: Tongji University
Y Container
Team website: solardecathlon.tongji.edu.cn
Team China's U.S. Department of Energy Solar Decathlon 2011 entry, Y Container, combines six recycled shipping containers into a succinct, Y-shaped solar house. Y Container is easy to transport, assemble, and expand—providing the freedom to live anywhere with low costs and clean energy. It is a living house that can contain the energy, water, and plants required for an individual to enjoy an independent and natural lifestyle.
Design Philosophy
Team China designed its solar house not only as a highly integrated solution for supplying energy and water but also as an answer to financial and transportation challenges. The team's design transforms prefabricated shipping containers into a modern living environment. Founded on the expectation that one can live anywhere freely, Y Container uses these standard modules and special conjunction components to help people expand their living space according to their wishes.
Features
The architecture of Y Container features:
An expandable and blended space that provides divided functional areas linked through a consecutive spatial sequence

More opportunities to view the varying landscapes created in different sections of the yard.
Technologies
Y Container incorporates innovative technologies to make the house flexible and adaptable under different circumstances. These include:
An integrated system that uses heat recovery from the solar thermal collector for the domestic hot water supply and the floor heating system

Vacuum insulation materials and phase-change materials that block heat transfer and moderate the interior temperature passively

A natural ventilation tunnel in the middle of the house that regulates air distribution and the fresh air supply without energy consumption.
Market Strategy
Y Container's target client is a young couple in Shanghai, China, where many young people cannot afford independent housing. Recognizing the gap between incomes and house prices in Shanghai, Team China has designed a solution.
What's Next
The house will be transported back to Tongji University after the competition. It will be combined into the new Green Energy Exhibition Area of the campus. If possible, research will continue to maximize the potential of this design.
Video Walkthrough
The Team
---
Team Florida: The University of South Florida, Florida State University, The University of Central Florida, and The University of Florida
FLeX House
Team website: www.flexhouse.org
Team Florida's U.S. Department of Energy Solar Decathlon 2011 entry, FLeX House, is a prefabricated prototype that combines the wisdom of Florida residential design with modern technology. The house opens up to take advantage of passive cooling during mild months and closes down to take advantage of the highly efficient mechanical systems during months of temperature extremes. This hybrid open-and-closed building type is conducive to a healthy indoor/outdoor Florida lifestyle.
Design Philosophy
FLeX House is designed as a sustainable house that can adapt easily to different site situations and plan configurations. The house can be shipped on one truck and quickly deployed at the building site. A variety of space-conserving design strategies gives residents of FLeX House an affordable, functional, and comfortable living environment in an unconventionally small footprint.
Features
Features that distinguish FLeX House include:
A shading structure with cypress louvers that shield the roof and walls from the hot Florida sun

A wall along the north side that opens to enable passive cooling

A landscape that provides food, modifies the microclimate, reduces solar heat gain, and prevents storm water runoff

Exterior walls with corrugated metal siding, chosen for its reflectivity, durability, and economy.
Technologies
FLeX House is designed to take advantage of Florida's mild climate as much as possible. To supplement passive strategies, the following technologies contribute to the house's performance:
A zoned mini-split system that heats and cools the house in conjunction with a heat pump and solar thermal panels

A liquid desiccant duct system that connects to an energy recovery ventilator to dehumidify incoming air

A 22-panel photovoltaic array rated at 5 kW with one micro-inverter for every pair of panels

Systems control and diagnostic software that monitors more than 35 channels of data.
Market Strategy
The FLeX House base module is designed for a young couple or a couple with a small child living in Central Florida on a moderate income. As the family grows, new modules can be added to the base to expand the living space.
What's Next
After Solar Decathlon 2011, FLeX House will return to the University of South Florida's Tampa campus, where it will become a solar energy learning center for the Tampa Bay area. In addition, FLeX House will be a living laboratory for testing emerging technologies, sustainable building materials, and efficient systems for use in the Florida house of the future.
Video Walkthrough
The Team
---
Team Massachusetts: Massachusetts College of Art and Design and the University of Massachusetts at Lowell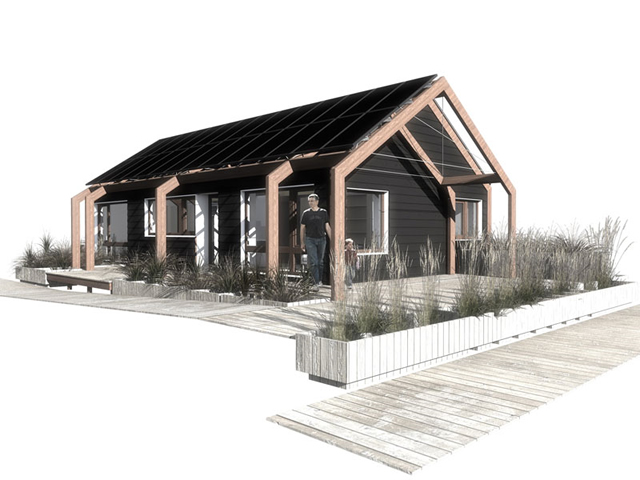 4D Home
Team website: www.4dhome.us
Team Massachusetts designed the New England-inspired 4D Home for the U.S. Department of Energy Solar Decathlon 2011. This solar-powered prototype is an affordable, ultra-efficient house that can adapt to a family's changing needs. The team hopes the 4D Home will serve as a precedent for home builders and designers creating sustainable homes in New England.
Design Philosophy
Team Massachusetts is concerned about the negative consequences of using nonrenewable energy sources for the built environment. Yet using renewable energy for buildings is successful only when baseline energy consumption is minimized through passive strategies. The 4D Home integrates efficient technology and passive strategies without compromising simplicity.
Features
4D Home demonstrates how dynamic interior spaces can make compact living viable for a small family. Features include:
An exterior composed of fiber cement board and wood-clad windows

Asymmetrical timber trellises that provide seasonal shading and a covered transition to the interior

A two-bedroom layout that is easily reconfigured by two sliding partition walls

Furniture, decor, and housewares designed and fabricated by student team members.
Technologies
Team Massachusetts has integrated efficient and easy-to-use technologies into 4D Home. These include:
A 28-panel photovoltaic array of monocrystalline silicon cells that are 19.1% efficient

Hybrid solar thermal panels mounted behind the photovoltaic modules for efficient heat transfer to the domestic hot water system

Blown fiberglass and closed-cell polyurethane spray foam insulation for air tightness

A refrigerator that uses less electricity per year than a 60-W lightbulb.
Market Strategy
The 4D Home is a 945-ft2 (88-m2), two-bedroom house for a family of three living in New England. Specifically, the single-family house is designed for a mid-thirties couple with a young child and an annual household income of around $100,000.
What's Next
Team Massachusetts is committed to finding a family to purchase and live in the house immediately after the competition. The home will be located in New England, where its performance will be monitored as the family lives in it.
Video Walkthrough
The Team
---
Team New Jersey: Rutgers – The State University of New Jersey and New Jersey Institute of Technology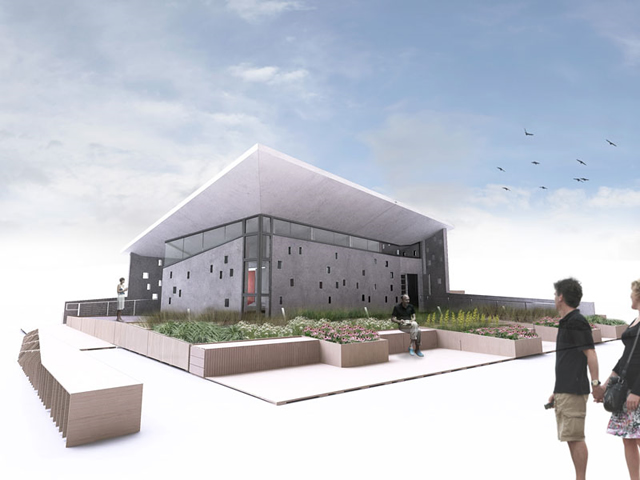 ENJOY House
Team website: www.solarteamnewjersey.com
Team New Jersey's entry for the U.S. Department of Energy Solar Decathlon 2011, ENJOY House, suggests a new way of approaching high‐performance, energy‐efficient residential design. Cutting‐edge fabrication techniques meet the age‐old technology of concrete in its intelligent design. The roof's inverted‐hip shape is calibrated for optimal solar energy and rainwater collection, contributing to an architecture informed by performance criteria.
Design Philosophy
The ENJOY House integrates passive strategies, new solar technologies, and contemporary architectural ideas. Built of pre‐cast concrete insulated panels, the house requires little upkeep compared with traditional stick‐frame materials. The highly insulated building envelope and passive solar strategies significantly reduce heating and cooling loads.
Features
Team New Jersey aims to create an affordable, functional, energy-efficient house suited to the climate of New Jersey. To accomplish these goals, the ENJOY House features:
Concrete panels in all roof, wall, and floor assemblies that use varied casting processes

Perforations that allow for daylighting and dramatically improve thermal performance

An inverted‐hip roof that allows for rainwater collection.
Technologies
ENJOY House incorporates strategic technologies, including:
Evacuated solar thermal tubes that heat domestic hot water and provide preheating for the hydronic radiant floor

Fiberglass-framed windows that are high-performing, energy-efficient, and durable

A 9-kW photovoltaic system with a target daily electric output of 36 kWh

Energy recovery ventilators and dehumidifiers that keep cool air inside the house while providing fresh air from outside.
Market Strategy
The ENJOY House is intended for a couple that retires to the Jersey shore. With a retiree's needs in mind, the team has designed a 960-ft2 (89-m2) house that is ADA-accessible. Team New Jersey has integrated universal design principles into its architecture to create a house that is accessible to people of all ages and levels of mobility.
What's Next
Nonprofit organizations in New Jersey as well as private homebuilders have expressed interest in taking possession of the ENJOY House after the competition. Team New Jersey hopes to determine the house's final destination before the start of Solar Decathlon 2011.
Video Walkthrough
The Team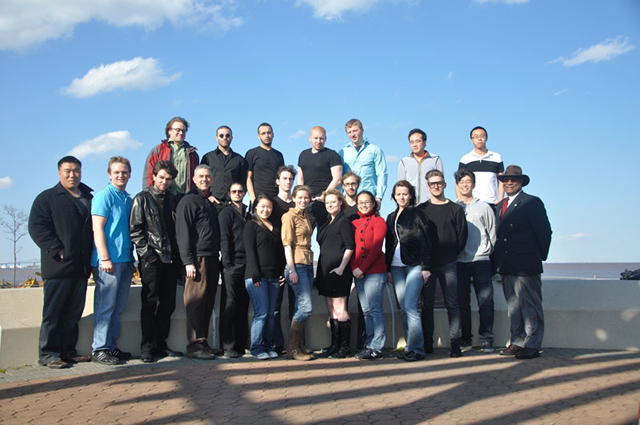 ---
Team New York: The City College of New York
Solar Roofpod
Team website: www.ccnysolardecathlon.com
Team New York's Solar Roofpod, designed for the U.S. Department of Energy Solar Decathlon 2011, responds to the fact that urban rooftops are largely under-used. Intended for existing mid-rise buildings, the house enables eco-conscious city dwellers to live lightly by producing solar power, cultivating roof gardens, and retaining and recycling storm water.
Design Philosophy
Solar Roofpod adopts a modular, yet customizable, approach to assembly. The one-story penthouse has variable cladding on the 64 poplar wood-framed "building blocks" of the envelope. These building blocks—glazed, opaque, louvered, or screened—can be custom-assembled based on the variables (such as solar orientation, predominant wind direction, preferred view, and interior layout) of each site.
Features
In addition to having a symbiotic relationship with its host building, the Solar Roofpod features:
A modular dwelling unit design with components that can be arranged in multiple configurations

A rooftop-mounted solar trellis that protects the house from heat gain and is easy to upgrade with new photovoltaic technologies

A power and water use indicator to help residents monitor their daily consumption.
Technologies
The Solar Roofpod features a number of sophisticated technologies. These include:
A micro-inverter for each solar panel to optimize system output

Solar thermal collectors that distribute the sun's heat through a radiant floor system

A thermal storage system that uses paraffin as the phase-change material to reduce the size of the tank by half

An energy management and control system designed to ensure comfort and regulate energy consumption.
Market Strategy
The Solar Roofpod is a "penthouse with a purpose," designed to respond to the market for economical new housing in cities. The target market is urbane, ethnically diverse, and progressive singles, couples, and young families. Other urban market segments that could find the Solar Roofpod lifestyle and its considerable utilities savings appealing are empty-nester cosmopolitans and immigrant families.
What's Next
There are two possible future scenarios for the prototype Solar Roofpod. The house may return to The City College campus in West Harlem for use as a visitor center and classroom for sustainability education. It could also become part of the school's planned environmental science center on Pier 26 in Tribeca along the Hudson River.
Video Walkthrough
The Team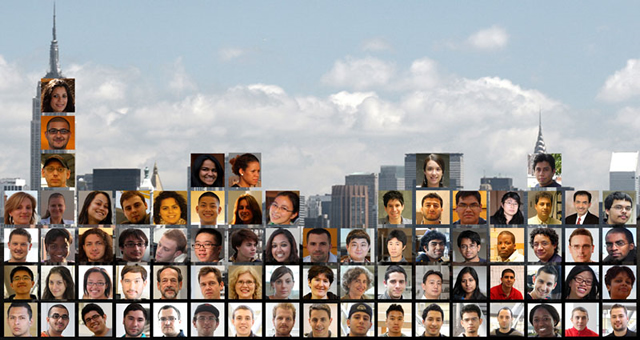 The content & opinions in this article are the author's and do not necessarily represent the views of AltEnergyMag
---
Comments (0)
This post does not have any comments. Be the first to leave a comment below.
---
Post A Comment
You must be logged in before you can post a comment. Login now.
Featured Product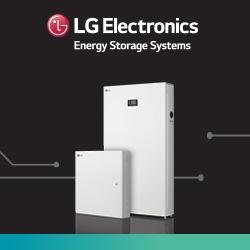 The NeON R module features "Back Contact" cell technology delivering an entirely black panel that is aesthetically pleasing and energy efficient. The cell's seamless, surface blends perfectly into nearly all rooftop designs while the module's electrodes are positioned on the rear of the cell. Using LG's N-type cell structure, the panels produce 365W of energy, up to 7.3kWp, compared to 5.8kWp of the p-type cell. The module's new design minimizes LID, thereby delivering a longer lifespan and increased energy output.