OPDE is a Spanish corporation with a global vision that specialises in photovoltaic solar energy systems. We have three business lines. OPDE develops, builds, and carries out maintenance of photovoltaic solar plants; PROINSO supplies modules, inverters, trackers, and other equipments for photovoltaic installations; MECASOLAR specialises in the design and manufacture of solar trackers, fixed structures, and foundation screws.
The OPDE Group
José Antonio Mieres, CEO and Director | OPDE Group
1. What are the primary companies that make up the OPDE Group?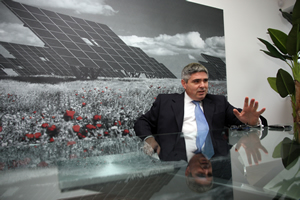 OPDE is a Spanish corporation with a global vision that specialises in photovoltaic solar energy systems. We have three business lines. OPDE develops, builds, and carries out maintenance of photovoltaic solar plants; PROINSO supplies modules, inverters, trackers, and other equipments for photovoltaic installations; MECASOLAR specialises in the design and manufacture of solar trackers, fixed structures, and foundation screws.
2. MECASOLAR manufactures solar trackers worldwide. In what countries is it among the leading companies? Is it planning to expand into new markets?
From its establishment in 2005 to the first six months of 2011, MECASOLAR supplied 311MW in solar trackers for photovoltaic installations. Today, we have assembly plants in Spain, Greece, Italy, USA and Canada, and we are leaders in the European solar tracker market, mainly in the three European countries I've just mentioned.
Apart from consolidating our presence in Europe, we intend to expand into emerging markets such as Mexico, Brazil, Australia, or India, where we'd like to open an office in 2012.
But MECASOLAR is present in other countries as well, as we've manufactured trackers that are currently operating in Egypt, Israel, Colombia, Belgium, China, Sweden, Cyprus, Algeria, Bulgaria, Great Britain, and Australia, among other countries.
3. The company continues to launch innovative products, the newest one being Mecascrew, a new universal foundation bolt. What were the impressions at the solar technology meetings where it was presented (Intersolar Europe and Intersolar USA)?
Mecascrew is a UNIVERSAL foundation screw that suits all types of terrain with no need to use concrete foundations, which adapts to the needs of different structures and is compatible with all the fixed structures for PV installation systems on the market. The screw is made of hot-dip galvanised steel, in accordance with ISO 1461, which enhances durability, and it offers a 25-year warranty.
Thanks to these characteristics, Mecascrew was highly successful in the leading international meetings where it was presented. This shows that our ongoing bid for innovation is what allows us to satisfy the demands of the global PV market. Mecascrew made it possible to strengthen MECASOLAR's global position and also to offer customers a global solution that fulfils their projects' needs.
4. In 2009, PROINSO launched the International Network of Qualified Installers. How many members does the Network have? What are the main competitive advantages for installers who join the Network?
Our Network has over 1,690 qualified installers. The Network is aimed at developing good relations with installers and offers them technical support. Our support consists in funding, web promotion, technical means, technical assistance, marketing and technical tools. Training is an added value.
We offer qualified installers an innovative international learning programme named PROINSO InternaTional Training School, supported by cooperation agreements with renowned PV learning centres in Italy (ICIM), England (EcoSkies), Greece (OIKONOMOTEXNIKH), France (Lycée des Métiers Eugène Montel), Canada (Canadian Solar Institute, CSI), USA (Solar Energy International, SEI), and Spain (CEFOIM).
PROINSO works jointly with these centres in the development of training programmes and contents for PV installers, contributing specialised technical materials from the best brands (Trina Solar, SMA, MECASOLAR, REC, Canadian Solar, etc.). The training provided at the centres PROINSO cooperates with is specialised and official, in accordance with the regulations in force in each country. It has been designed to meet professional needs in the sector.
The PROINSO Solar Training School also delivers seminars, conferences and workshops organised with the leading manufacturers in various countries.
Also, in 2010, PROINSO launched SIGMA solar, a new online tool for qualified installers to create custom catalogues based on manufacturers' datasheets. The product database used to create PDF catalogues is continuously being updated with the datasheets provided by the manufacturers in each country. With SIGMA SOLAR, installers can make their own custom catalogues in five simple steps and in a short time on the PROINSO website.
PROINSO has launched a new incentive programme in Italy. It is PROINSO PLUS, a programme aimed at rewarding installers' loyalty, increase their satisfaction, and woo new qualified installers. With their purchases and participation in certain activities, installers earn points, which they can then redeem for high value-added gifts.
In addition, PROINSO has signed agreements with INTESA SANPAOLO and BBVA to fund PV installations for end consumers, that is, our installers' clients. This service will be available soon in UK, Germany, and France.
5. As you have offices in so many countries (Spain, Greece, Germany, Italy, United States, Britain, Canada, China, Czech Republic), can you make market forecasts? What are your figures, in MW, for the near future?
In 2010, PROINSO supplied the world with 318MW in SMA inverters and 138MW in REC and Trina Solar modules. This has resulted in a turnover going beyond €332 million in 2010, turning the company into one of the global leaders in the supply of solar PV energy.
With last year's figures, the total energy supplied by PROINSO in the 2007-2010 period reaches 812MW. Broken down by type of products, from 2007 to 2010 PROINSO supplied 528MW in solar inverters and 284MW in modules. We expect to reach 1,000MW this year.
6. OPDE has had a record activity so far this year, having grown by 37% in just three months. What are the forecasts for year-end 2011?
OPDE had developed 101MW by the end of 2010. This year's growth has been fantastic so far. In the first six months, we installed 37MW, much more than in the past 5 years: 37% expansion in just six months.
OPDE's record figures this year are in part a result of the changes in the Board and our new management team. We've hired senior executives and a team of highly qualified professionals for our Administration Department, Corporate Service Department, Executive Office, Operation and Maintenance Department, etc., as well as new engineers and superintendents with long experience in the field. Thanks to our recent recruits, OPDE has increased the speed of work at PV plants.
We expect to add more MW in Spain and Italy over the next few months, reaching a new 19MW by the end of the year.
7. What regions in the world are more active today, and where do you think growth will be bigger in the next five years?
We intend to strengthen and increase our presence and activity in Germany, USA, Greece, France, and Spain. Certainly, we've taken a bet on India, where we've clinched deals for 25MW, as well as Mexico, Brazil, and Australia, our target markets.
8. What's next for the OPDE group in the alternative energy industry? Expansion in existing markets? New markets? New products? New industries?
You've got it right. We want to enter new markets and open up to new business areas. In addition, we'll embark on diversification in other renewable technologies. In fact, our Strategic Plan envisages the possibility of making a move to biomass, wind, and solar thermal energy, where dish/stirling systems could be used as a complement to our solar trackers.
José A. Mieres - SUMARY OF EXPERIENCE
More than 30 years of experience in the energy sector, of which 15 years of management and senior management experience.
Proven ability to lead teams and projects with a focus on innovation and growth.
Extensive background in the energy sector, with intensification in renewable energies and environment in an international context.
Large experience in development of I+D project within the renewable industry
Highly skilled in investment development, financing and contract negotiation.
CEO - OPDE Group
Sharpened the strategic focus and concentrated in four long term growth lines: Geographic expansion, Increase the pool of renewable technologies, Stable portfolio of projects and Innovation.
Improved the operating efficiency and execution as well as its financial performance and focus.
The content & opinions in this article are the author's and do not necessarily represent the views of AltEnergyMag
---
Comments (0)
This post does not have any comments. Be the first to leave a comment below.
---
Post A Comment
You must be logged in before you can post a comment. Login now.
Featured Product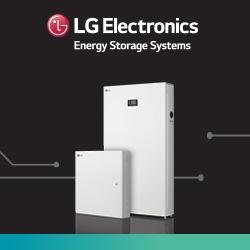 Meet LG Electronics Home 8 Energy Storage System (ESS), a whole home battery backup solution built with installers and their homeowner customers in mind. The ready-to-deploy Home 8 features just one SKU and a modular assembly for fast installation. It can be AC-coupled or solar-powered and is engineered with a grid-connected inverter, four battery modules, and a Smart Energy Box featuring a 7'' LCD touchscreen with commissioning wizard for easy setup. Each Home 8 unit can store up to 14.4 kWh of usable power, helping homeowners gain pure independence from the grid. Plus, installers can connect up to four units, bringing customers up to 57.6 kWh of total backup power-all easily managed and monitored through intuitive mobile apps.