One of the many challenges of operating a wind farm is meeting ongoing payments. The right technology can help wind companies meet this formidable challenge. That, in turn, helps to advance further development of wind power.
Meeting Ongoing Payment Obligations for Wind Farms
Yogesh Khandelwal and Dan Liggett | geoAMPS
In the development and operation of a wind farm, several issues enter the discussion quickly, issues that are critical to determining project costs. These issues include availability of wind, siting of the wind farm and its turbines, land use in the area, transmission of the electricity to the power grid, access roads, and power generation capacity of the turbines.
But there is another issue that gets little attention outside the wind industry world. Wind energy officials tell us that their number one pain point in managing a wind farm is dealing with ongoing payment obligations. Absent an effective strategy and the right technology, wind companies struggle with this necessary aspect of doing business.
Wind companies employ various means to meet ongoing payment obligations. Some still work from paper records. Others rely on computer calendars. Spreadsheets are commonly used. In each case, manual tweaking of the data is necessary, raising the likelihood of erroneous or inconsistent information. Emails or memos with supervisors or payment administrators must be exchanged.
Research conducted by Raymond R. Panko, professor of information technology management at the University of Hawaii, found that 88 percent of spreadsheets contain errors in mathematics calculations. In certain situations, this can radically corrupt the end data. This can prove to be a major headache for a wind farm operator that must make timely, accurate lease and royalty payments.
Considering the methods that many wind energy companies employ, it is not surprising that meeting ongoing payment obligations is such a problem. The traditional approaches to calculating and issuing these payments are clunky and inefficient, slow and wrought with the possibility of error.
Technology now exists which can help wind companies avoid the pitfalls of traditional methods of meeting ongoing payments. At a time when the industry is growing dramatically, technology is helping wind companies operate more efficiently. That will help facilitate the continued growth of this young industry that is key to mankind's ability to combat climate change.
Establishing and operating a wind farm is more complex than building turbines and hoping the wind will blow. There are a number of complex issues associated with these projects. The costs and financial risks are high. Plenty can go wrong, and often does.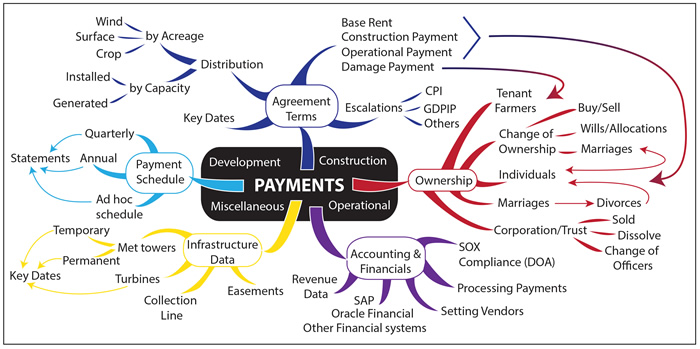 The illustration shows the many variables to meeting ongoing payments necessary in the operation of wind farm. Advancements in software improve efficiency of this complex process by completing a large volume of payments automatically, while factoring the many variables and payment adjustments. (Image produced by geoAMPS)
Siting is an initial concern. There are innumerable possibilities of where to develop a wind farm. Certain sites can be removed from consideration quickly based on federal, state and local government regulations and restrictions; land use; geological constraints; and adverse impacts to the environment and wildlife.
For those locations that pass those tests and are regarded as the best feasible sites, still more data is needed, such as availability of wind, land ownership, proximity to power lines, topography, existing infrastructure, population density, and costs of clearing land and developing access roads to the wind farm construction site.
Wind turbines work best on high, exposed sites. Hilltops are ideal, providing there is a flat area and suitable ground for the tower. The vicinity should be clear of obstacles that could interfere with the wind current or operation of the turbines.
A necessary task in determining the appropriate location for a wind farm is the construction of one or more meteorological (met) tower. The met tower's attached anemometers and wind vanes measure wind speed and direction. Credible wind data is necessary in arriving at the right decisions in siting a wind farm and turbines.
Once a suitable location for a wind farm is determined, the company must acquire the necessary right of way, lease and royalty agreements with property owners. Contracts must be finalized. Permits must be obtained. The electricity anticipated from the wind farm must be sold, A great deal with effort is expended in the development phase of a wind farm project even before construction starts.
After the wind farm is built and operating, the company must ensure ongoing lease and royalty payments are issued accurately and on schedule.
Wind companies need a version of online banking. Without such technology, the companies face manual calculations that require at least two weeks of staff time, with multiple staff members involved each month. Despite this commitment of time and resources, payments can be late or wrong.
As the accompanying illustration shows, there are many variables in meeting ongoing payments for a wind farm. Lease and royalty payments go out to multiple landowners. The amounts might have to be divided into percentages for multiple owners of one tract. Some payments are adjusted by the Consumer Price Index, others by the Gross Domestic Product Implicit Price. Some payments are adjusted by simple interest, while others are compounded annually.
Landowners can be individuals, married couples, corporations or trusts. Landowners can change address. Married couples might get divorced. Ownership can change by reverting to the estate or going into probate upon a landowner's death. Corporations are bought out or close.
Inputting and changing data manually on paper, computer calendars or spreadsheets do not work well for the speed and accuracy that is required. It is complicated and time-consuming to track all the triggers that determine the timeline for payments and the amounts to be issued.
Missing payments or issuing incorrect amounts can cause major problems. Landowners, understandably, get upset when payments are late or wrong. Neighbors talk to one another. If one learns that his neighbor got a check and he did not, it's certain that he will be on the phone to the wind company. A landowner will find an underpayment upsetting, but so is an overpayment because it means a lower payment on the next check. It's a lose-lose scenario for the wind company.
Oil and natural gas development companies entering the wind arena face unique challenges. Their existing software worked fine for oil and gas projects, but, due to the variables in leasing, not so well for wind farms.
Technological advancements offer solutions for organizations that develop and operate wind farms. The technology company geoAMPS has introduced a software product called altAMPS, specific for renewable energy industries, which offers a comprehensive and flexible payment program that automates the complex process of meeting ongoing payment schedules, such as lease and royalty obligations.
The software is customized to company or project needs. All landowner and payment information is entered into the system once, or changes made once, and the system manages and tracks payments on an ongoing basis. Rather than relying on hundreds of manual calculations each month that are time-consuming and prone to error, the web-based software, operating from a central repository of project and company information, conducts automatic calculations, factoring in the myriad of variables that may exist.
In much the same way that online banking has made it easier to manage household budgets, technological advancements are simplifying the process of meeting ongoing wind farm payments.
Operating a wind farm is more complex than making sure the rotor blades keep turning. One of the many challenges is meeting ongoing payments. The right technology can help wind companies meet this formidable challenge. That, in turn, helps to advance further development of wind power.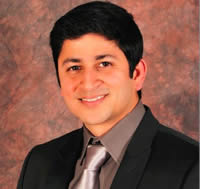 As President and Chief Executive Officer of geoAMPS, Yogesh Khandelwal is an engineer with a diverse background in technology across various industries. With more than 15 years of experience in database customization and implementation, he helps organizations implement standardized processes, bringing efficiency and optimization within project and asset management.
Dan Liggett is Communications and Public Relations Manager of geoAMPS. He has an extensive background in the newspaper industry and in public relations for public transportation and higher education. He holds a Bachelor of Science in Journalism from Ohio University.
For more information about geoAMPS, visit www.geoamps.com or call 614-389-4871.
The content & opinions in this article are the author's and do not necessarily represent the views of AltEnergyMag
---
Comments (0)
This post does not have any comments. Be the first to leave a comment below.
---
Post A Comment
You must be logged in before you can post a comment. Login now.
Featured Product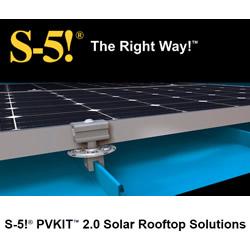 The concept of combining PV arrays with standing seam metal roofing is growing-for good reasons. Metal roofs have a life expectancy of more than 40 years. Shouldn't the mounting system last as long? With S-5! zero-penetration attachment technology and PVKIT 2.0, the solarized metal roof is the most sustainable system available -and without compromising roof warranties! PVKIT 2.0 is the also the best solution for attaching PV modules directly to any exposed fastener metal roof.