The National Solar Jobs Census 2013 report states that in the last 12 months solar employment has grown 10 times faster than the national average- that says something that people need to hear.
Solar Training at SolPowerPeople
The Whole Team at | SolPowerPeople, Inc.
Tell us about SolPowerPeople and the company's history and purpose.
SolPowerPeople has over 40 years of combined experience in education, PV systems design & installation, business operations and project management. Our primary goal is education and empowerment of the solar industry for the business and the individual. We offer a versatile set of skills that allow us to creatively provide solutions in a growing industry.
Our Solar PV Education & Training Services deliver individual achievement for people who want to leverage past experience into a new career in the PV industry, or want to add PV systems design and installation services to an existing trade or related service business.
Our Professional Services allow business and schools who want to tap directly into our pool of PV technology and education experts to tackle existing opportunities and projects.
Since our beginning in December 2011, we've provided training to 1,000's of people through on site and online training- teaching everything from public education on solar viability and the potential for establishing a vibrant solar market to Advanced PV Design and Installation and PV System Firefighter Safety. Our online lecture platform called the #SolarMOOC continues to offer training to people throughout the world - inspiring new embraces of solar energy, teaching advanced concept to industry professionals and bridging connections between people throughout the solar industry.
What type courses do you offer and in what locations?
SolPowerPeople offers beginning though advanced solar training Workshops, PV System Firefighter Safety training, Code Inspector training, and NABCEP™ Exam preparation training courses.
We offer both on-site and online courses. We currently offer on-site courses through a partnership with community colleges in Texas and with a national solar distributor, Ontility utilizing their training facility in Houston. We offer onsite courses through a partnership with a Missouri accredited educational agency, the Institute of Technology, who also provides apprenticeship and job placement services to graduates.
We are available to deliver custom training for contractors and businesses that want to receive training at their location, and we have the Mobile Solar Training Lab to help us provide this experience.
We also provide the first and only completely free online collaborative solar learning platform known as the #SolarMOOC. The #SolarMOOC is a unique evolution of a modern take on online education known as the Massive Open Online Course. In this course, solar experts from around the world present interactive educational lectures in a collaborative format, with a live host. Recordings of all lectures and additional educational content on each topic can be accessed from the SolPowerPeople website, and are distributed via a Newsletter blog, social media, and email communications with our enrolled students. To date, #SolarMOOC has over 3,100 students, with new enrollees joining each day.
Do you also have online courses and if so what is available?
We currently have online courses available through our partnership with the Institute of Technology in St Louis, Missouri. Check out http://www.tech-institute.com/ for more information.
Our direct online course offering will soon extend beyond the #SolarMOOC to include solar foundation level courses for those new to the industry, as well as Advanced Solar PV Training for those with a goal to gain the NABCEP (North American Board of Certified Energy Practitioners) Solar PV Installation Professional ™ Certification. This will be the beginning of another journey in which we will move towards a goal to provide the industry with what it needs in education to flourish internationally.
Our first Photovoltaic Systems Foundations course will be launched by June 1st, 2014. From there, we will expand our offerings to reflect and align with our on site offerings and more.
What training provider accreditation do you have?
SolPowerPeople is an IREC (Interstate Renewable Energy Council) accredited continuing education provider, and we offer courses that provide credit that apply towards NABCEP credentials.
Our instructors, Cathy Redson, Janet Hughes, and Richard Stovall are all IREC certified instructors.
Tell us about the background and qualifications of the instructors?
Cathy Redson, President, is a professional educator with over 20 years of instructional and educational leadership experience. She is a Lead Solar Instructor and founding member of SolPowerPeople, Inc. who has also taught and developed curriculum at Austin Community College, ImagineSolar, ADVEN, and is recognized as a leader in solar education in Texas and across the U.S. Cathy is an IREC Certified Instructor.
Janet Hughes, Chief Operating Officer, has 35 years of electrical and business experience and 25 years involvement with the solar industry. She is a master electrician, and an IREC Master Trainer with 11 years of solar instruction experience. Janet's background in solar has included sales, estimation, design, installation, project management, commissioning, consultation, training, and solar curriculum development for residential, commercial, and utility scale projects. She is the training provider for the South Central Solar Instructor Training Network for the DOE, and is the newest Master Trainer at SolPowerPeople.
Richard Stovall, Chief Executive Officer, has developed curriculum and provided training for more than 3,000 solar students (mainly electricians and firefighters) since 2009. Richard has the distinction of being the only person in Texas and the first of four people in the world to have all three of NABCEP's (North American Board of Certified Energy Practitioners) solar certifications: Solar PV Installation Professional, Solar Thermal Installation Professional, and PV Technical Sales Professional. In addition he has acted as a NABCEP Solar PV Installer Technical Committee member. Richard is an IREC Certified Master Trainer.
Sarah Raymer, Director of Education and Training Services, is SolPowerPeople's newest instructor in the wings. Sarah manages and hosts the #SolarMOOC, develops curriculum for on site and online courses, and assists with online and on-site training. Sarah is a NABCEP Certified PV Installation Professional, and is working towards gaining her IREC Instructor Certification as well as the NABCEP PV Technical Sales Certification- both of which she hopes to achieve by 2015.
Any new courses and new plans for 2014?
We are very excited to be expanding into online education, as there are many people who hunger for this training but just cant afford to travel to take solar training courses on site. We love teaching people face to face, but there has to be a solution for those who live in areas that don't provide this type of training.
We also plan to develop and offer Solar PV Technical Sales courses on site and online within the next 6 months.
Do you see a connection between education and growth in the solar industry?
Absolutely! Education and growth of the solar industry are incredibly tightly woven, and they both need each other to survive.
At a base level, the people in the community need to understand the benefits of solar for their economy and the benefits of owning their own energy resource as an investment that will provide clean energy while offering an incredible rate of return that is safe and reliable.
Community leaders need to understand the potential benefits solar provides in their local economy and job market so they can enforce policy and utility rate structures that compliment adaptation of clean energy practices. This stimulates the market as more people buy PV systems.
With a growing market comes more jobs, and there has to be an educated workforce to meet that demand. The National Solar Jobs Census 2013 report states that in the last 12 months solar employment has grown 10 times faster than the national average- that says something that people need to hear.
With more companies installing solar, the manufacturers at all levels of the value chain can research, develop and produce even better technology, creating a perpetual growth cycle like a beautiful Mobius strip.
Tell us about the 100 x 10 goal and how do you plan to reach it?
SolPowerPeople has a dedication to a 100 x 10 initiative: We plan to deliver solar PV training to 100,000 people in 10 years through our mobile PV training offerings, our online interactive platforms, and our online courses. As the nation's only mobile training company, we are able to bring market-customized, hands on training anywhere, any time, and in any format to meet strategic market development or tactical project-specific training needs. We are continuing to develop ways to reach an international audience through our #SolarMOOC and will soon provide online courses which will extend our reach.
Through a combination of these educational modalities, we believe we can meet this goal by 2022.
What was the inspiration for the #SolarMOOC?
The #SolarMOOC was born out of a need to reach several students who contacted us for help in preparing for NABCEP testing and new solar design and installation projects. At this time, we were investigating online educational platforms and concepts. With great excitement, Richard Stovall uncovered a new concept called a "Massive Open Online Course, or "MOOC." Originally conceived by George Siemens and Stephen Downs, the MOOC concept was designed to provide a collaborative, connected free online community of experts and knowledge seekers on a particular topic. Using teleconferencing and our website, the #SolarMOOC was based on their implementation of this concept and has become one of the solar industry's most valuable educational platforms.
The #SolarMOOC provides a great opportunity to help people prepare for the NABCEP PV Installation Professional Exam while embarking on something new that has created a grassroots, connected global solar community of newcomers, experts and practitioners.
How does a "Solar PV Expert" with knowledge or experience to share become a Guest Lecturer for the #SolarMOOC?
The best way to become a #SolarMOOC lecturer is to contact SolPowerPeople's Director of Education and Training Services and #SolarMOOC host Sarah Raymer, AKA Ms. MOOC, with your idea. You can do that here: http://solpowerpeople.com/sarah-raymer/
Describe the Mobile Solar Training Lab and how this can add to a college or company's training programs.
The Mobile Solar Training Lab offers a unique opportunity to provide a hands-on component to SolPowerPeople training courses or other programs that would otherwise be purely theoretical. Our lab offers employees or students the opportunity to test modules, perform a site assessment, install PV systems components, wire them and see them working. This authentic learning experience is priceless- it gives them a chance to reinforce concepts and offers the final key to knowledge gained through application of concepts and experience.
Many training centers and community colleges find it costly and difficult to create a hands-on component to compliment classroom learning, and to keep it up to date with the latest products and technologies. We can deliver that to them as a turnkey package, providing a customized experience to compliment their curricula and the unique needs of their students.
Companies can save time and money by providing training to employees before they start work or by training them on specific components that are used in a project. With a reduced need to train new workers from the ground up, experienced installers are allowed to remain more productive due to a reduced need to train new staff on the job. With adequate training, there is also a reduced chance of injury or mistakes, both of which can cost the company a lot of time, money, and their reputation.
SolPowerPeople, Inc.
SolPowerPeople, Inc. is a global PV industry market development and international solar training organization dedicated to providing the highest quality hands-on solar training at a competitive price to the far corners of the United States, and FREE online training worldwide.
We believe that solar energy has the potential to transform our world for the better, and empower its people. The transition from scarce, costly, polluting fossil fuels to renewable energy sources will happen when the people understand it and demand it. With over 40 years of combined experience in education, PV systems design & installation, business operations and project management, we are SolPowerPeople, and we are here to lead this movement.
The content & opinions in this article are the author's and do not necessarily represent the views of AltEnergyMag
---
Comments (0)
This post does not have any comments. Be the first to leave a comment below.
---
Post A Comment
You must be logged in before you can post a comment. Login now.
Featured Product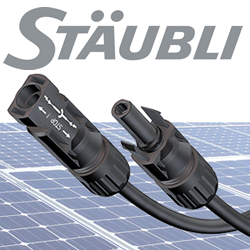 ​Stäubli Electrical Connectors are used on more than 300 GW, over 50% of the PV capacity worldwide. The MC4 family of UL and TUV listed products include connectors, in-line fuses, branch connectors, cable assembly and more.