Ivanpah is thought to be the world's largest solar power project, or at least the largest of its type. The plant uses 347,000 mirrors, which utilize software controls to turn to face the sun throughout the day.

Ryan McNeill | Renewable Energy Corporation
For most companies, being the world's most powerful and popular search engine would be enough of an achievement. Or if it wasn't, then having a successful email server, social media network, owning the world's largest video hosting site and making cutting edge technology available to the masses would more than suffice in terms of accomplishments. But Google has bigger aspirations. They want to save the planet. And now, they've just introduced what may be their crowning achievement.
Ivanpah Solar Electric
Google has invested more than $1 billion in renewable energy, including $400 million in the last year alone, with a particular focus on solar. Their latest effort is a $168 million investment in the Ivanpah Solar Electric Generating Station. The plant, located in Ivanpah Dry Lake on the border between California and Nevada, officially opened February 13, after more than three years of planning and construction. The desert location provides it with an abundance of direct sunlight and makes it ideal for creating a lot solar energy cheaply.
Ivanpah is thought to be the world's largest solar power project, or at least the largest of its type. The plant uses 347,000 mirrors, which utilize software controls to turn to face the sun throughout the day. Spanning across 3,500 acres of public desert land, the solar thermal plant produces around 392 megawatts of electricity — enough to power about 140,000 homes.
In addition to Google's investment, the plant is co-owned by NRG Energy and BrightSource Energy. Their money, along with $1.6 billion in federal loans, has raised the $2.2 billion the project needed to get off the ground. All of these resources have combined to create an impressive feat in the field of solar and renewable energy. But it's still only a fraction of what Google has done over the years.
Google's Renewable Energy Investments
Solar power makes up less than 1 percent of the nation's energy use. But with non-renewable fossil fuels becoming scarcer and more expensive, it's becoming an increasingly attractive option, with solar plants and farms of all sizes springing up across the country, particularly in the Southwest. Plenty of companies have been investing in solar research and solar development, but Google's efforts have been among the most extensive.
Other large corporations, such as Apple, have invested large amounts of money in solar energy, specifically to power their own vast data centers and other technology cleanly. However, Google is unique in that it invests in projects in order to bring power to local businesses and residences. That $400 million mentioned earlier has gone to fund six different solar plants in California and Arizona. They've also invested money to provide solar panels for homes, putting them on over 3,000 residences across the United States.
Their goal is to take clean, renewable energy forms, such as solar power, which have up until now been a novelty and a luxury, and make them practical and affordable for the masses. And it seems the Ivanpah Solar Electric Generating Station is going to take them closer than ever to doing just that. But is it enough?
Solar Thermal vs. Photovoltaic Power
Solar thermal energy is not the same as the solar panels that most people are familiar with. In fact, the way it generates power is closer to nuclear energy. The mirrors focus heat from the sun. In the case of Ivanpah, they reflect that heat to three large boilers that sit at the top of 459-foot towers. The water in the boilers is then superheated, turning it into pressurized steam. The steam is then released to spin a turbine, which generates power.
It's a clean, safe, and renewable method of generating power. Unfortunately, it's not as practical or as efficient as solar photovoltaic power — the solar panels that most people are familiar with. Solar panels capture photons from the sun, which excite electrons and allow them to carry an electric current.
In contrast to Ivanpah, one of the world's largest photovoltaic projects is currently under construction in San Louis Obispo County, Calif. The Topaz Solar Farm, being funded by Warren Buffet, costs about the same as the Ivanpah (between $2 billion and $2.5 billion), but will have 8 million thin film solar panels and generate 550 megawatts of electricity: enough to power 160,000 homes.
Even so, Ivanpah is still a massive renewable energy project that's cost effective. A 20-year power purchase agreement with utilities in the area will provide fixed pricing and bring cheap, renewable power to a great many people, as well as jobs and economic benefits across the nation. It may represent the end of an old era, rather than the dawning of a new one, but it's still a step toward saving the environment.
About Ryan McNeill
Ryan McNeill is the president of Renewable Energy Corporation, one of the Mid-Atlantic's largest residential solar energy companies – committed to installing quality, American-made solar panels and energy products for homeowners.
The content & opinions in this article are the author's and do not necessarily represent the views of AltEnergyMag
---
Comments (0)
This post does not have any comments. Be the first to leave a comment below.
---
Post A Comment
You must be logged in before you can post a comment. Login now.
Featured Product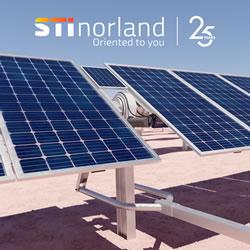 Developed in 2017, the STI-H250™ is consists of two linked torsion beams that rotate simultaneously following the sun's path. They are moved by just one motor, cutting supply and maintenance costs. STI-H250™ dual-row tracker includes backtracking mode to avoid shadowing between adjacent rows and stow function to protect the tracker in extreme wind conditions. For cleaning, vehicles can pass between trackers and each row can be placed in a different position.