Until the throughput at these stations increases with automakers rollout of their FCEVs in larger amounts, the state's subsidies and funding support are crucial and have helped make California an example to the world on how to move forward towards a cleaner transportation future.
California Dreamin' Makes Hydrogen Future a Reality
Robert Rose and Jennifer Gangi | Fuel Cells 2000
California continues to lead the U.S. and arguably the world with its commitment to developing the hydrogen fueling infrastructure to support the fuel cell electric vehicles (FCEVs) automakers will be rolling out in the next few years. California reasserted its leadership by announcing $46.6 million in funding for 29 facilities, bringing the number of existing or proposed public stations to 58. Judging from the winners' list, locally grown startup companies are stepping up in partnership, and sometimes in competition, with industrial gas companies to take advantage of a market opportunity that big oil is shunning.
The push for hydrogen infrastructure dates back to the administration of Arnold Schwarzenegger; state funds began to flow into hydrogen fueling stations in 2005, and in 2007 hydrogen funding was included in a multi-fuel effort called the Alternative and Renewable Fuel and Vehicle Technology Program, which by the end of 2013 had invested $400 million in various infrastructure projects, including nearly $40 million for hydrogen stations.
Nevertheless, the majority of existing hydrogen fueling stations are still private, typically at university or auto manufacturer research centers, or in some cases, warehouses using fuel cell forklifts. That has begun to change as vehicles get closer to the marketplace and the state has stepped up with a guaranteed revenue stream of $60 million for the next three years.
In March 2012, the governor of California, Jerry Brown, issued an Executive Order that directed the state to help accelerate the market for zero emission vehicles (ZEV) in California and setting a goal of one million ZEVs on California roadways by 2020 and another half million by 2025. Since ZEVs include fuel cell electric vehicles, the hydrogen infrastructure also has to be established to support them. The state's initial goal is 100 stations deployed in pace with early fuel cell vehicle sales.
To build this network, along with infrastructure for other advanced vehicles, the California Legislature voted in September 2013 (in Assembly Bill AB8) to tax vehicle registrations, tire sales and some other activities to finance a 10 year clean vehicle program. The legislature earmarked $20 million for hydrogen stations for the first three years, and authorized up to $20 million annually thereafter until at least 100 stations are built.
This money has begun to flow into the California Energy Commission's existing clean vehicle program. One result is that a hydrogen station funding program, announced in November at $29.9 million, grew to $46.6 million when the awards were announced this month (Notice of Proposed Award). Another result: the number of stations deployed or in development doubled overnight to 58 (http://cafcp.org/stationmap).
Also significant was the amount of interest in the program. CEC financing opportunities for hydrogen had been chronically undersubscribed. This time, CEC received at least 120 proposals seeking nearly $103 million – more than three times the proposed funding level of $29.9 million.
The locations selected were strategic – adding new stations in both Northern and Southern California to help create regional clusters and start to connect them in a network to ensure hydrogen availability for potential FCEV customers. All of the proposed stations are planned to be operational by October 2015, in line for the first targeted rollout of FCEVs by Toyota, Honda and Hyundai.
The CEC requires that the hydrogen sold at stations it funds be at least 33% renewable, on average. California counts biomethane from biomass or landfills as renewable sources of hydrogen, as well as the electrolysis of water using wind or solar power. This NOPA includes six 100% renewable stations.
Other states are following California's example and last year, seven states, comprising more than 30 percent of the total national vehicle fleet, signed an agreement to work together to put 3.3 million ZEVs, including FCEVs, on the roads, and build the supporting infrastructure, in their respective states by 2025. They include Connecticut, Massachusetts, Maryland, New York, Oregon, Rhode Island and Vermont.
California Companies
The recent NOPA recipients include FirstElement Fuel, a Newport Beach, California, company, which received the lion's share of the awards, including more than $27 million for 17 stations around the state and an additional $2.9 million for two 100% renewable stations in Los Angeles area. Rather than build an entirely new station from the ground up, the company selects existing gas station locations and will install its hydrogen fueling equipment there.
FirstElement found a good partner with Toyota Motor Sales, USA (TMS) and its affiliate Toyota Motor Credit Corporation (TMCC). The companies entered into financial agreements for the long-term operation and maintenance expenses of the new hydrogen stations. This further reinforces Toyota's commitment to California as one of the first locations in the world, and certainly the U.S., for its FCEV introduction.
Linde, an industrial gas company whose technology is integrated in more than 80 hydrogen fueling stations around the world, servicing fuel cell cars, buses and forklifts, was awarded $4.2 million for two stations. TMS also announced that Linde, LLC plans to build a hydrogen fueling station on TMS owned property in San Ramon, adjacent to Toyota's San Francisco Regional Office and Parts Distribution Center. This location would serve local and regional customers, as well as serve as an important connector site between the Sacramento and San Joaquin valleys and San Francisco Bay Area.
HyGen Industries, another California company, received more than $5.3 million for three stations. Like FirstElement, the company also co-locates its hydrogen refueling pumps at existing gas stations. The company claims its hydrogen at 700 bar pressure costs $3.00-$3.50 gge (gallon gasoline equivalent) and the pump can fuel up to 100 vehicles a week. HyGen's refueler can be installed for around $1.5 million each, a bit cheaper than some of its competitor's bids.
Other awards went to:
Air Liquide, another industrial gas company installing stations around the world, received approval for $2.1 million for one renewable hydrogen station in Palo Alto. Air Liquide received $1.5 million from the June round of funding to build a hydrogen fueling station in Anaheim. That award included a $933,996 match-funding requirement.
ITM Power Inc., a U.K. company that opened a subsidiary in California, was approved for $2.1 million to replace an outdated station in Riverside, California, with a new, public one that can generate 100 kg of hydrogen per day.
Canadian company Hydrogen Technology & Energy Corporation (HTEC) is set to receive $2.1 million to construct a station in Woodside.
The Gas Technology Institute (GTI) was selected to provide a mobile refueler unit and will receive almost a million dollars. This unit will be used to support locations as they are being developed.
An existing compressed natural gas station in Ontario, California, will receive $2.1 million to construct to add hydrogen capability. This funding was listed separate from the other awards as an "Unassisgned Station."
Hyundai Ahead of the Game
Hydrogen Frontier, Inc., another California-grown company, received $3 million from the CEC in June 2013 to replace an older hydrogen station located at the Hyundai America Technical Center, Inc. in Chino with a new 100% renewable one. The station will have the capability to produce 100 kg of hydrogen per day at both 350 and 700 bar, generated on-site via water electrolysis with the required energy purchased from a local renewable energy provider. The station is set to open October 2014 and will then switch from a private to a publicly available one.

Air Products' station fueling Hyundai fuel cell electric vehicle in Fountain Valley
This station, located at Hyundai, underscores the Korean automaker's commitment to FCEVs, and the company is already ahead of the competition, taking applications to lease its 2015 Tucson Fuel Cell vehicle in the Southern California area. The cost for a 36-month lease is a $2,999 down payment and a monthly leasing fee of $499, which includes hydrogen fuel, maintenance and HOV lane access. The Tucson Fuel Cell will also qualify for a $2,500 rebate under California's Clean Vehicle Rebate Project.
The CEC has been vital in supporting these early station deployments, but other groups in California have also helped fund them. In early May, a new station was opened at California State University, Los Angeles, with financial backing from the California Air Resources Board, the U.S. Department of Energy, the state's South Coast Air Quality Management District, the Mobile Sources Air Pollution Reduction Review Committee, The Ahmanson Foundation, and the Automobile Club of Southern California. This station is the largest hydrogen station operated by a university anywhere in the U.S. and its location near the junction of four major Interstates (5, 10, 60, and 710) will be key to serving FCEVs in the area.
Located at the university's Hydrogen Research and Fueling Facility, the station incorporates state-of-the-art equipment and will test the technical and commercial viability of hydrogen produced on-site from water, instead of from reformed natural gas.
This station, on top of the ones already in operation, planned and currently in development, underscores California's commitment to laying the groundwork to be ready in 2015 for when the automakers rollout their FCEVs in larger amounts. Until the throughput at these stations increases with those vehicles, the state's subsidies and funding support are crucial and have helped make California an example to the world on how to move forward towards a cleaner transportation future.
Jennifer Gangi is program director of Fuel Cells 2000, a non-profit, education and outreach program that promotes fuel cells and hydrogen technologies.
The content & opinions in this article are the author's and do not necessarily represent the views of AltEnergyMag
---
Comments (0)
This post does not have any comments. Be the first to leave a comment below.
---
Post A Comment
You must be logged in before you can post a comment. Login now.
Featured Product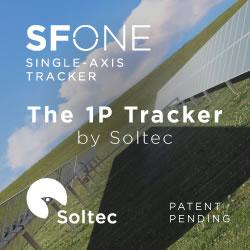 SFOne is the 1P single-axis tracker by Soltec. This tracker combines the mechanical simplicity with the extraordinary expertise of Soltec for more than 18 years. Specially designed for larger 72 an 78 cell modules, this tracker is self-powered thanks to its dedicated module, which results into a lower cost-operational power supply. The SFOne has a 5% less piles than standard competitor, what reduces a 75% the labor time.