The U.S. now has an installed wind capacity of 61,327 MW. There are over 13,000 MW currently under construction, an industry record.

Contributed by | American Wind Energy Association
The American wind energy industry installed 214 megawatts (MW) during the first quarter of 2014: more than the industry installed the first three quarters of 2013. The U.S. now has an installed wind capacity of 61,327 MW. There are over 13,000 MW currently under construction, an industry record.
Key Takeaways fromth First Quarter 2014 Market Report
2014 Wind Project Installations
During the first quarter of 2014, the U.S. wind industry installed 133 turbines, totaling 214 megawatts (MW). These turbines were installed across 6 projects in 5 different states. The most wind capacity was installed in Michigan (136 MW), followed by Minnesota (48 MW), New Mexico (20 MW) and New York (10 MW).
The 214 MW installed during the first quarter of 2014, a drastic improvement from the 1.6 MW installed the first quarter of 2013, but still short of most previous years. There were more MW installed during the first three months of 2014 than the first nine months of 2013.
Minnesota became the 7th state with an installed base of more than 3,000 MW.
There are now 61,327 MW of installed wind capacity in the United States and over 46,000 wind turbines.

Wind Power Construction Activity
Continuing the momentum that closed out 2013, there is currently more wind power capacity under construction than at any time in the history of the U.S. wind industry. There are more than 13,000 MW of utility-scale wind development under construction across 95+ projects in 21 states.
The majority of wind construction activity continues to be focused within Texas (>8,000 MW). There are over 1,000 MW under construction in Iowa, over 700 MW under construction in Kansas, and over 630 MW under construction in North Dakota. Oklahoma, home to over 1,900 MW of recent PPA activity, closed out the first quarter with just under 500 MW under construction.

Wind Power Purchase Agreements and Corporate Purchasers
Utilities continue signing power purchase agreements (PPAs) for wind power into 2014. Nearly 1,000 MW of new wind PPAs have been announced during 2014, building on the roughly 8,000 MW of power purchase agreements signed during 2013.
Among the 8,000 MW of PPAs announced during 2013, approximately 5,000 MW have not yet started construction.
Corporate purchasers continue to invest in wind energy. Google signed a deal for up to 407 MW of wind power from MidAmerican Energy's Wind VIII projects currently under construction in Iowa. IKEA also made its first wind farm investment in the U.S., purchasing Apex Clean Energy's Hoopeston Wind project currently under construction in Illinois.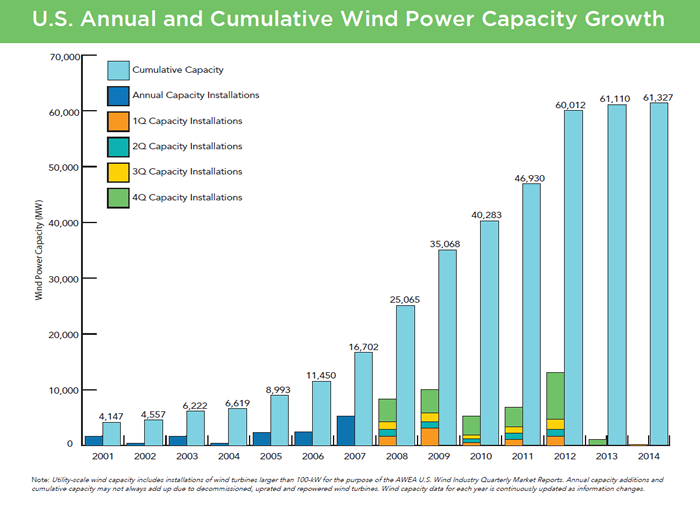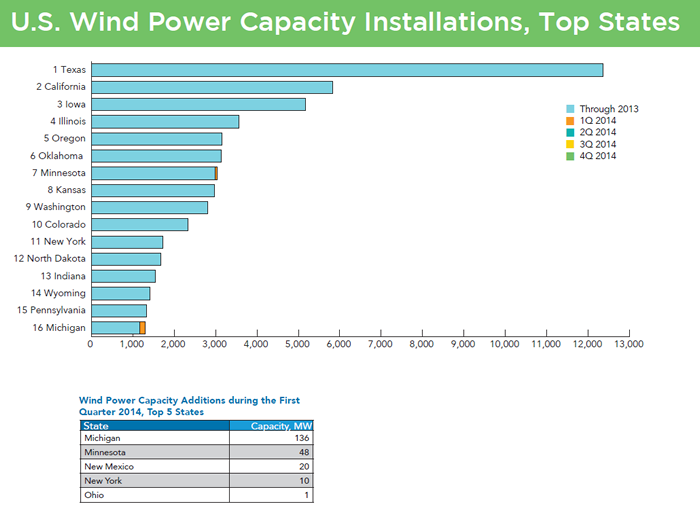 For more information on AWEA market analysis, please visit www.awea.org/marketreports where you can access older versions of the Quarterly Market Reports and see the latest Annual Market Report.
The AWEA U.S. Wind Instury First Quarter 2014 Market Report can be accessed at www.awea.org/1Q2014
The content & opinions in this article are the author's and do not necessarily represent the views of AltEnergyMag
---
Comments (0)
This post does not have any comments. Be the first to leave a comment below.
---
Post A Comment
You must be logged in before you can post a comment. Login now.
Featured Product
With Baja Carports 35 plus years in the industry installing our Solar Support Systems nationwide and whose founder Bob Hayworth was one of the first to use solar panels as the rooftops on commercial carports ~ is assurance that you will receive Baja expertise in all phases of installation. Our team's diligence makes the design-build process easy for customers. You don't need a set of architecture plans to begin talking to us about your project. Baja's in-house design engineers will work closely with you to meet your project specifications and city's criteria. You'll have our design team's years of experience applied to your plans. Our engineers will deliver a set of stamped plans, which maximize canopy coverage and details the most-effective layout for your business' parking lot.