As Summer kicks into full gear we can sit back and enjoy a bit of a break from the Tradeshow schedule. August will see a bit of a lull but starting September and intensifying in October the Alternative Energy tradeshow calendar is full! Here is a summary of what Tradeshows, Conferences & Exhibitions to look forward to in the coming months.

Brandon Hetherington | AltEnergyMag.com
Intersolar North America just finished up; this years show took place July 7-10, 2013, at the Moscone Center in San Francisco, California. Over 19,000 visitors attented to learn about the latest technology innovations, financing models, business best practices and policy and incentive programs that are contributing to the growth of the U.S. solar industry. Products from nearly 600 exhibitors from 22 countries were on display on all three levels of Moscone West, representing the entire system of solar technology and showcasing advances in solar cell and module technology, balance of system components, solar heating and cooling and energy storage.
Make sure to check out our special Intersolar 2014 Newspage for Exhibitor news.
Also, our Tradeshow Report for Intersolar 2014 is now online. Check it out here.
---
Here is a summary of what Tradeshows, Conferences & Exhibitions to look forward to in the coming months.
For our Full Event Calendar click here:
August:
Not much going on as far as major tradeshows, but if you are in the Solar Manufacturing business SPIE Optics &
Photonics is a great excuse to head to the beaches of San Diego.
SPIE OPTICS & PHOTONICS 2014
Aug 17 - 21 2014, San Diego, California
Gain access to a focused program of 200+ technical presentations and courses on photovoltaic cell technologies, solar concentrators, solar hydrogen and light-capture, and manufacturing systems. Hear leaders in the field address barriers and solutions for commercialization of solar-generated products. In a world where interdisciplinary collaboration is the rule rather than the exception, the scope of the Solar Energy + Applications technical program gives you opportunities to collaborate across disciplines that no other event can. Don't miss the Solar Energy + Applications plenary and technical events.
Phone - 360 676 3290
Email - customerservice@spie.org
September:
The summer is over and the tradeshows are back up and running. Batteries and Energy Storage has been a major topic all year long for AltEnergyMag.com, and The Battery Show is a premier tradeshow for this sector. I included EU PVSEC in the list even though it is over in Europe, but it is an important show and well worth attending if possible.
7TH ANNUAL UTILITY SCALE SOLAR SUMMIT
Sep 09 - 11 2014, San Diego, CA
Infocast's 7th Annual Utility Scale Solar Summit is the primary business hub where decision–makers come each year to move the utility scale solar sector forward. This networking event is the place where the entire utility scale solar community gathers to get the latest insights into the market and to meet the key players. The Summit focuses on the key trends impacting the utility scale sector and what they mean for the future of the industry. Leading utility-scale solar project developers, investors, lenders, utilities, equipment suppliers, construction contractors, EPCs and other key industry players will all be on hand to share their perspectives on how to meet the challenges of developing the next wave of utility scale projects, preparing for the post-2016 ITC era, and getting projects financed and completed. Attendees will also engage in robust networking and deal-making, for which the Summit is well known.
Phone - (818) 888- 4444
Email - katiec@infocastevents.com
THE BATTERY SHOW
Sep 16 - 18 2014, Novi, Michigan
Taking place September 16-18, in Novi, Detroit, Michigan, The Battery Show 2014 is the premier showcase of the latest advanced battery technology. The exhibition hall offers a platform to launch new products, make new contacts and maintain existing relationships. The Conference offers considerably expanded programming, with multiple tracks providing comprehensive insights across business, technical and R&D issues. With more qualified buyers and decision makers than any other event in North America, The Battery Show 2014 is the key to unlocking your future business opportunities. The Battery Show 2014 will be co-locating with Electric & Hybrid Vehicle Technology Expo and Conference, the premier showcase for electric and hybrid vehicle technology and innovation.
Phone - 855 436 8683
Email - info@thebatteryshow.com
October:
This year Solar Power International has moved to October. SPI is perhaps the most important show for the solar industry here in North America.
For the past several years AltEnergyMag.com has been a media partner with SPI. Check out last years Tradeshow Report to see some of the cool products from the show. Stay tuned as we will again offer a special newspage devoted to news specifically from the show.
For our Full Event Calendar click here:
The content & opinions in this article are the author's and do not necessarily represent the views of AltEnergyMag
---
Featured Product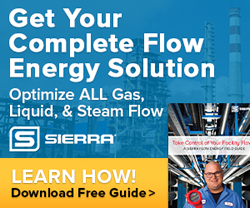 Download Flow Energy Guide - Written by Engineers For Engineers. Learn how to save on energy costs by optimizing your facility flows that impact costs like compressed air, natural gas, steam, and hot or chilled water.