Businesses need to invest in back-up renewable power systems to insure that they can continue working during and after a disaster. With such installations, businesses can prevent interruption losses caused by grid failure.

Len Calderone for | AltEnergyMag
What would you do if the power goes out because of a natural or man-made disaster? Nationally, we already experience earthquakes, flooding, hurricanes, and tornados on a regular basis. What would happen should terrorists take down all or part of our electrical infrastructure? What if a nuclear power plant fails, as happened in Japan? Would you be ready for an extended period without power?
Only when our electricity is out of service do we realize our dependence on it. Most of us, at one time or another, has experienced short periods of power loss, mostly when a tree falls across a power line. The utility companies usually have these fixed in a relatively short period of time.
Without electric power, businesses are forced to close, incurring huge losses. People would be out of a job. You couldn't even buy gas for a generator or any vehicle, as the pumps at the gas stations are operated by electricity. Government agencies would be paralyzed, including emergency first responders and the police. Health and safety would be jeopardized.
We shouldn't wait until such a scenario descends upon us. Disasters don't give us a warning, as they usually come when we least expect them. We must be prepared in advance, and a portable solar backup system is the best method to provide enough power to meet the basic needs of homes, businesses, and government agencies.
Businesses need to invest in back-up renewable power systems to insure that they can continue working during and after a disaster. With such installations, businesses can prevent interruption losses caused by grid failure.
As seen by the preceding map, the grid is everywhere. We usually don't pay much attention to the grid unless we see a power plant, substation or high voltage transmission lines on the metal towers that dot the landscape.
When we lose a portion of the electrical grid, portable systems are deployed following disasters to assist response crews and victims. Solar electricity (photovoltaics) is the most suitable renewable energy source for these applications because the systems are easy to transport and solar energy is plentiful in many areas.
Solar emergency systems are self-sufficient, as they do not need fossil fuel to operate and need little maintenance.
The PowerG® 1800 Solar Mobility Generator is an ideal home backup power system for household appliances such as refrigerators, freezers, coffee makers, laptops, TVs, and mobile phones. The system includes a foldable 60 Watt solar panel for emergency charging.
The Power G has a replaceable 100Ah maintenance free battery, low voltage alarm and shutdown to prevent deep battery discharge.
The Nature Power Solar Home and RV Portable Backup Power Kit is an independent power system with built-in inverter. The system converts energy from a 12V sealed lead acid battery (included) into usable AC power that can be used to run lights, a TV, alarm system, computer or more when there's no other power available. The battery can be recharged from an optional solar panel.
The Nature Power backup unit has an internal transfer switch, which automatically activates the unit to battery power when a connected AC power supply goes off. 4 AC outlets are built into the system, which includes a 60Ah battery.
A 10A solar controller, the Solar ePower Cube 1500 ensures you don't run out of power. This unit features 5 fold-out/slide-out 16 Watt monocrystalline solar panels to charge the 55Ah battery. This cube has a collapsible handle and wheels for easy transport. The built-in 1500 Watt AC inverter has two built-in USB ports; 5V at 2.1 Amps.
It also has a built-in storage compartment, digital LED display and features terminals for expansion with batteries or solar panels. It includes both AC and DC chargers. The unit supplies 80 Watts of solar power with two built-in AC outlets.
In the event of a power outage, the BPS-1250-S solar package is engineered to allow you to create and use your own energy to power household appliances. The built-in automatic transfer switch provides backup emergency power and recharges with the power of the sun; no additional transfer switch required unless using in conjunction with a generator.
The BPS-1250-S stores energy in 2 powerful 220Ah batteries, then converts to AC electricity by the system's inverter charger. The system charges batteries with solar, utility power, or a standby generator. An added feature is that each unit acts as an ultra-quiet emergency backup system that monitors your utility company's electric power 24/7.
The PowerSource 1800 Solar Power Generator powers household devices at any time by providing 1800 watts of power with 3000 watts at peak. It comes with an 1800 watt Solar Backup Generator; one high efficiency, quick charge 90 watt Solar Panel; a sunsaver charge controller; and 50 feet of Solar Panel cable.
The PowerSource 1800 sports an AC power panel that contains five standard outlets, and a DC power panel for 12 volt products. It's packaged in an almost indestructible housing and is easy to move around as needed.
When looking at a backup system that stores energy in a battery, you can approximate the time that the battery will supply power by using a simple formula. Back up time of inverter battery = battery volt x battery AH rating / total watts on load. This calculation is an approximate value because there will be some loss of energy when converting battery power to volts through an inverter. Some appliances do not have exact power consumption, as they may cycle on and off, or have variable speeds.
Before a disaster strikes, you will have to confirm that the system is preassembled and ready to go. It would not hurt to pre-test the system to be sure that it can handle the power loads that will be placed on the system.
Solar back-up systems cost less to operate than conventional gas generators. System owners will be free from the dependence on fuel, which might not be available. There will also be hard-to-quantify benefits such as silence and clean air.
The content & opinions in this article are the author's and do not necessarily represent the views of AltEnergyMag
---
Comments (0)
This post does not have any comments. Be the first to leave a comment below.
---
Post A Comment
You must be logged in before you can post a comment. Login now.
Featured Product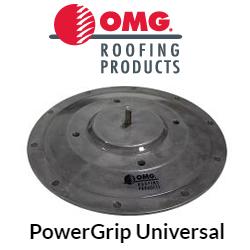 Eliminate Solar Rack Ballast and Reduce Rooftop Material Handling. PowerGrip™ Universal (PGU) is a commercial roof mount system designed to secure solar racks and other equipment to any type of commercial roofing system. PGU provides a secure connection directly to the roof deck or structural members and is designed to reduce or eliminate ballast in solar racking systems, so there's less weight on the roof and less material handling. Made of heavy-duty cast aluminum, PGU units include a base ring which is secured through the roofing cover and into the structural roof deck, and a waterproof top plate.