Prioritizing clean energy during the Republic Day visit can provide energy access solutions, create jobs, and open a huge market opportunity to Indian and American companies alike - while taking concrete action on climate change.
How Clean Energy Can Power Climate Action During Obama's Visit to India
Anjali Jaiswal & Meredith Connolly | NRDC
As President Barack Obama visits India for his second meeting with Prime Minister Narendra Modi in less than six months, two priorities top the agenda: expanding business opportunities and fighting climate change. After the progress during last September's summit between the two leaders, this meeting provides a tremendous opportunity to accelerate action in both these priority areas during the Republic Day celebrations. Working towards robust global clean energy markets advances both leaders' shared ambitions and builds a low-carbon economy in a country on the frontlines of climate change impacts. What is less talked about but also critical is the incredible employment potential a clean energy revolution can provide for India's booming population.
The Clean Energy Jobs Opportunity
Prime Minister Modi has made clear that clean energy, especially solar energy, is a priority. In November, the Indian government boosted India's 2022 solar energy target five-fold, to 100 gigawatts (GW) from 20 GW. This is the equivalent in energy capacity to 40 mid-sized coal-fired power plants. As the largest solar target in the world, it shows that solar is a real priority to the Indian government and an incredible opportunity to both countries to escalate clean energy access and business cooperation.

Contruction crew building a solar PV plant in western India. Photo Bhaskar Deol
As we have seen in the United States and elsewhere, clean energy production creates jobs, and lots of them. NRDC's President Rhea Suh points outs the clean energy opportunity in the U.S. following President Obama's State of the Union address:
The clean energy economy is thriving. Nearly a quarter of a million clean energy and clean transportation jobs have been announced over the past three years, generating opportunities in every state in the country. The solar industry created jobs at a rate almost 20 times faster than the rest of the economy last year, and in just three months alone, the clean energy sector created nine times more jobs than the 35 permanent and 1,950 construction jobs the Keystone XL pipeline would generate.
Solar and wind energy also creates major employment opportunities in India, as research by NRDC and our partner, the Council on Energy, Environment and Water in New Delhi, shows. Based on our initial research and given the limited data available in India, we estimate that at least 23,884 cumulative jobs in the solar industry from 2011 to 2014 - solely from commissioned projects currently producing electricity - were generated locally in India.
And beyond local jobs in construction and commissioning clean energy projects, many American companies such as First Solar and SunEdison have become big players in the Indian market - and many more hope to tap into this promising market. Prime Minister Modi's goals of job creation and increasing energy access can be achieved through growing the clean energy energy market, and the U.S. has a big part it in this effort, benefiting the economies of both countries.
The United States and India have already made initial progress on clean energy finance since September. Last fall, the U.S. Export-Import Bank and the Indian Renewable Energy Development Agency created a framework for up to $1 billion for financing renewable energy projects and facilitating U.S. exports. President Obama and Prime Minister Modi now have an opportunity to enhance the enabling environment by breaking down trade barriers and focusing on technology, finance and policy exchange for solar, wind, and energy efficiency. The countries can remove the obstacles that currently hamper the burgeoning clean energy market, and create jobs in India and the U.S. in the process.
Concrete examples of successful U.S.-India solar ventures exchanging technology, finance and policy innovation are:
California-based SunEdison is expanding its clean energy business in India, by partnering with: India-based Omnigrid Micropower Company to set up off-grid solar power projects in 5,000 Indian villages; the State of Karnataka to develop 5 GW of renewable energy in 5 years; and India-based Adani Enterprises to develop a $4 billion solar photovoltaic modules manufacturing plant in Gujarat.
Arizona-based FirstSolar continues to supply solar panels to India and is building a 45 megawatt solar project in the state of Telangana and other projects with India-based companies Mahindra Solar and Kiran Energy Solar Power.
India's goal to train a "solar army" of 50,000 technicians will develop skills and create jobs while installing technology created internationally, including panels made in the United States, India and elsewhere.
Three Additional Areas to Accelerate Climate Action
Three additional areas to watch for accelerated action during the Obama-Modi visit are more efficient and climate-friendly cooling, climate resilience and air quality improvements.
Since the September meeting, the United States and India have made quiet progress onheat-trapping hydrofluorocarbons (HFCs). The two countries have an opportunity to continue building momentum on bilateral progress to phase down HFCs - moving toward a global HFCs agreement this year - though task force discussions on technical knowledge exchange and developing a phasedown timetable.
With 2014 as the hottest year on record and with climate change impacts already bearing down on vulnerable communities across the globe, the United States and India should create a joint platform on resilience planning for life-threatening floods, heat waves and other climate disasters.
Since air pollution levels are expected to spike on Republic Day and both leaders' prioritize improving air quality and protecting human health, the United States and India should create a working group to share scientific, technological and health research - as they have bilaterally to work on advancing clean energy.
Prioritizing clean energy during the Republic Day visit can provide energy access solutions, create jobs, and open a huge market opportunity to Indian and American companies alike - while taking concrete action on climate change. When President Obama and Prime Minister Modi meet, the United States and India can provide joint leadership in advancing clean energy and climate change solutions that achieve both countries' shared ambitions and a low-carbon future.
Anjali Jaiswal, Senior Attorney, San Francisco
Anjali I. Jaiswal is a senior attorney in the San Francisco office and works on the litigation team and India initiative. Her work focuses on litigation to protect the environment and NRDC's new India initiative on increasing U.S. and India cooperation on climate change and energy. Prior to joining the San Francisco office, Anjali worked in NRDC's Los Angeles Urban Program. In connection with her work at NRDC, Anjali was a fellow in the Fulbright Indo-American Environmental Leadership Program in 2005 based in New Delhi, India. Prior to joining NRDC, she clerked for
U.S. Magistrate Louisa S. Porter in the Southern District of California. She is a graduate of the University of California's Hastings College of Law.
This post originally appeared on NRDC's Switchboard,
The content & opinions in this article are the author's and do not necessarily represent the views of AltEnergyMag
---
Comments (1)
Biosolar (BSRC) makes an oil-free, plastic-free backsheet that is on the market to reduce cost by 1/2 and increase durability of the backsheet over its plastic counterpart. It has passed all the tests in the durability department and it beats the dirty-oil backsheets. It is ready to be used commercially. http://www.biosolar.com/
Post A Comment
You must be logged in before you can post a comment. Login now.
Featured Product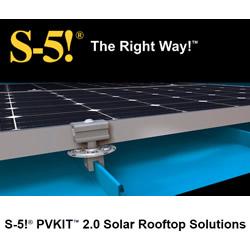 The concept of combining PV arrays with standing seam metal roofing is growing-for good reasons. Metal roofs have a life expectancy of more than 40 years. Shouldn't the mounting system last as long? With S-5! zero-penetration attachment technology and PVKIT 2.0, the solarized metal roof is the most sustainable system available -and without compromising roof warranties! PVKIT 2.0 is the also the best solution for attaching PV modules directly to any exposed fastener metal roof.