The goal of this program is to increase the efficiency of Array Technologies' commercial sales process while providing customers with access to the highest quality turnkey solar services with Array Technologies' tracking systems.
Benefits of ATI's Value Added Reseller Program
Edgar Pedrego and Matt Binder | Array Technologies, Inc. (ATI)
Overview:
To more effectively and efficiently service the growing ground-mount commercial-scale (distributed generation) solar market in the United States, Array Technologies, Inc. (ATI) has developed and launched a Value Added Reseller program. The goal of this program is to increase the efficiency of Array Technologies' commercial sales process while providing customers with access to the highest quality turnkey solar services with Array Technologies' tracking systems.
Tell us a bit about Array Technologies.
Array Technologies, Inc. (ATI) is the world's leading manufacturer of smart, cost-effective, reliable and robust solar tracking equipment. ATI is a privately held corporation that has been based in Albuquerque, New Mexico since its founding in 1992. We currently supply a variety of solar tracking products to residential, commercial and utility customers, and our signature single-axis tracker for commercial and utility applications, the DuraTrack™ HZ, has a global installed capacity of over 2.4 gigawatts. We are recognized for our performance-driven products and engineering expertise whatever a projects scale, location or requirements. Our product innovation team has been working tirelessly on a next generation tracking system so stay tuned for more information on the DuraTrack™ HZ v3 coming later in 2015.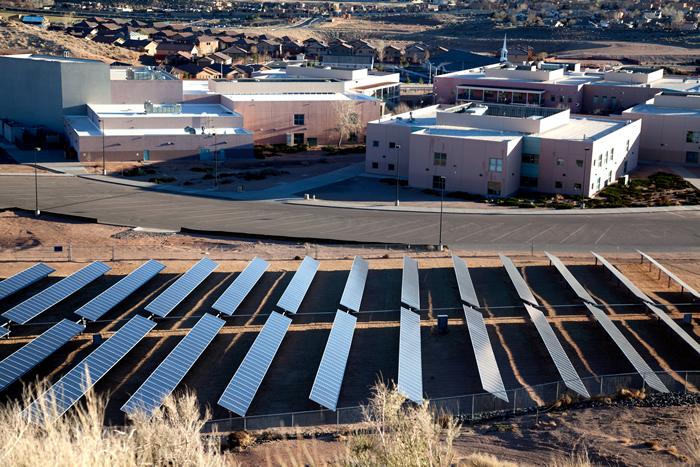 Commercial-scale solar installation in Rio Rancho, New Mexico, 600 kW
photo credit - Array Technologies, Inc.
You recently launched a Value Added Reseller program, what is the goal of the program and how does it work?
ATI has had tremendous success in the ground-mount utility-scale market, and we were looking for a solution that would give us similar success in the ground-mount commercial market, 1-5 MW. We realized we needed to shift our approach to replicate our achievements. Currently, the bulk of the commercial market is still using fixed tilt, our goal is to remedy that.
When a commercial-scale customer comes to us with 2 MW project let's say, we are able to refer them to one of our VAR partners who can provide this buyer anything from pull-testing and foundation design to the tracking system itself, depending on the needs of that specific party.
How does ATI's Value Added Reseller program re-shape the buying process for potential commercial customers of Array Technologies, Inc.?
The distinct advantage for our customers is now they can receive all the ancillary services (Pull-testing, Foundation Design & Procurement, and Mechanical Install) in one convenient place, rather than having to put together their tracker project piecemeal.
Give us a snapshot of what goes into selecting a VAR partner?
Our first VAR was Russell Pacific, which is run by ATI's former VP of Sales, Eb Russell. We were very fortunate to have a first partner who already had an intimate knowledge of ATI and our product. Through Russell Pacific, we learned what attributes a VAR needs to be successful, and that has helped us tremendously in vetting other potential VARs. As it turns out, the criteria is very rigorous. A VAR needs an intimate working knowledge of ATI's tracker, engineering resources, fantastic customer service, and the ability to provide the ancillary services.
What are a customer's options if they need a solar tracker, but not a turn-key solution?
Working with a VAR is just like ordering off a menu. You only pick the services you want or you can simply choose to procure the tracker without any additional services.
For more program information please visit - http://arraytechinc.com/commercial/value-added-reseller-network
The content & opinions in this article are the author's and do not necessarily represent the views of AltEnergyMag
Array Technologies, Inc.
Array Technologies, Inc. is the leading solar tracking solutions and services provider for utility-scale projects. With efficient installation and high reliability, durability and performance, Array delivers the best project returns in the industry. Array's trackers have been optimized through three decades of experience and over 16 GW years of production.
Other Articles
As the PV industry enters the next stage of its evolution, there is good reason to believe all the risks of a solar array will be assessed in greater detail. More scrutiny may uncover potentially underperforming components and high O&M costs before an investment is made.
There is no doubting the magnitude of opportunity facing the global solar industry now and in the coming years. However, the industry must reflect on past failures and put in place processes which ensure they are not repeated.
For the first time at Intersolar Europe, Array Technologies' booth will feature our latest DuraTrack HZ v3, which is a 2017 Intersolar AWARD Technology finalist. Visitors can see a full-scale demonstration that will be actively tracking throughout the show.
---
Comments (0)
This post does not have any comments. Be the first to leave a comment below.
---
Post A Comment
You must be logged in before you can post a comment. Login now.
Featured Product
Sonnen's mission is to provide clean and affordable energy for all. As the first mainstream grid tied residential energy storage company in the world and with 24,000 sonnenBatterie systems installed worldwide, sonnen is a proven global leader in intelligent energy management solutions. The all-in-one sonnenBatterie smart energy storage solution easily integrates with new and existing solar installations to help homes manage their energy throughout the day-saving money, providing backup power, and maximizing the effective use of solar power day and night. Sonnen has won several awards for its energy innovations, including the 2017 Zayed Future Energy Prize, MIT's Technology Review's 50 Smartest Companies in 2016, Global Cleantech 100 for 2015-2017, Greentech Media's 2016 Grid Edge Award for Innovation, and Cleantech's 2015 Company of the Year Award in both Israel and Europe.