Concrete or wood skyscrapers? Wood, you ask? Can you even build tall buildings out of wood? There has been a movement for wood-based, eco-friendly architecture for years. Some architects believe that when harvested responsibly, wood is one of the best materials architects and engineers have for reducing greenhouse gas emissions and storing carbon in our buildings.
Are Wood Skyscrapers the Future Building Trend?
Len Calderone
Concrete or wood skyscrapers? Wood, you ask? Can you even build tall buildings out of wood? There has been a movement for wood-based, eco-friendly architecture for years. Some architects believe that when harvested responsibly, wood is one of the best materials architects and engineers have for reducing greenhouse gas emissions and storing carbon in our buildings. In today's society, we need living solutions that are modular, as well as greener in nature. Therefore, architects around the world have been looking at sustainable building materials and designs.
Michael Charters picked up wood as his construction material instead of going for steel and concrete. He designed the prototype for Big Wood skyscraper (above) that would be a sustainable university complex for multiple uses. It is supposed to have a library, park, retail complex and housing area. This timber construction would be able to absorb carbon and reduce environmental pollution.
Carbon dioxide capture currently takes place at the source for material. Using wood for construction eliminates the need for additional investment at the source. Such a structure can absorb carbon dioxide within the structure itself. A wood structure can capture carbon dioxide from the air; and yet, it can produce a solid material for construction. A self-propagating structure made from wood also makes it easier to occupy and add to it.
My first thought was that wood burns easier than concrete. But, architects plan to use cross laminated timber (CLT), which is made from glued-together dried lumber. CLT is largely fire resistant, and is significantly stronger than regular wood, making it ideal for large building projects. Building codes require all building systems to perform to the same level of safety, regardless of material used. Wood-frame construction has a proven safety and performance record for fire protection. Heavy timbers have an advantage in a fire because they char on the outside while retaining strength, slowing combustion and allowing time to evacuate the building.
While today's tall buildings are constructed primarily of "non-combustible" materials such as concrete, glass and steel, the contents within these buildings have higher levels of combustibility, because of wood trim, and other combustible contents, for instance floor and wall coverings and furnishings.
Illustration showing a typical temperature / time gradient through solid timber under fire conditions (image courtesy of Structure magazine)
CLT's fire resistance is provided through 'charring'. As the timber burns it loses its strength and becomes a black layer of 'char'. The char becomes an insulating layer preventing an excessive rise in temperature within the un-burnt core of the panel. It is this unaffected core which continues to function for the period of the fire resistance.
Tall wood structures can be designed to provide a minimum 2-hour protection rating similar to most current building code requirements. Research has shown that fire safety has little to do with the combustibility of the construction materials. Instead, it is generally the contents within the building and the behavior of the occupants—smoking, cooking and open-fires—that pose the most danger. Actually, most fire deaths are caused by smoke inhalation.
CLT is now available in the U.S. although it has been popular in Europe for two decades. CLT has the structural simplicity needed for cost-effective buildings, as well as benefits such as fast installation, reduced waste, improved thermal performance, and design versatility. Of course, tall buildings would not be constructed of wood only; but also other commonly used structural materials such as concrete and steel would be integrated with the wood.
Image: NYT
The world's largest buildings, high rises and multi-story complexes, are built of steel, stressed concrete and materials considered to have high strength. With new advances in wood technology, it is now practical to use wood as the chief load-bearing component. These building products generally consist of CLT where solid wood sheets or matrices of thin chips are formed into massive timber products. These products gain their strength through lamination process that places consecutive layers of wood fibers at 90° to one another in combination with various adhesives under pressure.
Tall Wood buildings have existed for centuries. In Japan, pagodas were built nineteen stories out of wood. This was 1400 years ago and they are still standing today.
Pagoda of Fogong Temple built in 1056
In London, there is a nine story high-rise that is the tallest timber residential building in the world. Comprised of both private and affordable housing, Murray Grove provides twenty-nine apartments. The building has been assembled using a unique cross-laminated structural system pioneered by KLH of Austria. The cross laminated solid timber panels form a cellular structure of platform framed, timber load bearing walls, including all stair and lift cores, with timber floor slabs, making it the tallest pure timber building in the world.
The LifeCycle Tower project in Austria intends to develop and demonstrate the feasibility of an energy-efficient timber system for high-rise construction in dense urban areas. The increasing scarcity of resources and rising prices for steel, insulation and concrete makes timber an excellent choice as wood is carbon neutral and 100% renewable. Over 260 tons of C02 will be stored in the building material, and another 320 tons saved by using timber as a substitute for conventional construction materials.
The first two stories contain retail areas and are built in conventional reinforced concrete. There will be a central core and columns of Glued Laminated Timber (Glulam). Timber-concrete composite decks will be used to meet acoustic and thermal requirements.
Wood is grown by the power of the sun, stores carbon dioxide and will reduce carbon emissions through its use. Steel production accounts for 3% of the greenhouse gas emissions and concrete production accounts for 5%. By using wood, six stories can be tilted up at once to help optimize timing, strength and safety.
Can an old industry learn new tricks? There still exist old building codes that will not allow the use of wood in buildings over a certain height. There is also a public perception that wood buildings are weaker, more dangerous and less durable. And don't forget the lobbyists hired by chemical and plastics companies, which are waging a war against using wood in building construction, as using wood would certainly hurt their business.
The Department of Agriculture doesn't usually meddle in architecture, but it announced a $1 million competition for high-rise buildings built out of wood, and another million that will go to educating architects about it. There is an initiative designed to help rural farmers find and take advantage of economic opportunities, such as helping lumber companies develop and market high-tech wood products to architects who might otherwise specify steel and concrete in taller buildings.
We might just be growing the next skyscraper material in our own back yard.
For additional information:
The content & opinions in this article are the author's and do not necessarily represent the views of AltEnergyMag
---
Comments (0)
This post does not have any comments. Be the first to leave a comment below.
---
Post A Comment
You must be logged in before you can post a comment. Login now.
Featured Product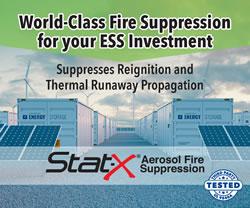 Stat-X® Condensed Aerosol Fire Suppression is a solution for energy storage systems (ESS) and battery energy storage systems (BESS) applications. This includes in-building, containerized, and in-cabinet applications. The Stat-X product was tested for efficacy in putting out Li-ion battery fires. It was found that the Stat-X agent successfully extinguished single and double cell battery fires. This testing was conducted in parallel with a large battery fire testing program. DNV GL Energy conducted the testing and validated effectiveness of the Stat-X aerosol agent on cell level Li-ion battery fires.