How an ultra-clean, highly efficient fuel cell power plant helps a state university boost energy security, achieve ambitious sustainability goals and save more than $100,000 in energy costs annually.

Tony Leo | FuelCell Energy, Inc.
As a college committed to environmental sustainability, Central Connecticut State University (CCSU) has adopted bold clean energy practices that are making other schools take notice. For its nearly 10,000 undergraduate students, CCSU sought a continuous on-site power solution that reduced its carbon footprint and helped it achieve aggressive Climate Action Plan goals. In addition, CCSU was determined to find ways to strengthen its energy security and independence in ways that would not only reduce energy costs, but also provide a level of cost certainty and assurances well into the future.
A rigorous RFP process revealed an affordable, highly-efficient and emission reducing option: a stationary fuel cell power plant. Fuel cell power generation was an inspiring new concept for the CCSU leadership team, one that ultimately electrified the campus' electric grid and, in turn, the university community.
CCSU chose a fuel cell power plant manufactured by FuelCell Energy, a Danbury, Connecticut-based supplier of megawatt-class fuel cell power plants for on-site and electric grid support applications. The company installed a 1.4 megawatt DFC1500® fuel cell power plant on CCSU's New Britain campus in only four months.
Greenwood Energy, a renewable energy investment firm, owns the plant and sells the electricity and heat to CCSU under a long-term Power Purchase Agreement (PPA). With the PPA, CCSU avoided an up-front capital investment, paying only for power it receives. This structure creatively mitigates risk for the university while providing certainty of future power costs. FuelCell Energy operates and maintains the plant so the University enjoys the benefits of clean and affordable power without needing to be involved in the daily operation of the plant.
FuelCell Energy's highly efficient, stationary fuel cell power plants generate electricity and usable heat energy continuously via an electrochemical process that is virtually absent of the pollutants that cause smog (Nox), acid rain (SOx) or that can aggravate asthma (particulates). Quiet and easily sited, they have proven to be an ideal solution for universities like CCSU, and have a reputation for reliability with over 100 plants operating at more than 50 sites globally.
Demonstrating environmental leadership
In 2009, Dr. Jack Miller, president of Central Connecticut State University, implemented a Sustainability Initiative that was responsible, in part, for CCSU's selection as an "exemplary Green institution" by the Princeton Review.
"As an institution of higher education, it is our responsibility to take a leadership role in developing policies, infrastructure and institutional practices that lead to a culture change. This power plant represents a significant step in helping CCSU achieve our aggressive goals for reducing greenhouse gases and improving energy efficiency on campus." Dr. Jack Miller, president, Central Connecticut State University
The fuel cell plant integrates directly into CCSU's existing energy infrastructure in a Combined Heat and Power (CHP) configuration, where the high quality heat is used to produce steam for campus heating and absorption cooling. The plant provides about one-third of the university's average daily power requirements and supplements its steam needs, dramatically reducing overall emissions and energy costs.
"By providing both electricity and steam in such a clean and efficient manner, the fuel cell plant decreases our carbon emissions," Dr. Miller continued. "CCSU's power costs are annually reduced by an estimated $100,000—a savings for both the university and Connecticut taxpayers," he emphasized.
Miller also pointed out that the plant helps the university to be more energy independent and secure. Continuous on-site power generation strengthens the campus micro-grid, which ensures uninterrupted power availability to critical campus facilities in the event of a disruption of the public electric grid.
The structure of the project as a PPA with a private owner makes the renewable fuel cell energy project economically beneficial for the university. Multi-megawatt fuel cell projects with strong credit off-takers such as state universities are attractive to private investors like Greenwood. The PPA locks in power costs, removing uncertainty over future expenses and facilitates budgeting. The result is a successful privately-funded project offering numerous public benefits with no capital investment required by CCSU.
No one is more familiar with CCSU's energy infrastructure than Rob Gagne, the university's Plant Facilities Engineer. Gagne is enthusiastic about the many benefits the power plant brings to the university. "FuelCell Energy's power plant is definitely helping us meet the objectives of our Climate Action Plan," Gagne explained, "because it generates efficient, environmentally responsible power that we would otherwise have to buy from the utility. The plant's CHP attributes reduce our use of combustion-based boilers, lowering emissions and costs even more."
Gagne, who gives tours of CCSU's Energy Center, observed that the plant has energized the university community. "Students are extremely interested in renewable energy and energy conservation and are eager to see how the fuel cell operates and integrates into our infrastructure," he said. "It has also had a very positive effect on the community outside of the university, attracting members of the news media who are interested in this unique, environmentally friendly power plant."
Generating more energy from available fuels
The power generation process is highly efficient, producing more energy from a given unit of fuel compared to similar-sized combustion-based power sources. Additional efficiency is realized when the power plants are configured for CHP operations, further reducing fuel consumption, carbon emissions and reliance on combustion-based boilers for heat. The higher efficiency reduces operating costs and results in a carbon footprint that is only about ¼ that of the U.S. electric grid.
As a leading manufacturer of stationary fuel cell power plants, FuelCell Energy provides its systems in turn-key fashion, including project development, financing, installation, maintenance and service. Gagne especially appreciated the speed and manner with which FuelCell Energy executed the project. "I was impressed with how quickly the project came together and the plant became operational," Gagne explained. "FuelCell Energy's team was phenomenal. They were professional and took all of the university's needs into account, including safety issues and the concerns of our neighbors."
Depending on seasonal and other factors, CCSU's 165-acre campus, comprised of approximately 40 buildings, generally consumes from 3,500 to 4,000 kilowatts (kW) of electric power, up to a peak of about 5,000 kW. In addition to the fuel cell power plant, which generates 1,400 kW (1.4 MW) of power, the university operates two gas-powered generators which can produce about 2,500 kW of power combined. Integrated completely into the university's electric power system, the fuel cell power plant feeds into the campus' primary 4160 Volt bus via a step-up transformer, which then distributes power through step-down transformers to the entire campus.
Combining heat and power for greater efficiency
The university gains additional efficiency—and thus additional cost savings—by directing the power plant's heat energy into a Heat Recovery Steam Generator (HRSG) to supplement its primary steam system for hot water and heating needs and for steam absorption chilling. In addition to two electric chillers, the university operates a single 1,500-ton steam absorption chiller. When steam is not being used for heating purposes, as in the summer months, use of this chiller helps reduce electric power consumption.
CCSU operates three 65,000 pound-per-hour boilers in its main plant, and Gagne estimates that the heat from the fuel cell power plant produces 1,600 to 2,000 pounds-per-hour of steam. While a modest percentage of CCSU's total requirements, engineers estimate the value of the steam at about $1,600 a month, or more than $19,000 annually in addition to the estimated $100,000 savings for electric power.
Attracting financing with a well-structured project
Camilo Patrignani, CEO of Greenwood Energy, understands the renewable energy marketplace well and has a solid appreciation for fuel cells. "Our business is focused on renewable energy and on certain themes in particular," Patrignani said. "Energy efficiency is the 'low hanging fruit' of the energy industry today. FuelCell Energy's technology makes sense because it is much cleaner and more efficient than conventional generation, such as reciprocating engines or micro-turbines."
The Libra Group, Greenwood's parent organization, is a privately owned international business group with substantial renewable energy interests in Europe, and the CCSU power plant builds on Greenwood's strengths in the renewable energy marketplace, particularly CHP projects.
The CCSU power plant represented Greenwood's first energy project with FuelCell Energy. "From Greenwood's perspective, the project was painless," Patrignani recalled. "There wasn't a single glitch and the power plant was installed on time. The FuelCell Energy team was very knowledgeable and delivered exactly what they promised."
Patrignani believes the project's design benefits all parties. "This was a very well-structured project, with a ten-year Power Purchase Agreement, and includes a natural gas pass-through for the university," he explained. "The financial returns were attractive and a public university is a credit-worthy counterpart. Without the PPA, the investors' returns would have had to be higher due to their increased level of risk, and the project would have been more difficult to finance."
Well-structured fuel cell power projects are also attractive to lenders. Webster Bank, a Waterbury, Connecticut-based regional bank, wanted to invest in renewable energy and the CCSU project represented a local opportunity with a favorable risk profile. "The continual power output of fuel cells, which is not dependent on the time of day or the weather, provides for consistent financial returns and this is attractive to lenders," Patrignani said. "Webster has been very pleased with this project. They subsequently refinanced the loan and increased the loan amount which speaks to their faith in the project."
FuelCell Energy's solid reputation as a global leader in the design, manufacture, operation and service of fuel cell power plants and turnkey power projects also mitigates risk for investors and lenders. First commercialized in 2003, the company's growing installed base has generated more than three billion kilowatt-hours (kWh) of clean energy, adequate to power more than 270,000 U.S. homes for a year.
In addition to prominent universities on both coasts of the USA, including installations with the University of California and California State University systems, FuelCell Energy's global customer base includes utilities, commercial operations, healthcare facilities and other municipal sites. Fuel cell manufacturing and assembly facilities on three continents support the Company's global footprint. The CCSU installation, as well as the fuel cell installations in nine different countries, are operated remotely and monitored 24 hours per day 365 days per year from the Company's global technical assistance center in Danbury, Connecticut.
"We have been extremely pleased with this project," Patrignani said. "What impressed me most was that FuelCell Energy delivered exactly what they had promised. They continue to be an excellent partner, providing the necessary service for the plant. FuelCell Energy possesses solid technical expertise and outstanding customer service. We've had as good an experience as we could've hoped for. It's a great relationship."
Patrignani believes fuel cell power plants are well-suited to universities. "Universities have high and consistent power needs," he explained. "Fuel cell power plants provide power continuously, with virtually no pollutants, while other clean technologies such as solar can only produce power intermittently. Generating distributed power with fuel cells helps universities spearhead positive environmental change. Quiet and easily sited, they are highly efficient, saving money, reducing emissions and contributing to energy independence and security. These benefits make fuel cell power a winning solution for universities."
U.S. EPA calculator; FuelCell Energy
The content & opinions in this article are the author's and do not necessarily represent the views of AltEnergyMag
---
Comments (0)
This post does not have any comments. Be the first to leave a comment below.
---
Post A Comment
You must be logged in before you can post a comment. Login now.
Featured Product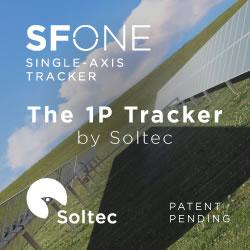 SFOne is the 1P single-axis tracker by Soltec. This tracker combines the mechanical simplicity with the extraordinary expertise of Soltec for more than 18 years. Specially designed for larger 72 an 78 cell modules, this tracker is self-powered thanks to its dedicated module, which results into a lower cost-operational power supply. The SFOne has a 5% less piles than standard competitor, what reduces a 75% the labor time.