There have been enough successful low-income solar pilot programs at the state and federal level that it is now possible to launch a larger initiative with confidence that it can succeed.
President Obama's Low-Income Solar Initiative
Warren Leon | Clean Energy States Alliance
What are some key takeaways from President Obama's new low-income solar initiative?
Here are five key takeaways:
President Obama has rightly drawn attention to the importance of helping low and moderate-income Americans access and benefit from solar energy.

With the number of solar installations growing rapidly, the solar industry is becoming large enough that it is important to consider its equity impacts.

There have been enough successful low-income solar pilot programs at the state and federal level that it is now possible to launch a larger initiative with confidence that it can succeed.

Because community solar has proven to be a successful concept, the federal government is seeking ways to expand its use.

Not only will the federal government take many concrete actions to expand solar use in low-income communities, but numerous other parties—states, municipalities, investors, private sector companies, and others—have committed to take specific actions. For example, 22 additional public housing authorities and affordable housing developers will install solar and other types of renewable energy on their facilities,
How will this announcement impact low-income communities?
It draws attention to the continuing need to help low-income Americans reduce their energy costs. The announcement will lead to real projects in real communities, thereby reducing energy costs for a significant number of low-income Americans.
How will it impact the solar industry in general? Who will benefit the most?
To remain strong, the solar industry needs policymaker and public support. For that to happen, solar must benefit diverse segments of society. Solar already delivers broad public benefits by providing an alternative to dirty energy facilities that disproportionately affect the health of low-income communities and by creating jobs at all skill levels. On top of that, the new federal initiative shows that individuals from all income groups can directly benefit from solar installations and can participate actively in the transition to clean energy. As for which parts of the solar industry will benefit most, businesses that have experience with community solar projects or with installations for low-income households will have growing markets.
Have there been any programs up to now that have specifically targeted low-income communities?
California, the District of Columbia, and several other states and municipalities have spearheaded important programs targeting low-income communities. Our recent report, Clean Energy Champions: The Importance of State Programs and Policies, features a case study of DC's low-income solar initiatives. The case centers on Solar Advantage Plus, which provides low-income households with zero-cost solar electricity, saving them about $500 annually. Clean Energy Champions also includes a case study of Colorado's innovative Community Solar Gardens Act. That 2010 law not only directed the state's investor-owned utilities to build community solar projects across the state, but it reserved five percent of shares in each solar garden for subscribers with incomes up to 185 percent of the federal poverty line.
Which solar projects typically are most successful?
Each year, there are tens of thousands of solar projects nationwide. In every category, from small residential installations to massive utility-scale solar farms, there are many successes.

What are some lessons learned from previous state initiatives?
The most important lesson learned is that it is possible to implement solar programs that effectively serve low-income constituencies. We've also learned that it is highly desirable for states to give attention to this subject because it yields social, economic, and environmental benefits. However, it would be important for states to identify best practices from previous efforts before acting.
Is it inevitable that public subsidies will need to be greater to bring solar to low-income households than for other solar projects?
Typical solar installations at individual homes often require greater public subsidies because the households cannot afford upfront payments for systems and may have difficulty qualifying for financing. However, certain types of low-income solar projects can be structured in ways that reduce the need for augmented subsidies and increase the value of the installations. For example, public housing authorities can sometimes access financing at low rates. Clean Energy Group's Resilient Power Project has advocated for adding energy storage to solar installations as a way to provide protection to vulnerable populations during extended power outages created by extreme weather events. This project has found that extra revenue streams from demand peak-shaving, demand response payments, and other grid services payments can make the economics of solar attractive to developers of affordable housing, effectively providing resiliency for free in many instances.
If the initiative goes into effect, when will we start to see the benefits?
We are already seeing the benefits. For one thing, by giving increased visibility to an important issue, President Obama's announcement is stimulating others to create opportunities for low-income Americans to benefit from solar. In addition, because the initiative involves significant commitments of near-term funding and resources from a wide range of organizations from across the country, there will be soon be measurable results.
About Warren Leon
Warren Leon has been a leader on energy and environmental issues for more than two decades, and has worked with state government agencies to increase their effectiveness on a variety of subjects. He is the executive director of the Clean Energy States Alliance (CESA), a national coalition of state clean energy agencies working with the federal government, industry groups, and other stakeholders to advance clean energy markets and technologies. He oversees CESA's day-to-day operations and leads strategy development. As part of his CESA duties, he directs the State-Federal RPS Collaborative, which is funded and sponsored by the US Department of Energy and the Energy Foundation. He previously served as director of the Massachusetts Renewable Energy Trust, a state fund that annually awarded $40 million to advance clean energy. Before that, he was executive director of the Northeast Sustainable Energy Association and deputy director for programs at the Union of Concerned Scientists. Warren has written numerous books and reports, including co-authoring the influential book "The Consumer's Guide to Effective Environmental Choices" (1999), with over 100,000 copies sold. He is an adjunct professor at the Brandeis International Business School and is faculty head of the school's Sustainability Specialization. He holds a Ph.D. from Harvard University.
The content & opinions in this article are the author's and do not necessarily represent the views of AltEnergyMag
---
Comments (0)
This post does not have any comments. Be the first to leave a comment below.
---
Post A Comment
You must be logged in before you can post a comment. Login now.
Featured Product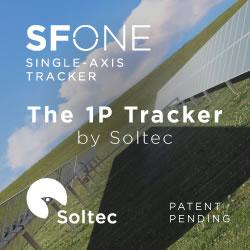 SFOne is the 1P single-axis tracker by Soltec. This tracker combines the mechanical simplicity with the extraordinary expertise of Soltec for more than 18 years. Specially designed for larger 72 an 78 cell modules, this tracker is self-powered thanks to its dedicated module, which results into a lower cost-operational power supply. The SFOne has a 5% less piles than standard competitor, what reduces a 75% the labor time.