Delivered to the location complete and ready to charge vehicles, it requires no permits, no civil engineering or planning, no foundations, trenching or electrical connections and is operational within minutes.
EV ARC™ - Transportable, Solar Powered EV Charging Station.
Desmond Wheatley | Envision Solar
Can you give us a bit of an overview of Envion Solar and the EV ARC™?
Envision Solar is a San Diego based sustainable technology innovation company that makes solar powered products for EV charging, Outdoor advertising and Energy Security. We have been in business since 2006. We are publicly traded with the symbol EVSI. We invent, engineer, fabricate and sell our patented products at our San Diego facility. Our team of combat veterans, disabled workers, minorities and other talented individuals are passionate about creating the highest quality, most innovative solutions for the markets we address. Our flagship products include the patented EV ARC™ (Electric Vehicle Autonomous Renewable Charger), the worlds only transportable solar powered EV charging station and the patented Solar Tree® product family. All our products come equipped with our patented tracking solution and can be enhanced with ARC™ Technology battery storage, CleanCharge integrated EV charging and a variety of digital and static outdoor advertising screens.
What makes the EV ARC™ unique?
Envision Solar's patented EV ARC™is the worlds only transportable, solar powered EV charging station. Delivered to the location complete and ready to charge vehicles, it requires no permits, no civil engineering or planning, no foundations, trenching or electrical connections and is operational within minutes. The host will have no utility bills and can move the unit any time it suits. EV ARC™ can be deployed in locations where conventional EV chargers are not economically or physically feasible. There are no questions about future costs of charging based upon utility price increases. It's the fastest, simplest, lowest opex EV charging solution in the world. It charges day or night and even during black outs. The on-board energy storage can double up as a disaster preparedness tool allowing a business to keep there employees working during a blackout without having to start or fuel a generator. First responders can access the power during a natural disaster to save lives. It is attractive and can be enhanced with the customers branding.

Why would someone choose an EV ARC™ over grid tied traditional chargers?
The most successful installers of grid tied EV chargers are only successful less than 40% of the time according to industry statistics. Planning, entitlement, trenching, foundations, circuit upgrades, meters, site acquisition, and many other hurdles contribute cost and complexity to the process of locating and installing a traditional EV charger. At the end of the day it's too hard and expensive more than half of the time. This is terrible for the whole EV industry because we know that charging infrastructure is essential to the adoption of EVs. EV ARC™ does not have any of these limitations. Its only requirement is that it can see the sky. It can be deployed in ten minutes without any planning or permitting and in case the location turns out not to be perfect the EV ARC™ can be moved. This is particularly important for anyone who is not an expert in the deployment of EV chargers - which is just about everybody by the way because the whole industry is so new. There is no environmental impact and no risk associated with an EV ARC™ deployment. Companies who lease their properties can own their charging infrastructure and take it with them when they move, expand or downsize. It's as scalable as it gets - it never runs out of circuit, You can keep adding EV ARC™ units as your charging needs grow without upgrading circuits or doing any other civil works.

What is the economic justification?
After tax incentives and other deductions EV ARC™ is not much more expensive than the all in average cost of a grid tied charger. There are certainly cases where grid tied chargers can be cheaper. For example, any time a customer has 240 volts and sufficient current readily available in a location where people actually want to charge cars they should probably use a grid tied charger. As soon as you have to start digging up your parking lot and landscaping and doing circuit or switchgear upgrades you should look at an EV ARC™. Furthermore, because our cost of energy is fixed - free basically - you can easily forecast your costs associated with EV charging far into the future. With utility supplied electricity you have very little idea how much it will cost you to charge EVs in the future - except that it will be more. If your charging pushes you into demand charge territory it will be a lot more. EV ARC™s energy will always be free.

Do you offer a choice of EV charging solutions?
Yes - we will integrate any quality charger onto our EV ARC™ units and we have done so. Some people want highly complex networked chargers that allow them to bill and have many fantastic options. Others simply want a charger that reliably and simply charges any EV that drives up to it - particularly when there is no cost of energy. And then there are some in between solutions that allow for access control for example but without the complexity of networked chargers. Whatever solution our customers want we can accommodate and if they are not sure we'll help them make up their minds through some consultation and sharing our experiences. We've deployed just about all the charging solutions out there and so we know as much as anyone about what they offer.

Tell us more about the recent State of California contract win?
The State of California is leading in the adoption of EVs. It's a state with a great history for this kind of thing - the catalytic converter was first mandated by California and now it's a requirement everywhere in the developed world. We are excited by what we see the state doing and we are thrilled to be a part of it. We are enabling state vehicles and employees to drive on sunshine without any environmental impact and with a degree of flexibility that would be impossible without our product. This contract is important for us as a company because it's the most significant contract we've ever won but also because it is a fantastic validation of our technology, The state did a very high degree of technical and business due diligence on us and then they selected our product. It's gratifying for the whole team after the years of effort to be selected by such a fantastic customer. We also believe that this state contract will lead to others which is a win for the EV consumer, the environment and our shareholders. There will come a day when solar powered EV chargers are as common as bus shelters and we will be there to fulfill that need.

Who else is buying EV ARC™?
For a while almost all of our business was Enterprise in origin. Workplace charging. Now we are getting at least a 50% mix of municipal and state business. We like it that way. The mix is healthy and we can do the most good with this approach. On the enterprise side we have had lots of high tech customers, some biotech and also commercial real estate and retail. It's not surprising that we are seeing this diversity in customer base as we see the adoption of EVs expand into every walk of life. Certainly most of our customers are in the Fortune 1000, 500 even but at the same time we are seeing a lot of more traditional companies valuing EV charging and loving the ease and simplicity of our deployments, Who wouldn't want an EV charger that is ready to charge cars in minutes and has no utility bills.

Does it really install in minutes?
When we first invented EV ARC™ we used to deliver it using forklifts and flat bed trucks. We needed a forklift on either end and a big semi rig. That was not cheap or efficient so we did what we always do when we encounter resistance - we invented a solution to make things better. ARC Mobility™ is our specialized hydraulic trailer. It kneels down and picks up the EV ARC™ which is then towed behind a pick up truck to the location of choice of the customer. When it gets there the driver backs it into the space, just like parking a boat trailer, and uses the hydraulic controls to lower it into place. Then he leaves. It's ready to charge immediately - even at night time because, unlike children toys at Christmas time, we deliver our products with full batteries. Our customers literally can't believe it. They go home in the evening and when they come back the next morning there is a fully operational EV charger on their property. We often deliver at night because the parking lots are open. When we do deliver during the day it makes a great fun operation to watch. The EV ARC™ arrives, the driver operates the hydraulics, the unit is lowered into place and - hey presto - it's ready to charge. I've seen it so many times but I'm still awe struck by how well it works. It is deployed in minutes in a single parking space and it does not reduce available parking in any way because vehicles park right on it's base pad.

Where do you manufacture your products?
Our products are made in America. More specifically we produce them in our facility in San Diego. We are very proud of our team of combat veterans, disabled workers, minorities and other highly motivated experts. They all care deeply about what they do and they are creating the best products in the world for these rapidly growing industries. A lot of our guys have spent time fighting for their country in the Middle East. Nobody knows better than they do how important it is to get America driving on sunshine. They love what they do and we are very proud of them and their efforts.

What are your international plans?
The US is the largest market in the world today for our products but there are fantastic international opportunities as well. China plans to spend over $200 billion during the coming years on EV charging infrastructure and they have all the same obstacle that exist here. We just recently signed a brokerage agreement with a trusted partner there and I'll be in China in December for our first business development trip. Our EV ARC™ product which is kitted for electric bicycles has a huge opportunity there as well - there are over 200 million e bikes in china but they lack public charging infrastructure. We'll go after that too. It feels good to be going to China to sell American products rather than going there to buy. Europe is the other big market we are going after. We intend to start to ship product to Spain early in 2016 and you'll see much more strategic moves in that direction very soon. It's a huge market for EV charging and for our E bike and E motorcycle products. Our IP and our products are just as valuable in China and the EU as they are here. We anticipate very significant growth internationally as a result.
About Desmond Wheatley
Wheatley has two decades of senior international management experience in technology systems integration, energy management, communications and renewable energy. He was a founding partner in the international consulting practice Crichton Hill LLC. Prior to Crichton Hill, Wheatley was CEO of iAxis FZ LLC, a Dubai based alternative energy and technology systems integration company. From 2000 to 2007, he held a variety of senior management positions at San Diego based Kratos Defense and Security Solutions, fka Wireless Facilities with the last five years as President of ENS, the largest independent security and energy management systems integrator in the USA. Prior to ENS in 2002, Wheatley held senior management positions in the cellular and broadband wireless industries, deploying infrastructure and lobbying in Washington DC on behalf of major wireless service providers. Wheatley has founded, funded and operated four profitable start-up companies and was previously engaged in M&A activities. Wheatley evaluated acquisition opportunities, conducted due diligence and raised commitments of $500M in debt and equity. Wheatley sits on the boards of Admonsters, San Francisco CA and the Human Capital Group, Los Angeles, CA and was formerly a board member at DNI in Dallas, Texas.
The content & opinions in this article are the author's and do not necessarily represent the views of AltEnergyMag
---
Comments (0)
This post does not have any comments. Be the first to leave a comment below.
---
Post A Comment
You must be logged in before you can post a comment. Login now.
Featured Product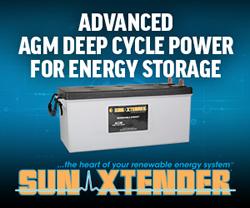 Sun Xtender® Deep Cycle AGM Batteries for renewable energy storage are manufactured in the USA by Concorde Battery Corporation and are built to the same demanding standards crucial to supporting the aircraft industry. To facilitate maximum conductivity & charge acceptance Sun Xtender® batteries are constructed with copper alloy corrosion free terminals & robust intercell connections. Endurance and optimal float life are achieved through plates thicker than the industry standard. Sun Xtender® Batteries' AGM maintenance free design is an ideal solution for off grid and grid tied systems.