In general, the installer just removes the roof piece, locates the rafters, drills pilot holes, fastens the product to the rafter, properly seals the penetration, and grinds the tile where the mount is located before placing the roof piece back over or around the mount.

Michael Wiener | SolarRoofHook.com
Tell us a little bit about SolarRoofHook.com and QuickScrews?
Quickscrews was founded by Greg Wiener, our current CEO who started the company in his garage in 1987. Today Quickscrews has become the nation's largest supplier of woodworking, furniture and cabinet related fasteners.
Where did the idea for SolarRoofHook.com come from?
The idea was born out of the 2008 recession. It was at that time that Deborah Wiener, wife of the founder, initially suggested bringing products to the Solar Industry. As experts in wood fastening, it was a reasonable leap for us to enter the world of solar mounting. We worked closely with one of the country's largest installers, Solar Universe, to develop a product that specifically helped them install solar onto curved and flat tile roofs without having to penetrate the tile. Given our decades of experience with manufacturing and importing, we were able to design a product and get it in their hands within 60 days. We launched SolarRoofHook.com that day.
What differentiates you from other companies in the industry?
In order to allow the customer the most flexibility, we not only sell our products through distributors and wholesalers, we also sell our products online at www.SolarRoofHook.com and tailor the site to our customers' needs. For instance, our site provides pricing, inventory, order tracking, and technical information for all Roof Mounting Products so they can make the right purchasing decision faster. We do focus heavily on Video Training, where installers can watch to learn how to use/install our products.
Due to our experience with designing and importing products based on customer need, we are able to develop new products very quickly: within 60 days from start to production if necessary.
Additionally, we lead the industry in providing mounting products for Stone Coated Steel Roofing. Solar Installers were simply rejecting job offers on those types of roofs until we introduced our line of hooks, one of the reasons we are where we are is because our products fit the needs of the Solar Installer.
Are your products UL Listed? What certifications do your products have?
From our FAQ page - The current UL 1703 fire rating system exempts Roof Mounts (standoffs, stanchions, L-feet, tile hooks) unless smaller than 40" span, or the PV system requires/specifies a specific make/model of roof attachment.
UL Listing is required for Mounting products only if they are integrated with the Solar Panel System's electricity. Our products do not integrate into the electrical system, and therefore they are exempt from the requirement. Nonetheless, all SolarRoofHook.com products are tested by 3rd party Certified Testing Facilities.
Many homeowners and Solar Installers are very concerned about roof penetrations, what does SolarroofHook.com do to alleviate those concerns?
When it comes to mounting solar on Asphalt Roofs, which have the greatest concern about roof leaks, we have developed the simplest 100% waterproof system in the market today. Our Patented QuickBolt and its system have been tested under extreme conditions, so extreme the Company offers a 100% No Leak guarantee for 25 years. Product testing and spec sheets are downloadable from our website.
Give us an idea on the installation process, what tools are required and the time it takes?
All of our products can be installed in less than one minute. Installers simply need to have our product, sealant, a grinder, and a drill. In general, the installer just removes the roof piece, locates the rafters, drills pilot holes, fastens the product to the rafter, properly seals the penetration, and grinds the tile where the mount is located before placing the roof piece back over or around the mount.
What might be next for SolarRoofHook.com? Do you have more products in the pipeline?
While many companies are focusing on more expensive rail-less designs, we are expanding our line of cost-effective products that offer the customer maximum flexibility. We are currently working on a line for metal roofing, for inquiries you can contact our VP of Sales Rick Gentry at rgentry@quickscrews.com.
Where can people buy your products?
Customers can buy directly from our website, www.solarroofhook.com. We also sell through various distributors, such as CED Greentech and Wesco (among many others). To find out about a Distributor Near You, follow this link here and type in your Zip Code to see how you can purchase our products. You can also call our office at 844-671-6045, M-F, from 7am-5pm PST.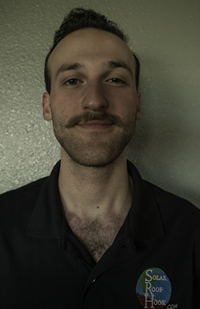 About Michael Wiener
Michael Wiener is the Marketing Manager at SolarRoofHook.com as well as the lead coordinator for the video marketing team. He works remotely from his home in Long Beach California and spends a week in the Livermore Headquarters once each month. He hopes to take the marketing department further as SolarRoofHook.com continues to grow and provide the best marketing in the industry.
The content & opinions in this article are the author's and do not necessarily represent the views of AltEnergyMag
QuickBOLT
QuickBOLT is known for their patented Microflashing® and BoltSeal™ powered mounting solutions, and have been working with solar installers for nearly a decade to make solar installation easier than ever before. Today, QuickBOLT has a wide range of innovative products for mounting solar panels onto residential roofs. QuickBOLT can produce custom products from start to finish in 60 days and are continually working with installers to deliver the exact products needed for any type of roof.
Other Articles
Many contractors in today's market falsely believe that to install solar on a Stone Coated Steel roof they must first remove the stone coated steel and then install asphalt shingles to create a flat area to install the new solar system. This is not true.
There's a goldmine of solar installations out there waiting to be claimed. Adaptable teams could take advantage of the gap in the market and open an entirely new line of income for their businesses if they only looked a bit further than they are currently.
Another new product we're excited about is our EPDM Conduit Mount for Asphalt Shingle, EPDM & TPO roofs. This mount offers great flexibility in bundling cables and wires. It is also a deck mounted product, so skip the rafters and install anywhere on the roof.
---
Comments (0)
This post does not have any comments. Be the first to leave a comment below.
---
Post A Comment
You must be logged in before you can post a comment. Login now.
Featured Product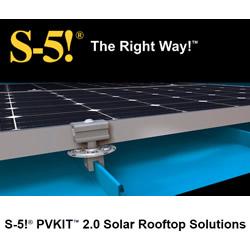 The concept of combining PV arrays with standing seam metal roofing is growing-for good reasons. Metal roofs have a life expectancy of more than 40 years. Shouldn't the mounting system last as long? With S-5! zero-penetration attachment technology and PVKIT 2.0, the solarized metal roof is the most sustainable system available -and without compromising roof warranties! PVKIT 2.0 is the also the best solution for attaching PV modules directly to any exposed fastener metal roof.