Home ice batteries have the potential to transform the electric grid by enabling utilities to gain visibility and control over the largest residential peak load - cooling.
What is an Ice Battery?
Mike Hopkins | Ice Energy
What is an Ice battery?
The Ice battery is an innovative energy storage solution designed to shift electricity use from peak hours, when rates are high, to off-peak hours when rates are low. It eliminates the need for high-priced peak power, boosts grid resiliency and increases energy efficiency. We have two versions of Ice Bear Systems: Ice Bear 30 is designed for large industrial and commercial buildings, while Ice Bear 20 is a smaller version designed for homes and light commercial buildings.
How will Ice Energy's technology change or advance the next generation electricity system?
Home ice batteries have the potential to transform the electric grid by enabling utilities to gain visibility and control over the largest residential peak load - cooling. There have been attempts to get consumers to participate in demand response programs, however none gained much traction. Ice Energy's technology gives utilities full control of consumer cooling loads. It changes the way utilities manage peak demand and helps them transform air conditioning load into a clean, flexible and responsive grid resource.
How does the system work --- what conditions are required --- what benefits are provided?
The recently launched Ice Bear 20 is designed to replace residential air conditioning units that sit outside homes. When electricity demand starts to peak, Ice Bear turns off the energy-intensive AC compressor and uses the ice stored during off-peak hours to provide cooling instead. It uses only 5% of the power that otherwise would have been required, lowering cooling bills and reducing carbon emissions. Ice Bear integrates seamlessly with ductless mini split systems or existing HVAC ductwork, and can easily be installed by trained, certified HVAC contractors.
How do utility companies benefit from Ice Bear units?
Utilities can remotely control the Ice Bear's operation via a secure, private wireless network in real time, they can shift cooling demand from peak to off-peak hours, reduce peak cooling load by 95%, eliminate the need for costly and polluting fossil-fuel peaker plants, increase grid resiliency, and reduce operating costs.
How do homeowners benefit from Ice Bear units?
By using less electricity and at a lower price during off-peak hours, homeowners can reduce their cooling bills by up to 40%. They can also take advantage of solar over-generation by selling excess electricity to the grid when prices are high and charging their ice battery when prices are low.
How does the Ice Bear unit store excess solar power generation for later use?
Solar over-generation helps charge the Ice Bear units by making ice. The stored ice is used later in the day when there is no solar and cooling is still desired.
Is the system better suited to certain geographic locations or will it work everywhere?
Ice Bears are most efficient in areas where nights are significantly cooler than days. That being said, Ice Bear units are well suited for all climates.
Are there subsidies available for installation of the Ice Bear units?
In certain parts of the country where Ice Energy partners with utilities to solve grid problems, homeowners have access to Ice Bears for no more than the installation costs. Elsewhere, homeowners have access to clean energy incentives - like the federal Investment Tax Credit (ITC) or the California Self Generation Incentive Program (SGIP) - that can reduce the cost of a home Ice Bear to the point that it is no more than, or even less than a conventional home AC unit. The Self-Generation Incentive Program (SGIP) can cover up to 60% of equipment and installation costs, making the Ice Bear unit a better investment than any conventional AC unit.
About Mike Hopkins

Mike Hopkins serves as Ice Energy's CEO. Prior to joining the company in 2009, Mike practiced law for 18 years as a partner with Bennett Jones LLP, a pre-eminent Canadian law firm and global leader in energy and climate change. He specialized in the development and financing of oil and gas fields and power projects, served on the firm's executive committee and led its utilities, international, and independent power groups. He left Bennett Jones in 2003 to lead the workout of a private data center developer that resulted in its sale. Next, Mike co-founded a geospatial information services company and assisted several other startups. He was honored with a 2014 Patrick Soon-Shiong Innovation Award from the Los Angeles Business Journal. Mike earned BA and LLB degrees from the University of Ottawa, an M.A. (Law and Economics) from the University of Miami, and an MBA from the University of Alberta.
Mike has presented at many conferences and meetings, including the Energy Storage Association; Association for Demand Response and Smart Grid; NY-BEST; U.S. Energy Bar Association; the World Energy Engineering Congress; Law Seminars International; Canadian Petroleum Law Foundation; Canadian Bar Association; Independent Power Producers' Society; and Canadian Corporate Counsel Association.
The content & opinions in this article are the author's and do not necessarily represent the views of AltEnergyMag
---
Comments (0)
This post does not have any comments. Be the first to leave a comment below.
---
Post A Comment
You must be logged in before you can post a comment. Login now.
Featured Product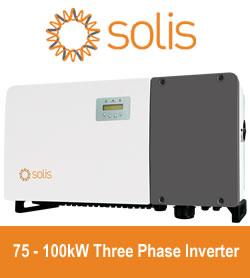 Solis75kW - 100kW series high-power string inverters are widely used in industrial and commercial rooftops. Solis's new three-phase string inverter is the first choice for industrial and commercial photovoltaics. 75-100kW three phase series string inverter have Maximum 28 strings input, support "Y" type connection in DC side. Maximum string input current 13A, support bifacial modules access.Supports anti-PID function to improve system efficiency.