Achieving engagement with a customer is about meaningful interaction with the consumer.
Social Media Coming of Age in Clean Tech
Brian Levine | Global Clean Energy
Please tell us a bit about GCE, who you are and what you do?
I was the COO of GCE a few years back and recently reconnected with GCE's CEO Earl Azimov whom I have known for many years, dating back to my early days in the Internet.
I had one of the very first E-Commerce shopping cart technologies out of Boston, and similarly Earl was a pioneer in Meta search, video codex and the pay-per-click space. Earl has been serving on a high profile business incubator and investment board for 16 years as well as being at the leading edge in the optical industry for decades. He has had a lot of success with tremendous experience to draw upon and a great sounding board for vetting new ideas.
I ended up moving into clean tech when oil hit $150 barrel. At the time, I was in large-scale plastic manufacturing in Michigan and saw our margins eroding with the huge spikes in resin prices.
That led our Michigan group to diversify into the energy efficiency market, where I was involved in the development of a new lighting brand in the CFL and LED industry with large Chinese group manufacturing for GE, Sylvania and Philips and marketed through Honeywell. That company is still thriving today.
Follow me on Twitter - @BrianLevineLogx
What led to this latest acquisition of The EcoAppCompany (TEAC).
Earl and I both got our start in the digital world and have a deep interest and commitment to clean tech. We have both witnessed these two bubbles. We reconnected a little while back when my brother, an author of children's books for cancer research, passed away from a long fight with brain cancer www.tripletroublebooks.com (being that it is for cancer research I included his URL).
That was devastating but also gave us a chance to catchup and we began talking about the two bubbles and our two business passions, Internet and Clean Tech. I have always considered myself fortunate to be involved in the dawn of the web and clean tech, which prompted me to develop new business models fusing the two disciplines together. The conversations led to GCE acquiring my IP. I am an independent professional and will help them buildout the applications.
GCE has diversified its operations based on their stated objectives in Waste 2 Fuels, PGM and its new digital businesses.
GCE goal in the digital arena is to accelerate the adoption and installation energy efficient technologies in the residential and commercial markets. GCE is committed to several strategic markets where it feels it can have an immediate impact and develop strong user loyalty with its user driven interfaces.
GCE is embracing a user-driven marketing strategy that is being deployed widely by a growing number of corporations according to RSM Discovery Institute. GCE is taking a strong stance in user driven markets, engaging its customers in the most fundamental way, allowing them a say in what products, programs and services are offered by the company and how.
What is the essence of the User Driven initiative and why do you refer to crowd funding
When I was a teen working in retail, I was so customer centered that customers used to look at me suspiciously and constantly asked why I cared so much. My answer was always the same, "You had a choice you came here, and we are here to serve you, earn your business and keep you coming back". Customers always felt empowered and appreciated. Our intention is to drive this to the next level, a level never before envisioned with programs that are revolutionary and even require certain clearances.
This has always been in my DNA and now the web and social media allows us to take it to the next level. The best companies have embraced customer driven models and the godfather of modern marketing Seth Godin says it best
"Open conversations generate loyalty, sales and most of all, learning... for both sides".
Seth Godin
Achieving engagement with a customer is about meaningful interaction with the consumer. As Seth describes in the quote above, open and maintain conversation, ask questions, listen, build better products and market in a more relevant way - add value to the relationship with the consumer.
The research on Customer Driven markets and allowing the user to dictate their needs is indisputable. We are taking this approach to the next level and allowing customers a huge say in what we sell, how we sell it and what they get in return.
The User Requests/User-Driven Markets model allows us to curate and tailor offerings driven directly by users in a way never envisioned before. By aggregating their online requests, consumers are motivated by a sense of communal social action, the desire for an outcome that addresses their needs, and shared responsibility for the ultimate success.
GCE is more principle driven than product driven. The principles are four fold; clean energy adoption and acceleration, massive customer input to define offerings, giving back by making a difference in a stranger's life, and a very novel way to make our, brand our customer's brand that will shake up the way business is done.
The crowd funding analogy goes back to the Pabst Blue Ribbon – The Official Beer of Crowdfunding, when two advertising executives, came up with a crazy idea to raise $300 million online through social media efforts in order to purchase Pabst Blue Ribbon. They were dead-on in their understanding of power of social media and a passionate community and managed to get 5 million people to commit $200 million.
Crowdfunding represents a change in power of business funding and allows people to support the projects important to them. What we are proposing is along these same lines, giving the power to the customers and sharing the benefits in-kind, in a unique and powerful way. We are putting the customers in charge in some respect.
Why are you selecting the LED and Lifetime warranty sector?
The LED market is a product category that I happen to know well as a pioneer in CFL and LED industry. It is a $30B industry with only a 20% install base still and huge growth ahead, where GCE can have a meaningful impact to accelerate the installation and adoption rate, which is our principle 1.
There was always an aspect of the energy efficient lighting industry that irked me as a developer and customers echoed the same sentiment and demanded transparency, which is principle 2. Although the energy savings from CFLs are critical to reducing energy consumption and pressure on the grid, thereby carbon emission, the mercury element in CFLs was a step backwards.
This was remedied by the introduction of LED lamps, but both products carry outlandish, misleading and what I always felt were distorted claims. Lifetime claims of 22 years based on ludicrous terms, conditions seem disingenuous, and our phones used to light up with customers bellyaching about these representations.
I always felt if a product claims it can last 22 years, then why not just come clean and back it up with a lifetime replacement warranty. Why not? Why claim 22 years and not stand behind it? What would be the downside to backing the transparent representations? You should want to encourage customers to benefit from product assurances, not hope they never take advantage of the claims. Earning the customer's trust far outweigh the costs in my opinion. Since the news came out, several groups asking for their products to be included under the lifetime replacement offering have approached the company.
Certain industry players are stating that I should leave well enough alone, customers have learned to accept the status quo, taking cumbersome warranties in stride and accept things just the way they are. However, that is not good enough and with hundreds and sometimes thousands of dollars invested per house on LEDs, we can do better, much better, it is a simple as that.
These are no longer merely lightbulbs, they are electronics and apart from the very inexpensive low quality models, high quality LED comes with a hefty price tag that many consumers consider an investment in their homes and the environment. GCE plans to offer the industries top quality LEDs competitively priced, permitting customers to invest in complete LED makeovers of their home without any risk.
GCE believes the cost of supporting lifetime replacement warranties will be justified by the lifetime value of the customer. A trade off we feel will pay off, that will also allow us to grow and enable us to give back, which is our principle 3. The company will donate LEDs into third world markets with simple power systems so that a budding young student can study after dark. The company also wants to encourage consumers to use its durable LED packaging as simple collection boxes to gather old batteries, lithium, old phones and other small electronics to keep them out of landfills.
What are some other areas to consider in the future?
The more inclusive we are the better we do, the better we do the more inclusive we become. It is really the dawn of a new approach and this is just beginning. I think we will do more to reduce electric plant emissions by putting customers in charge than just about any other way.
I have worked almost entirely in the US with firms in digital, E-Commerce, media, plastics, wind energy, through to manufacturing, energy efficiency and distribution. There is an outstanding network in place representing opportunities from commercial solar based on new tax code rulings, to power storage and backup and dozens of smart energy technologies. GCE will be the driver of the commerce with all fulfillment and logistics handled by partnering companies. GCE will manage the front-end and leave sourcing and fulfillment to the experts. I would not be surprised to see GCE continuing to amalgamate operations with other groups.
What special about social influencers driving your strategic initiatives.
When GCE says social influencers, it means scoring its customer driven input in terms of social relevance. GCE uses state-of-the art logarithms to help determine what resonates within the market and what terminology and domain structure has the best chance of being part of the conversation. Today a company can take regular snapshots in social mediums in terms of the influence of its concept and directions and how they score in strength, reach, passion and sentiment. Companies know that market research is paramount, today some of that has been automated and is a click away.
You mention putting the S in Uber, what does that mean
Uber and Airbnb are such great examples of how the status quo can be altered and how powerful new niches and cores can be created. I call them neglected markets, where consumers had become accustomed to certain shortcomings until someone recognizes neglected conduct resulting in a new way of doing business. Consumers were simply tolerating taxi service the way it was and quality hotel stays were being priced out of reach for many becoming impractical and unaffordable for many.
These companies recognized user discontent and opportunity. They saw the missing holes and created powerful new cores driven by users. Uber is a front-end communication medium and Airbnb is a facilitator. Both companies driven by user demands, have been disruptive, and revolutionized industries to say the least. When we say putting the S in Uber, we mean talking the new paradigm and putting the User in charge. I like to think of User driven markets as the company working for the user. I think as crowd funding, the users rule and a company can be built on that premise. I see fanatical loyalty possible with crowd funding philosophy and the evolution of reverse crowd funding in terms of sharing the benefits derived, principle 4.
The content & opinions in this article are the author's and do not necessarily represent the views of AltEnergyMag
---
Comments (0)
This post does not have any comments. Be the first to leave a comment below.
---
Post A Comment
You must be logged in before you can post a comment. Login now.
Featured Product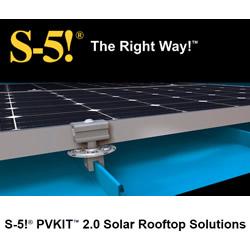 The concept of combining PV arrays with standing seam metal roofing is growing-for good reasons. Metal roofs have a life expectancy of more than 40 years. Shouldn't the mounting system last as long? With S-5! zero-penetration attachment technology and PVKIT 2.0, the solarized metal roof is the most sustainable system available -and without compromising roof warranties! PVKIT 2.0 is the also the best solution for attaching PV modules directly to any exposed fastener metal roof.