Opportunities for solar installers to offer storage as an integral part of their solutions are opening up everywhere, from mitigating the impact of power outages, the increase in distributed renewable generation at times of low use, the rising costs of base and peak power and the trend of some states to reduce or eliminate net metering programs.
Integrated Energy Systems
Catherine Von Burg | SimpliPhi Power
Give us a bit of a background on SimpliPhi Power.
SimpliPhi Power's residential and commercial energy storage and management systems do for the power industry what cell phones did for the communications industry – allow freedom of access beyond transmission lines, anytime, anywhere. We've been installing fully integrated grid tied and off grid systems since 2002 and have over 7 MW deployed in the field. Our core mandate has been to change the relationship people have with energy, allowing them to become active participants in how they access, store and utilize power - on their own terms - independent of, or in conjunction with the centralized distribution systems. Our technology utilizes patented, licensed Lithium Ferrous Phosphate (LFP) cells that do not have the risk of thermal runaway and do not require ventilation or cooling to preserve cycle life or capacity. LFP chemistry is the most benign, non-toxic chemistry on the market. This is an important factor in building energy storage solutions that empower people, rather than putting them at risk by using cobalt based lithium batteries that are toxic and inherently unstable. Renewable energy, or any power generation source for that matter, should be stored in safe, nontoxic formats that do not force people to make trade offs between safety, toxicity and access to power.
While conventional wisdom has lead the industry to believe that LFP chemistry is less energy dense than lithium cobalt-based chemistries, in large battery formats, the risk of thermal runaway and the requisite cooling requirements of cobalt ultimately negate the higher energy density and add significant weight and size to the battery itself. In addition, the thermal regulation required to maintain an ideal ambient temperature for a cobalt-based installation also adds additional equipment, system-wide inefficiencies and costs as well. With LFP, well-designed battery architecture and battery management systems, larger format energy storage solutions can be built without the requisite cooling and thermal regulation that are both internal to the cobalt-based batteries, as well as the overall installation, and subsequently rely on performance metrics that extend the life of the battery, increase efficiency and minimize costs, upfront and over the duration of the installation.
Our proprietary architecture, assembly methods and integrated battery management system (BMS), allow SimpliPhi's energy storage and management systems to operate at 98% round trip efficiency, 10,000 EOL cycles, 100% depth of discharge, rapid charge and discharge options, in addition to little energy loss due to self­ discharge. Whether residential, commercial, emergency, entertainment or military applications, our customers use SimpliPhi energy storage solutions for resilience, peak shaving, remote-­or-­integrated security based on a safe, lightweight and reliable storage platform.
SimpliPhi exhibited at SPI this year, what makes this an important show for you?
SPI is an ideal place for us to gain increased awareness of the market and customer needs as well as exposure for our award-winning products. It provides a meaningful forum to meet with solar installers face to face, giving us the opportunity to understand what they're looking for when it comes adding storage with their installations. We also love giving installers the ability to see and experience the simplicity of our solutions by designing a customer's system right in the booth.
At SPI you released a new ESS product, tell us about that.
Our new ESS, or Energy Storage Solution is called AccESS. It was developed by solar installers, for solar installers. It is a complete plug-and-play solution that was developed in partnership with solar and energy storage installers to optimize equipment and streamline cost calculations. The system is an all-in-one unit that easily integrates power storage into new and existing solar installations both on and off grid. It includes the company's award-winning battery technology combined with a Schneider Electric inverter charge controller and associated power electronics and system management in one elegant box. Pre-programmed software settings and system performance monitoring round out the solution. By eliminating any ventilation or active cooling requirements, our new all-in-one ESS can be safely installed both outside and inside, critical for booming markets like Hawaii.
Why did you feel there was a need in the market for the SimpliPhi AccESS product?
Many solar installers are not battery experts, yet this expertise is what is required to select equipment to design a system that optimally integrates energy storage. We wanted to offer them an all-in-one-box solution to simplify the prospect of designing, installing and determining the levelized cost of energy for installers and their customers.
Opportunities for solar installers to offer storage as an integral part of their solutions are opening up everywhere, from mitigating the impact of power outages, the increase in distributed renewable generation at times of low use, the rising costs of base and peak power and the trend of some states to reduce or eliminate net metering programs.
How does AccESS differ from other integrated systems on the market?
Installers collaborated with us on the design of the ESS because they were frustrated by the lack of product readiness, adaptability and scalability, as well as the needless complexity offered by other manufacturers with cooling and thermal regulation requirements. We worked together to combine best-in-class technologies into one plug-and-play box that can scale without the need of ventilation, cooling or the risk of thermal runaway characteristic of other lithium ion storage technologies. Installers also appreciate the fact that the ESS can be safely installed both outside and inside, giving them a major competitive advantage when bidding projects.
How does AccESS make design and cost calculations easier?
The ESS simplifies energy storage because everything is standardized and you know what all the equipment and performance profiles are at any given time. It comes pre-integrated to work with microinverter, self-consumption and net-metered systems, for example. SimpliPhi assembles all the equipment into the AccESS box and ships it out as a plug-and-play solution. AccESS also offers three software modalities that meet the requirements of different applications, such as new and retrofit systems, including solutions that utilities can access for asset monitoring and deployment off-site for grid stabilization. With everything standardized, the ability to calculate the levelized cost of energy becomes much easier to manage.
Energy Storage Systems have generated a huge buzz this year, do you think AccESS has broken through and when can we expect to see these systems rolled out in more homes with solar arrays?
When we announced the AccESS to the public last week, we received a significantly strong response from the market. Our phone was literally ringing the entire week, and we've booked our time at SPI full of meetings. This tells us that we've addressed serious challenges installers have been struggling with.
Because we designed the systems with installers, we were able to develop a solution that solves the many pain-points that installers have been having with other systems, like the lack of modularity and not being able to be installed outside. We'll be rolling out the AccESS in Fall 2016 for residential and commercial installers, with the first units headed to Hawaii.
Where do you see Energy Storage Systems, battery technology and SimpliPhi power 5 years from now?
We are dedicated to continuing to innovate in energy storage that further the transition away from a carbon based economy and energy market. More specifically, we are focused on making energy storage a simple proposition from start to finish. An excellent example of that is our AccESS. It's yet another product in our portfolio of proprietary clean energy storage and management systems that enable power on-­demand, that is portable, scalable, efficient, non­toxic and of high­-density. We look forward to the AccESS product and others like it from SimpliPhi becoming the industry standard for solar installers.

What other products did you showcase in your SPI booth this year and what kind of feedback did you get from booth visitors?
We showcased our portable power products, as well as low and high voltage batteries for residential, commercial and military on and off grid applications. We found that our AccESS solution garnered the most interest. People were very impressed with its technical capabilities.
Give us a synopsis of your SPI experience this year?
SPI was fantactics for us this year. Our booth was widely visited and we met many new faces. The AccESS was very well received and we've been answering sales calls constantly ever since. Great show and well worth it!
The content & opinions in this article are the author's and do not necessarily represent the views of AltEnergyMag
---
Comments (0)
This post does not have any comments. Be the first to leave a comment below.
---
Post A Comment
You must be logged in before you can post a comment. Login now.
Featured Product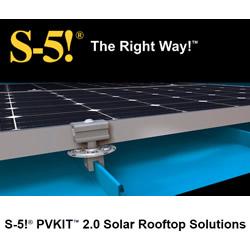 The concept of combining PV arrays with standing seam metal roofing is growing-for good reasons. Metal roofs have a life expectancy of more than 40 years. Shouldn't the mounting system last as long? With S-5! zero-penetration attachment technology and PVKIT 2.0, the solarized metal roof is the most sustainable system available -and without compromising roof warranties! PVKIT 2.0 is the also the best solution for attaching PV modules directly to any exposed fastener metal roof.