Key themes and takeaways from the 2017 Distributech conference
Analytics and IT Technology Continue Evolution in Utility Market: Highlights from Distributech 2017
Michael Markides | IHS Markit
Highlights
Technology vendors to the smart grid and smart utility space are seeing market traction for smaller, more concise analytics platforms.
Vendors to the smart utility space are increasing pressure and marketing to their clients for SaaS and managed services.
Microgrids continue their comeback in North America, and at Distributech in San Diego, utilities increasingly see them as part of their future.
Insights
Data analytics continues to mature in North America, and Distributech highlighted a few key takeaways here. First, the initial surge of big data has subsided as technology vendors more and more understand the sales of actual products need to have an exact and precise business case to meet. This often means that specialists in very narrow applications (like customer water leak detection for smart water utilities) are seeing slow, steady market growth. Other examples of applications where successful implementation is occurring is with intelligent transformer monitoring and management (GridCo), distribution edge power quality management (DVI), and distributed generation optimization (AutoGrid).
While successful, narrower analytics platforms are seeing market traction, it is still unclear who wins the day for controlling the overarching system and operation platforms for utilities. From enterprise solutions (Oracle) to traditional electric grid distribution management systems (Siemens), the electric grid remains a battle where various types of vendors continue to innovate their IT offering while refining their go-to-market pitch.
While in the water technology space, it appears traditional AMI vendors (Sensus) are winning the battle to be "the guy." Vendors are offering mature versions of their meter data management (MDM) solutions more as a platform, while also offering modular analytics solutions for applications like operational leak detection. While Distributech is more about the electric grid, and data analytics and SaaS are more mature there currently, IHS Markit believes the water sector in North America holds more promise for scale in the next decade. From the existing need, to the organizational pressures, to the smart city movement – technology continues to converge into a working, practical narrative for water utilities in North America.
Distributed generation marches forward
While the Distributech conference is essentially a North American conference for all utilities, attention tends to revolve around the show's host region. In southern California in 2017, the topics clearly tilted towards managing distributed energy resources. This really comes into focus in a city like San Diego, where electric vehicle charging and rooftop solar are widely prevalent. The utilities here understand the problem and possible effects on the stability of their grid (and their business model, too).
Microgrids continue their march back into the limelight of the greater smart grid movement in North America. Around for years, but dormant -- and now resurrected partially from events like Hurricane Sandy – microgrids have returned. This is mainly due to the concepts of distributed energy systems alongside the evolution in energy storage technology. In short, a microgrid is a set of intelligent controls that balances multiple energy sources and uptime, whether with renewables or not, and whether connected to the centralized grid or not. Distributed energy management, utility-scale renewable integration, and microgrids are in essence the same technology and are now combining to give new momentum to the smart grid market in North America.
Managed Services and SaaS are here, but hurdles remain
The vendor pitch is maturing for smart utility technology in North America, however, many barriers remain. From changing communications technologies to security to lagging industry regulation, technology vendors will have to continue to scratch and claw their way within the utility vertical to get the results they wish for. However, if the mood at Distributech is any indicator, the smart utility industry is entering a phase of budding, healthy and pragmatic growth.
Vendors to the utility space need to continue to pinpoint real value that can be realized within the spend of existing utility budgets. At the same time, they must provide a framework and vision to their customers for an intelligent technology roadmap for the next 20 years. Utilities in North America are facing declining revenue and a retiring workforce – how can utility technology vendors assist with these pain points as well?
IHS Markit Smart Utility Meter Intelligence Service explores the latest trends and challenges affecting the current and future market for electricity, gas, water and heat metering.
The content & opinions in this article are the author's and do not necessarily represent the views of AltEnergyMag
---
Comments (0)
This post does not have any comments. Be the first to leave a comment below.
---
Post A Comment
You must be logged in before you can post a comment. Login now.
Featured Product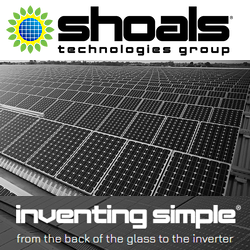 Inventing Simple® isn't just a slogan to us, it's a way of life. Using simple plug-and-play ideology, we revolutionized solar installations in 2003 with our Interconnect System™. Our harnessing system is now the gold standard EPC's use around the world. By using simple ideas, we are making solar energy a more affordable and clean power source for future generations.