Phazr is a small battery pack that pairs with a single solar panel forming a highly scalable solar plus energy storage system.
New Energy Storage Product - MicroStorage
Ellen Howe | JLM Energy
Tell us a little about JLM Energy.
JLM is an energy technology company. We have built a fully-integrated software platform and technology bundle that optimizes energy ecosystems and maximizes savings for our customers.
The bundle includes solar, energy storage, monitoring devices, control algorithms and load controllers that are all unified via the software.
We analyze energy use patterns and corresponding economics on our software platform to design, build, install and manage systems that provide choice, control and savings for our customers.
You just released a new product, Phazr (Press Release). Tell us about what Phazr is.
Phazr is the first in a new product category called MicroStorage, pioneered by JLM. Phazr is a small battery pack that pairs with a single solar panel forming a highly scalable solar plus energy storage system.
Phazr is installed, directly behind the solar panel on the same rails. The result is virtually zero installation system, improved reliability and safety, and the lowest total cost of ownership in the market today.
Systems designed using Phazr are scalable and can be used for utility scale systems as well as commercial and residential applications.
What is Phazr's key differentiator?
Capitalizing on JLM's patented Symmetric DC Regulation (SDCR) technology, Phazr is the first energy storage system that makes it possible for a solar panel to charge a battery and supply power to a building at the same time.

Give us a rundown on the installation process?
Phazr is mounted seamlessly between the solar panel and the microinverter, on the same rails, making installation simple and virtually cost free. Phazr is designed for utility-scale solar plus storage applications, and is also perfectly suited for smaller residential and commercial installs.
What makes Phazr so safe?
1. Phazr uses lithium iron phosphate batteries that, unlike Lithium-Ion batteries, are chemically, structurally, and thermally safe.
2. Phazr is fully insulated and protected from hot/ cold outside temperatures.
3. Phazr operates at a low voltage (20-40 V) that is safer for installers and consumers than high voltage systems.
What makes Phazr so reliable?
In traditional battery packs, hundreds of battery cells are packed together in a small space in order to reduce the footprint of the energy storage system. The internal pack temperature in such systems could be as high as 10 to 15 C higher than the system's ambient temperature. This temperature increase results in battery performance degradation and capacity fade over time.
With Phazr, JLM is taking a different approach. Rather than assembling a large number of cells into a small space, we pack 8-to-12 cells in a thermally conductive package using free convection as our cooling mechanism. At sustained, full power charge and discharge cycles, we have observed temperature increases of less than 3.5 C.
Simply stated, Phazr runs cooler. As high as 10 C cooler. Over time, this results in a more reliable system. This is the main reason for JLM's confidence in the long-term reliability of the product and hence the industry's only 20-year warranty.
The distributed nature of Phazr MicroStorage also means that there is no single point of failure. Like microinverters, if one goes down, the others still work.

Will Phazr qualify for the ITC?
Solar plus energy storage systems built with Phazr qualify for the full 30% Federal Investment Tax Credit because the batteries charge exclusively from solar.
In a grid tied system, if the utility power goes out, will the battery provide power to the home or is special wiring needed for that?
Customers that want back-up use JLM's Energizr 100 system. Phazr's battery capacity simply augments the capacity of Energizr 100 batteries.
What other products does JLM Energy provide to complete the home energy package and where do you see the company going in the next 5 years?
While there is a great deal of excitement about solar energy and energy storage, at JLM, we view energy conservation and smart energy consumption as a key third pillar in the impending smart energy transformation. Smart load controllers (JLM's Loadz), smart thermostats (JLM's Cozi), smart whole-house monitoring systems with the ability to disaggregate energy consumption (Linez) provide the consumer with the ability to manage their electricity on a specified budget.
These technologies and products form the foundation of JLM's Smart Energy Ecosystem.
All of JLM's products are deployed, monitored and managed on a unified, cloud-based software platform called Measurz. Measurz is used by fleet system owners to manage a large array of systems. The health and effectiveness of every system component in fleets with thousands of systems is managed on JLM's Measurz.
Over the next several years, JLM will strive to invent more energy technology components that easily connect to Measurz as it gains deeper acceptance from consumers, system installers, commercial users and fleet managers.
The content & opinions in this article are the author's and do not necessarily represent the views of AltEnergyMag
---
Comments (0)
This post does not have any comments. Be the first to leave a comment below.
---
Post A Comment
You must be logged in before you can post a comment. Login now.
Featured Product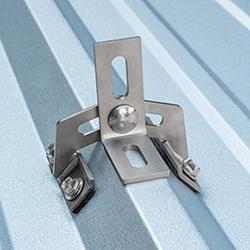 QuickBOLT Low Profile QuickBOLT with Microflashing™ is the industry's affordable, UL Certified Asphalt Shingle mounting system. The Microflashing™ is compressed by the collar on the bolt to create a water-tight seal. With an installation time of less than one minute, the Low Profile QuickBOLT allows installers to complete more jobs.