NEXTracker is thrilled to launch our latest product innovation, TrueCapture™. TrueCapture™ is a revolutionary new software-as-a-service (SaaS) plus hardware offering.
Intersolar Q&A with Kristan Kirsh, NEXTracker
Kristan Kirsh | NEXTracker
Your company will be exhibiting at Intersolar / EES, what is it that makes this an important event for your company?
Intersolar NA is held in our backyard. Every year we relish the opportunity to connect with our Bay Area solar colleagues and partners. In a way we feel like ambassadors for those solar industry professionals new to Intersolar NA and we welcome them to visit booth 9611 to get to know NEXTracker and the ecosystem of EPC, developer, and panel partners that have helped contribute to making NEXTracker the #1 solar tracker globally for the second year in a row.
What can a visitor to your booth expect to see this year?
We'll be displaying our award-winning self-powered tracker, NX Horizon featuring three innovations from partners and our own patented smart module technology. To demonstrate NX Horizon's flexibility with it's perfectly balanced design, we are showcasing LG's latest mono X Plus 72cell module and a unique racking design we partnered on with First Solar for the Series 4. Debuting at this show is our patent-pending smart panel is to educate the Intersolar audience about our TrueCapture™ technology.
Any new products you will be introducing?
NEXTracker is thrilled to launch our latest product innovation, TrueCapture™. TrueCapture™ is a revolutionary new software-as-a-service (SaaS) plus hardware offering. TrueCapture is the most significant advancement in solar tracking methods since backtracking, taking performance to the next level. By integrating 3D site profile data, meteorological forecasts, and smart module technology, TrueCapture boosts energy production up to 6%. Standard tracking algorithms fail to attain maximum energy yield under certain weather and as-built site conditions.
TrueCapture utilizes patent-pending sensor and machine learning software technology to adjust tracker settings in real time, maximizing the performance of each individual row. To learn more, watch this teaser video and visit our Intersolar NA booth 9611 July 11-13.
When you get a chance to walk the exhibit hall floor yourself, what is it you will be most interested to see?
For us Intersolar is about face time with our customers. In addition, we like touring the floor to see what tracker technologies are doing because we are always in learning mode. We embrace healthy competition because it forces the solar industry to improve and reap the benefits of advanced technologies.
Intersolar / EES has many educational sessions, is your company involved in any of them this year?
Yes, our VP of Global Services Marty Rogers will be speaking at the Solar Asset Management Summit on July 11th at 4:45 on an expert panel, "Key Takeaways and plans for making the most of the North American market." Read Marty's latest blog here and his recent O&M white paper to learn more about NEXTracker's global asset management program.
When you book a booth for a tradeshow like this what are your expectations and what does your company hope to accomplish at the event?
Our most important moments at tradeshows are with our highly valued customers and prospects. These are learning moments and we book booth space based on being able to showcase our actual technologies so they are usually larger spaces, with high booth traffic. We design our booth space with our brand front and center that the industry has come to recognize and value. We always have two meeting rooms as our sales team is there to conduct business. It's a flurry of three days on the floor but in the end, we are helping move the industry forward and love being a part of this clean energy growth trajectory.
The content & opinions in this article are the author's and do not necessarily represent the views of AltEnergyMag
---
Comments (0)
This post does not have any comments. Be the first to leave a comment below.
---
Post A Comment
You must be logged in before you can post a comment. Login now.
Featured Product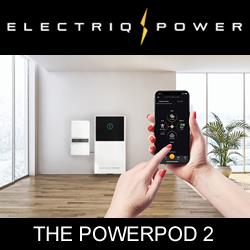 The Electriq PowerPod 2 is a fully-integrated home energy storage, management, and monitoring system powered by LFP batteries. The high-performance, cobalt-free product includes a hybrid solar/battery inverter controlled by intelligent software. The PowerPod 2 provides backup power and can self-consume or export excess power back to the grid.