ElectrIQs fully-integrated energy storage and home energy management solution.
Complete Control Over Your Energy
Brandon Sanchez | ElectrIQ Power
Tell us how ElectrIQ Power came into existence
ElectrIQ Power, Inc., was started by Chadwick Manning, CEO, and Jim Lovewell, CTO, in late 2014. The company set up its first lab in Jim's garage in San Leandro where Jim had amassed dozens of powerful batteries, inverters, solar panels and test equipment in an effort to speed the charging of his electric cars. At the same time, Chadwick was also looking for a way to maximize the charge on his electric car. Having started two companies previously, he saw an opportunity to build the most sophisticated energy management and storage system in the world.
So what makes the IQ System different?
The key differentiators of ElectrIQ's fully-integrated energy storage and home energy management solution is its flexibility to be installed in any situation, advanced software and analytics that learn from and optimize homeowner energy usage, and adherence to the highest possible safety standards. The IQ System, shown in Figure 1, consists of a hybrid inverter, lithium ion batteries, integrated monitoring and management software, and an intuitive, cloud-based user dashboard that gives customers complete control over their energy.

External Shot of the IQ System.
Onsite renewable generation isn't necessary, but if you are going to install solar or have a pre-existing solar array, you won't need any additional inverters or hardware. Our plug-and-play solution automates and resolves consumer pain points whatever their situation. On top of that, our systems have a 93% roundtrip efficiency and meet the highest industry safety qualifications with an ETL listing to the UL 9540 standard.
Tell me more about the software you provide:
The IQ software is not your typical solar monitoring platform. Think of this energy management system (EMS) as the "Brain" of the smart home. Although it does include best-in-class monitoring, analytics and an attractive user dashboard (Figure 2), the highest value is the EMS automated ability for customization and real-time optimization.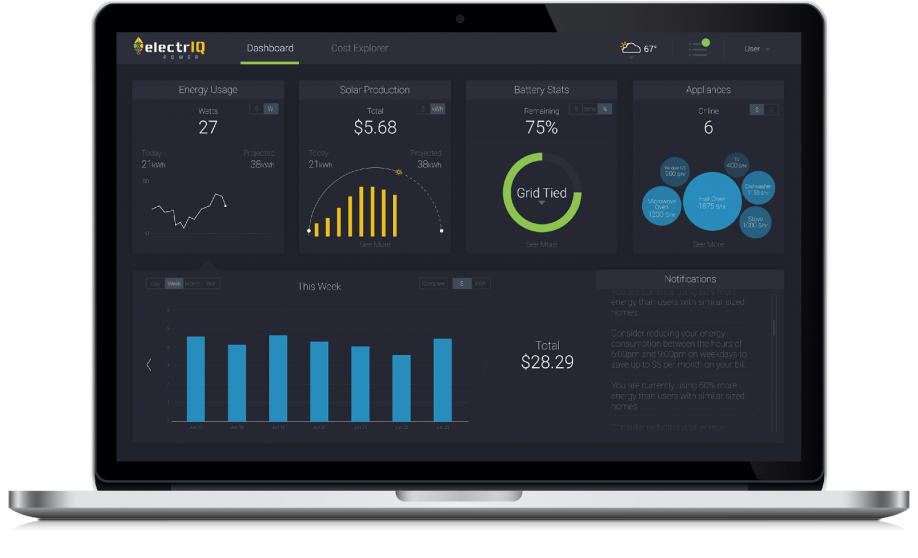 ElectrIQ Power's energy management platform, the Dashboard
The software includes evolving, remotely updated algorithms that incorporate external data (e.g., weather alerts), historical and predicted onsite solar generation, shifting utility rates and incentives, and user preferences and usage data. Together, this intelligence allows the IQ System to perform a variety of operational modes including time-of-use rate arbitrage, solar self-consumption, backup power, and microgrid islanding.
For customers, IQ EMS allows them to "set it and forget it" and know that the system will automatically optimize their home energy system to meet their goals of affordability, sustainability and reliability. For installers, IQ EMS enables them to offer their customers a valuable, customized solution that is easily tailored to any specific utility situation and the customers' specific energy goals.
In the near future, the IQ EMS will also include an IoT platform for interoperability between the IQ System and some of the most popular smart home appliances including thermostats, refrigerators, hot water heaters, and smart plugs. These integrations will allow the IQ System to understand and optimize power usage at the appliance-level, thereby unlocking additional homeowner savings.
What markets are best suited for storage today?
Today, we primarily focus on the residential and small commercial market. Due to utility tariffs and incentives, the markets that currently offer the greatest economic value proposition to customers are California and Hawaii. The primary driver, though, which is true across the US, is residential peace of mind through backup power and the opportunity to take control of rising electrical bills. For those in areas with extreme weather conditions and increasing outage frequency, such as the Northeast, backup power is the primary motivation for considering storage.
In the near future, more state markets will become economically attractive as the value of exported energy from rooftop solar through Net Energy Metering tariffs continues to be reduced. When that occurs, the homeowner is then incentivized to store excess energy onsite for later consumption rather than export it to the grid. All in all, we're very optimistic that the 2018 residential storage sales will surpass expert predictions.
Suppose I'm a homeowner, what are the requirements my home needs to meet to be outfitted with your system?
None! Our system is completely flexible to any home's current configuration: it can be AC-coupled for easy retrofitting of existing PV (or in homes without PV), or DC-coupled for brand new PV systems. It's capable of delivering power to the home and businesses as Split phase 120/240V and 3-phase 208V and is scalable in 10 kWh increments to meet most typical energy requirements.
The IQ System integrates the world-class components such as Panasonic batteries, to ensure the highest level of safety, performance and reliability for our customers. We stand behind our system, designed and assembled in the US, so its backed by a 10-year warranty and an unrivaled customer service and support team.
I'm sure you're often compared to Tesla's Powerwall, how do you normally respond?
Great question! We respond by noting that there a couple important differences between the IQ System and the Powerwall that make each better suited for certain situations.
Whereas the Powerwall battery/inverter system is designed for AC-coupling only and does not offer the ability to have a solar share the inverter with the battery, ElectrIQ Power's IQ System is a fully integrated, AC- or DC-coupled system with a combined battery and hybrid inverter. This flexibility allows it to act as 1) standalone storage system, 2) AC-coupled with an existing PV and inverter system, or 3) DC-coupled with a new PV system. By DC coupling the IQ System with solar, the home only requires one inverter which reduces the physical footprint and ugly electrical wiring, lowers overall solar+storage cost, provides a single package allowing for multi-day microgrid operations during a power outage, and significantly improves the electrical efficiency - up to 4% greater the Powerwall.
Perhaps the most important difference, though, is the IQ energy management software monitoring and control platform. There is no other control system on the market – Tesla or otherwise – that offers the same intelligence, simplicity and functionality as our proprietary cloud-based system.
Having noted those differences, there are definitely situations where the Powerwall is the right choice to meet some customers' goals. But ElectrIQ Power envisions smart energy homes of the future as being intelligently optimized in real-time with energy storage and solar as the "killer apps" of that system. Folks interested in an attractive, fully integrated solution that evolves with their home and changing energy consumption will be most interested in the compelling, long-term value proposition that the IQ System offers.
Give us an idea on the process involved in setting up the IQ System, is it a DIY process or is a professional required?
Certified professional installers are required for installation of the IQ System. We have begun certifying a network of installers across California, Hawaii, Arizona, Utah, and have a growing presence in Canada. Our in-person and online training ensures installers know how the IQ System can solve customer problems, and that they're well prepared to install in no time. Our easy-to-use intuitive app allows for quick, painless half-day installations. The installation process involves far less wiring and conduit than other solutions due to the fact there is only one easy set up for battery, inverter and home energy management software. As I mentioned before, we have achieved the highest level of safety with the ETL mark to the UL 9540 standard for our storage system, the UL 1741 standard, as well as C22.2 #107.1 for our inverter. This means that installers and customers are safe.
Look into the future 5 – 10 years, where do you see residential energy storage and how is ElectrIQ Power a part of it?
Although many have tried, it's been really difficult to accurately predict the evolution of the storage market – especially the residential segment. The complexity of the electric power sector means that each US state and Canadian province is really its own unique market experiencing its own changes. All the trends, though, point to the economics and adoption of energy storage rapidly improving over the next ten years.
As one data point, Greentech Media's most recent forecast suggests 10X growth for the storage market as a whole through 2022, with the residential sector experiencing the fastest YOY growth over that time.
As far as our role in that growth, we plan to continue improving the IQ System product, enhancing the functionality of the IQ EMS to monitor and manage smart home appliances, and continue to offer homeowners the ability to take control of their energy bills and backup power needs for a reasonable price. In addition, we'll offer customers the opportunity to earn revenue from their systems by aggregating into utility demand response programs or wholesale electricity markets. But we're actually most excited about exploring partnerships with other smart home and storage providers to enable the IQ EMS platform to work in every home, with or without an energy storage system.
ElectrIQ envisions a world of automatically-optimized smart homes that don't require homeowners to micro-manage appliances through a thousand different apps while trying to keep track of dynamic utility pricing and minimize their bills – the IQ EMS offers just that at an affordable price point. The value that intelligent energy management brings to homeowners – and the opportunities it provides to actually help with grid challenges – will drive mass-market adoption and Grid 2.0.
About ElectrIQ Power, Inc.
ElectrIQ Power is a technology company developing hardware and software solutions for the Cleantech space. Their mission is to replace the production of carbon-based emissions with clean, safe, and affordable energy. Their flagship product, the IQ System, is an all-in-one energy storage, management and monitoring solution for homes and small businesses.
About Brandon Sanchez
Brandon has played a key strategic role in transforming the lens in which consumers view their energy consumption. He is keen on delivering easily digestible messages to drive brand awareness by utilizing his user experience and consumer behavior background.
The content & opinions in this article are the author's and do not necessarily represent the views of AltEnergyMag
---
Comments (0)
This post does not have any comments. Be the first to leave a comment below.
---
Post A Comment
You must be logged in before you can post a comment. Login now.
Featured Product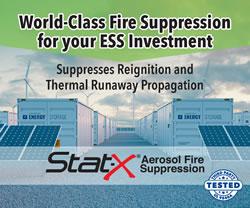 Stat-X® condensed aerosol fire suppression is a solution for energy storage systems (ESS) and battery energy storage systems (BESS) applications. Our Stat-X condensed aerosol fire extinguishing product was tested for efficacy in suppressing li-ion battery fires. It was found that the product successfully extinguished single and double cell battery fires. This testing was conducted in parallel with a large battery fire testing program on behalf of a large energy storage company.