Successful asset managers are able to stay in control by setting the right priorities and by creating a checking system to ensure that nothing falls between the cracks.
Ten Best Practices for Compliance Management
Edmee Kelsey | 3megawatt
Reprinted with permission from 3megawatt:
Successful asset managers know that setting up compliance the right way can save them lots of time. With a growing portfolio the number of tasks can quickly grow exponentially. Sooner or later, all asset managers realize that it is almost impossible to scale their activities without some kind of system in place.
Successful asset managers are able to stay in control by setting the right priorities and by creating a checking system to ensure that nothing falls between the cracks.
At 3megawatt we are working with the largest and most professional renewable asset managers in the world. We want to share these 10 best practices to guide you through compliance management.
1. Set priorities
Don't set the bar too high when you get started. Asset managers often are overly ambitious when they start identifying compliance obligations, but the result is that they may never finish. Figure out which contracts and regulatory obligations are the most essential to your project:
It is owner's nightmare to have a permit revoked or a land lease agreement terminated, so those contracts are generally a good first place to start
Loan agreements, tax equity agreements and shareholder agreements tend to filled with compliance obligations with very strict deadlines, so they should go next
PPA agreements will ensure that you get paid and interconnect agreements that you can deliver the energy, so it is important to stay in compliance to keep your revenue flowing.
2. Collect your contracts
It seems obvious, but make sure you have a complete overview and copies of all contracts. When you buy a project, some smaller contracts may be buried deep in a Dropbox folder structure. Ask your lawyer to point them out to you. When you have developed your projects yourself, contracts may get lost in the whirl of events: It would not be the first time that a municipality surprises an asset manager with a request for payment mentioned in a side letter.
3. Define your threshold
Next you will have to identify which compliance obligations are most important to you. In general these are the obligations that have consequences like penalties, termination, damages or default. The threshold depends on your corporate strategy. If you are an exchange listed fund, the requirements will be much higher than if you are working for a small developer/IPP. If you are a third party asset manager, this is something you will want to discuss with your client. A good place to get started is with compliance obligations that involve a deliverable, such as a payment, an invoice, a statement, a report, a filing or a certificate.
4. Identify requirements
This sounds easier than it is. You may have read over a paragraph 3 times, but you are still not sure what to do. After deciding on how to interpret the contract with your colleagues, the counter-party or your lawyer, make sure you document this, so that 5 years down the road there is still an audit trail. Of course the best way to document this is to write an amendment with clearer, more concise language. But in order to save costs, you may want to wait until you have collected a few items to go into this amendment.
Successful asset management organizations are making sure that they make it easy for their colleagues to find all information required on how to perform the compliance task. For instance a copy of the template that needs to be filled in together with instructions, procedures or workflows. All this information will then create an internal institutional knowledge base, which can serve as a sort of digital "employee handbook" for new employees. For companies that are growing fast or experience some employee turnover, this by far the easiest way to get new employees started on day one.
5. Put in place a reminder system
After you have identified what the compliance tasks are, you will need to assign them to somebody. Sometimes asset managers will want to assign tasks to a department. But assigning the task to one or more individuals will increase accountability and allows for individual reminder emails to be sent. Some tasks may take some lead time, so setting an internal deadline is not a bad idea.
Whatever reminder system you choose, it is important to realize that individuals are unlikely to stay in the same job for the 20 year duration of the contract and that these tasks need to be easily reassigned. For the important compliance obligations, it is recommended to have an escalation system in place that alerts a manager in time if there is an issue.
6. Create an audit trail
The more professional asset managers will want to put in place an audit trail that can easily show proof that the the organization has been in compliance. This audit trial will include documents that have been submitted as evidence or proof of compliance. Typically this trail will also log information on who submitted it when and how. A well organized audit trail takes the weight off an asset management team during auditing season to show auditors that they are in compliance. For 3rd party asset managers it is probably something that their clients require.
7. Manage your resources
Create a calendar view to show all upcoming compliance events in your organization. Successful asset managers are able to search, group and filter this calendar by project, plant, portfolio, SPV, status, tag, responsible person, etc. and share this view with their colleagues. This calendar view will help managers to identify potential bottlenecks. A lot of reporting usually happens at the same calendar day in the month or quarter and managers will want to anticipate and ensure that there are enough resources available to do these tasks, particularly during holiday season.
8. Create automated compliance reports
The life of an asset manager can sometimes be frustrating: Investors, bosses and clients often have no idea how much time and effort is involved in compliance tasks. A monthly or quarterly report is a good way to make this effort visible.
9. Measure effectiveness
Third party asset managers may have KPIs in place to demonstrate the effectiveness of their service. A popular KPI is the percentage of compliance tasks completed in time. Some larger asset management organizations may also use these KPIs to set objectives for employees. In the future, asset managers may also want to use these KPIs to get a better sense of the resources they need to fulfill these tasks in time and the fees they will need to charge to their clients.
10. Create a life cycle history
For the entire lifecycle of your project, your users should be able to comment on any contract, compliance obligation, document or task or link important email conversations. The historical data should be stored in a secure system with regular automated backups. Where ever you decide to store the data, it should be easy to import and export this data at any time, so that you are completely flexible to move the data in the future and at short notice, if needed.
Are you looking for a software solution to manage your compliance obligations? 3megawatt's BluePoint is rated by its clients as the most complete, intuitive and feature rich compliance management system in the renewable energy industry. Contact us to find out how BluePoint could help with your compliance management.
The content & opinions in this article are the author's and do not necessarily represent the views of AltEnergyMag
---
Comments (0)
This post does not have any comments. Be the first to leave a comment below.
---
Post A Comment
You must be logged in before you can post a comment. Login now.
Featured Product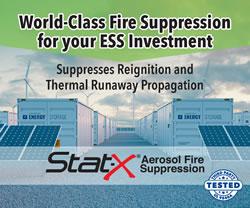 Stat-X® condensed aerosol fire suppression is a solution for energy storage systems (ESS) and battery energy storage systems (BESS) applications. Our Stat-X condensed aerosol fire extinguishing product was tested for efficacy in suppressing li-ion battery fires. It was found that the product successfully extinguished single and double cell battery fires. This testing was conducted in parallel with a large battery fire testing program on behalf of a large energy storage company.