Sense tracks energy usage in the entire home and for many customers it's eye opening. You can track what's on, what's off and how much energy they are using.
The Sense Home Energy Monitor
Vincent Ferro | Sense
Tell us about Sense and how the company got started.
Sense provides an intelligent home energy monitor that tracks power and the activity of devices in the home. The company was founded in 2013 in Cambridge, MA, by pioneers in speech recognition who saw an opportunity to apply innovative machine learning techniques that succeeded in recognizing human speech to the challenge of tracking home energy and identifying individual devices. In 2015, the company began beta trials of the Sense home energy monitor and began offering the product on a limited basis. In January 2017, the company announced general product availability. Since then, the company has updated Sense with several new features, as well as integrations with Alexa and Hue lighting.

What does Sense do?
Sense's mission is to make all homes intelligent by keeping people informed about what's happening in their homes, and helping to make them safer, more efficient, and more reliable. The Sense Home Energy Monitor installs in the home's electrical panel and provides real-time insight into energy use and home activity through iOS, Android, and web apps. Customers rely on Sense for a wide range of uses including monitoring their home's appliances, including solar installations, determining whether they left appliances running and identifying how to reduce their energy costs.
How can solar installers benefit from using Sense?
We've found that solar installers experience several benefits from using Sense with their customers. They can reduce cancellations (churn) by engaging homeowners with their energy consumption and building trust during the sales process. For many installers, Sense can be a differentiator that helps with closing percentages and referrals. For their part, solar customers can maximize their investment by matching their home's solar production to energy usage. Post-sale, the installer can address customer questions about solar performance and ongoing energy costs with the Sense data.
What makes Sense stand out as an energy monitor platform from the point of view of solar installers?
Our solar partners tell us they prefer Sense for its fast and simple installation (typically 15 minutes for a trained installer) and easy-to-use app for smartphones and desktops. Sense also offers a fleet management tool that allows installers to monitor all Sense installations. Solar partners can also insert their brand names and logos directly into the Sense app.
Why do solar customers prefer Sense?
Solar customers get excited about seeing their solar production and energy usage in real time, in one view. Sense tracks energy usage in the entire home and for many customers it's eye opening. You can track what's on, what's off and how much energy they are using. Many customers use Sense to set up alerts. For instance, when the dryer turns off down in the basement, you can get an alert on your smartphone upstairs. Customers can use Sense to identify energy hogs and reduce their consumption. From our customer data, we know that customers engage frequently with Sense, with more than half of our customers opening the app multiple times during the week to check on their home's activity.
Does Sense identify all of the devices in a customer's home?
Not yet, but our customers say that Sense does a great job at recognizing the devices they use often. For a bit of background, Sense uses sophisticated machine learning to recognize the unique electrical signatures of devices around the home. Sense monitors the electricity in the home and picks out the individual signatures of devices turning on and off. It's a bit like recognizing the instruments in an orchestra as it plays a symphony. If a device has a subtle signature or stays on all the time, it is much harder to recognize than one with sharp peaks and valleys. And unlike an orchestra, there are thousands of different kinds of appliances and consumer electronics using electricity in homes, making it impossible to detect every available device. Sense can recognize WiFi connected gear such as smart TVs; it integrates with Hue lighting and smart plugs; and our customer base is constantly identifying new devices in their homes, so Sense keeps expanding its recognition.
What kind of support does Sense provide for installers and solar customers?
Having robust support options for Sense customers and solar installers is extremely important to us. For customers, Sense offers in-app help links, and a constantly updated help database at help.sense.com that covers FAQs and troubleshooting. In addition, customers can contact our excellent support team for specific questions. Solar installers have access to an installation and support phone hotline.
You recently attended Solar Power International, what kind of reaction and feedback did you receive at the show?
Solar Power International was a great opportunity to meet with solar installers who are using Sense. They shared stories about their solar customers who love having insights into energy usage, enabling a more complete picture of their home's energy picture. Some installers asked for a version of Sense for commercial buildings. This is a product idea we might tackle in the future, but right now we are focused on bringing value to the residential market.
Take a look into the future, how do you see Sense evolving as homes begin to become more energy independent and automated?
In the future, technology like Sense will be built into the home's energy infrastructure, in the electrical panel or smart meter, for instance. Homeowners will use the Sense app to track and plan their home's activities, making their homes run more efficiently, reliably and safely. Solar providers and other energy partners will be able to collaborate more closely with Sense homeowners to help them reach their goals.
About Vincent Ferro
Vincent Ferro is the Business Development and Partnerships Manager at Sense (sense.com), an innovator in home energy monitoring. Prior to working for Sense, Vincent managed residential and commercial solar sales for SolarCity & Tesla in California.
The content & opinions in this article are the author's and do not necessarily represent the views of AltEnergyMag
---
Comments (0)
This post does not have any comments. Be the first to leave a comment below.
---
Post A Comment
You must be logged in before you can post a comment. Login now.
Featured Product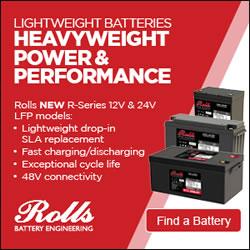 Designed for true drop-in replacement, Rolls new R-Series 12V & 24V LFP lithium models offer a maintenance-free lightweight flooded and SLA alternative in four popular BCI case sizes with fast charge/discharge capability. Rolls custom built-in BMS provides all necessary operating protections for safe operation and seamless integration for deep cycle replacement in 12V, 24V or 48V systems.